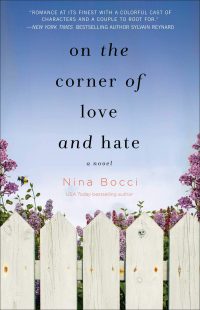 On the Corner of Love and Hate
(
Hopeless Romantics #1
)
by
Nina Bocci
Purchase on:
Amazon
Add to:
Goodreads
Synopsis:

For fans of Christina Lauren and Lauren Layne comes a delightfully sassy and sexy romance about a campaign manager who reluctantly works with the local Lothario to help revamp his image for the upcoming mayoral elections, only to discover that he's hiding something that can turn both their lives upside down.

What's a campaign manager's worst nightmare? A smooth-talking charmer who's never met a scandal that he didn't like.

When Emmanuelle Peroni's father—and mayor of her town—asks her to help rehab Cooper Endicott's image, she's horrified. Cooper drives her crazy in every way possible. But he's also her father's protégé, and she can't say no to him without him finding out the reason why: Cooper and her have a messy past. So Emmanuelle reluctantly launches her father's grand plan to get this Casanova someone to settle down with and help him lose his lothario reputation.

Cooper Endicott wanted to run for Mayor, but he never wanted the drama that went with it. Now that he's on the political hamster wheel, the other candidates are digging up everything from his past. Even though he's doing all the right things, his colorful love life is the sticking point for many of the conservative voters. He wants to win, badly, and he knows that if he wants any chance of getting a vote from the female population, he needs to change his image. The only problem? He might just be falling in love with the one person he promised not to pursue: the Mayor's off-limits daughter.

A perfect blend of humor and heart, On the Corner of Love and Hate is the first in a new series from USA TODAY bestselling author Nina Bocci.
Review:
Alright everyone, this was pretty dang good. When I saw that Nina had a book up on NetGalley, I jumped to request it. See, she's the name I see every now and then in my e-mail that usually deposits a wonderful ARC of the next Elle Kennedy or Sarina Bowen book. Obviously I thought to myself "um yeah if she's working with these ladies, her stuff is going to be just as good." Mhmmmm, I wasn't wrong.

This book is a delicious hate-to-love romance featuring Emma and Cooper. Emma is the daughter of their town's current mayor and has known Cooper her entire life. They have worked together the past few years in an office that reminds me a lot of the one of Parks in Rec in the sense that they champion for their town to bring in new business and keep young people there to start families instead of moving on to something bigger and better. Cooper now is running to be the next mayor since Emma's dad wants to retire, so most of the book spans the campaign up until and right after the election actually happens.

For as much as I don't like politics, I really enjoyed those aspects of this book. Again, maybe it was because it was local government and reminded me a lot of Parks and Rec. It is so frustrating reading about certain aspects though (like Cooper being slandered and shit being brought up that's been manipulated into sounding worse than it actually is) because like…why? Why does it have to be that way? Why can't people just tell the truth and win on their own merit?! Gahh it's sickening knowing how corrupt certain aspects of politics are. 

ANYWAY. Emma and Cooper. These two stubborn a-holes, I tell you haha. I honestly wish it wouldn't taken quite so long for them to actually get together but that could just be me. And actually, I was a little upset at first because we weren't getting the entire story about their past but it all eventually comes out and makes sense. Also, that ending was just…too good. I HOPE HOPE HOPE that the rest of this series features books about the other two parts of their adorable quartet because they were wonderful, too. I always like a friend dynamic with a few guys and a girl. Overall I definitely recommend!!!!! I will 100% be waiting not so patiently for more books.

Huge thanks to NetGalley and Gallery books for the opportunity to read this eARC and honestly review! ♥