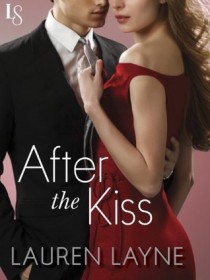 After the Kiss
(
Sex Love & Stiletto #1
)
by
Lauren Layne
Purchase on:
Amazon
, 
iBooks
Add to:
Goodreads
On second thought, Stiletto readers wouldn't be getting that little bit of wisdom. This was one memory she was saving for herself.
She was starting to worry she wanted to save it all for herself.
Aaaaaaah she's done it again. By now I assume anyone who has read any of my Lauren Layne reviews is rolling their eyes and saying…Okay, we get it, you LIKE the woman and OF COURSE you gave her book 5 stars. Well, to address issue numero uno-Yes. Yes, I ADORE Lauren Layne and apparently everything she writes. And to defend numero dos-No, it's not an 'OF COURSE' situation. There's way more to why I have been rating her stories the way I do. I don't go in thinking, 'Oh, this is SO guna be a five star, just like her others!!' It's more like, 'Aahh I HOPE this is another five star read JUST like her others and I HOPE it makes me feel the way all of her others did.' It was and it did.
Julie moved slowly, sliding his glasses off and setting them carefully on her coffee table. Her breath hitched as she got the first close-up look of his eyes. No wonder he kept them covered. Eyes like that could kill a girl.
So, there's this super popular movie called How to Lose a Guy in 10 Days. Heard of it? Yeah. I love that movie. Well, if you ever wanted more, if you ever wished you could have been inside their heads and hear what they're thinking-this is your opportunity. No, this book isn't a rip off of that movie, but it is a damn good portrayal of what could have happened behind the scenes. Julie works for Stiletto magazine, and Mitchell is a Wall Street stiff (With NERD GLASSES, might I add-yum). Julie is the 'first-date' guru of her magazine and now her boss has ordered her to write an article about the next step-a real relationship. Julie doesn't do relationships. Ever. Mitchell is recently single after a never-ending line of long-term relationships based on compatibility and what he believes is good for his lifestyle-his checklist, if you will. But when he is challenged by his co-worker/friend to engage in a meaningless fling where he can't get attached to a girl and has to break it off after a certain amount of dates, Mitchell refuses….until box seat Yankees season tickets come into play in exchange for participating in the bet. What ensues is a fabulous journey about finding everything you never knew you needed through a completely ridiculous search for what you thought you wanted.
He let out a sleepy snort, and Julie stiffened in surprise. He was asleep? She didn't know whether to be flattered or insulted. Then his arm curled around her waist, pulling her closer, and Julie's own eyelids began to droop.
Then Julie marked yet another first off her dating checklist: she fell asleep with a perfectly nice man on a quiet afternoon. Not because it was good material for her column. But simply because she wanted to.
One of the many, many reasons I deem these books five star worthy is because of how they make me feel. I can be a tad skeptical and overly judgmental about the books I read sometimes, which begs the question why these books touch me like they do. Why this contemporary romance author has brought me out of my hate for 'normal' romances. In truth, I don't know. Maybe it's because I read so many bad contemporary/NA/YA romances before deciding to swear them off and pledge allegiance to dystopian/paranormal romances, that when I actually picked up a good, no, excellent, one that I fell head over heels and gave the rest of her series a chance. I'm going to say it was a classic case of right book-right time, but it's more than that. It's her stories. They are the same stories that plague the contemporary romance genre, but yet she makes them her own. She has amazing, steamy, butterfly-inducing sex in the stories, and yet it isn't trashy. It's so utterly overwhelming that it curls your toes, but then she moves on with the story. She doesn't let the toe-curling sex command the story. No, she then can focus on what comes after: The cuddling. The love.
That look the hero gives that says
'I'm falling in love with you.' Do you know how hard it is to make ME, ME see that look in a book? I never believe it. I love my books and I fall head over heels in love with stories all the time, but that look between two people where they are falling in love? That means something to me to be able to feel the gravid atmosphere of that situation. And that is why her books get five stars. I may not binge on NA/contemporary like my fellow friends, but I know what makes a good story, and Lauren Layne does it beautifully.
Mitchell's mouth turned sour at the thought of being just another of Julie's throwaway toys. But hell, that was why he'd picked her, right? This type of casual, meaningless dating was her world.
It was all she'd want or expect from him.
So just why the hell did that bother him so damn much?
I have this thing where, inevitably, I hope and I wish for a certain scenario to unfold and then I not so realistically hope and pray it will happen exactly the way I want….and then when it doesn't, I kind of pout and then move on. But with LL, either what I WANT to happen actually happens or…and this is 90% of the time the case…she does it better. She makes the ending or a situation unfold with more ferocity than I could EVER have dreamed up. And that is why I love her. Plain and simple. She does what I can't-She takes the things I didn't even know I wanted and makes them come to life…and makes them fifty times better.
"Probably for the same reason you balked at it last night," she said bluntly. "Because it means something."
He looked at her. Looked away. "I know what it means. Why do you think I suggested it?"
Julie didn't think it was possible to choke on one's heart, but it certainly felt like her heart had lodged somewhere near her esophagus. "But last night you said-"
"Last night I was a scared little boy who thought I'd be happy with a quick lay and a few laughs over the occasional dinner."
"And now?" she whispered.
His fingers drifted over her cheek, a whisper of a touch. "Now I'm a man, spending a quiet evening with a woman I'm crazy about."
I literally have to decrease my reading speed because I'm trying to absorb every word slowly so as to squeeze every little emotion out of the sentence as if the words will dry up the moment my eyes graze over them. I guess I hadn't realized I read VERY fast until the moment when I had to slow down to feel I was getting every sensation from the scenes before me. It's crazy to think a story (or in this case, this authors words) means so much to me that I'm willing to change my whole reading ritual.
She didn't blame them. She felt dull, listless, and irritable. And while a part of her longed to fix a smile on her face and fake her sparkle, the other part of her was tired of putting on the show.
She felt like she didn't have a single genuine sparkle left.
Is it weird that the two bets/assignments they had going on didn't really bother me that much? As in, if it were me and I found out, I don't think I'd be all, 'OMG, this is the end of the world! Why did this happen to me?!' I feel the answer to that question as to what that makes me would be unsavory…so I will ponder that little dilemma at a different time.
"Nothing has ever tasted this good. Never," she said with a full mouth. "How many calories do you think I burned? Two thousand?"
Mitchell nodded toward an elderly couple sitting on the bench across from them. "Seeing as they passed you about a half mile back, I'd say you burned around fifty."
So, hats off to Layne for making me give 5 stars to all five of her novels I've read. This one by far had the most painful explosion between the two leads, making my heart tear in two, but it was a beautiful disaster and I loved it. I've read all the way from frat boy to this successful Wall Street businessman, and I love each and every type of man she's created. See, but Mitchell? I think he surprised me the most. Major points for that, because I have never been so surprised by a character's persona…well…ever. He was a Wall Street guy and while I knew he'd be awesome, he was even better than I could have imagined…but I won't ruin why I was so shocked-you'll have to read to find out ;). In this story, it was so dramatic and painful that I had an 'oh, no she di'in't' moment with a dramatic gasp (The 'she' in question was not the main character, FYI-wanted to make that clear). I was being a tad over-dramatic (as I tend to get) and was a complete mess-pulling my hair out and grasping for them to make up. So, again, I loved this story, so now I need to chill the eff out and try to save literally THE LAST available novel by Layne for a dreary day, because after that it will be at least a couple months before her next release…five down, one to go.
Related Posts