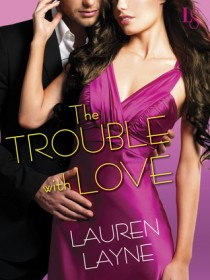 The Trouble with Love
(
Sex Love & Stiletto #4
)
by
Lauren Layne
Synopsis:

As Lauren Layne's salacious Sex, Love & Stiletto series returns, a jaded columnist discovers a steamy way to get over an old flame: falling for him all over again.

As Stiletto magazine's authority on all things breakup-and-heartache, Emma Sinclair writes from personal experience. Five years ago, Emma was Charlotte, North Carolina's darling debutante and a blushing bride-to-be. Now she's the ice queen of the Manhattan dating scene. Emma left her sultry Southern drawl behind, but not even her closest friends know that with it she left her heart. Now Emma's latest article forces her to face her demons—namely, the devilishly sexy guy who ditched her at the altar.

After giving up everything for a pro-soccer career, Alex Cassidy watches his dreams crumble as a knee injury sidelines him for good. Now he's hanging up his cleats and giving journalism a shot. It's just a coincidence that he happens to pick a job in the same field, and the same city, as his former fiancée . . . right? But when Emma moves in next door, it's no accident. It's research. And Alex can't help wondering what might have been. Unlike the innocent girl he remembers, this Emma is chic, sophisticated, and assertive—and she wants absolutely nothing to do with him. The trouble is, Alex has never wanted her more.
Review:
The Trouble With Love was hilarious, sexy, heartbreaking, and addicting.  Emma and Cassidy's past has been dangled in front of us in the previous books, but we never really knew what happened to them.  Why it all fell apart.  But what made this book so potent, was not only the fact that we already knew both of them, but the idea that they could have a second chance at love.  There is something extraordinary in the ability to resurrect something that was demolished.  To find hope that love still exists after the insurmountable happens.  And Emma and Cassidy's tumultuous journey is exceptional.  It was the perfect ending to the Sex, Love & Stiletto's series!
He smiled. "You didn't look me up even once?"
"It hurt too much."
Alex sucked in a breath at the unexpected admission. "Em—"
"Back then," she corrected. "Back then it hurt too much. After a few months . . . I just didn't care."
I loved Emma!  I understood her coldness, the fronts she always tried to display.  The reason she wouldn't talk to her close friends about what happened.  She tried her hardest to protect herself from anymore heartache.  Because she had suffered more than one should.  She had been madly in love with her college sweetheart, Alex Cassidy.  Well, that is until he stood her up on their wedding day.  To say that Emma is jaded, is an understatement.  But Emma isn't just hurt, there's much more to her than that.  She is an amazing friend, and I loved all of her interactions with Julie, Grace and Riley.  But of course, my favorite interactions were between Emma and Cassidy.
Cassidy was sexy, dominating, and wounded.  Although the wounded part could be hard to tell sometimes, because that man held himself together with steel.  An amazing feat, since he lost the love of his life seven years ago.  He stated that the night before their wedding, Emma told him that she didn't want to marry him.  They never got to talk afterwards or have any type of closure.  But he's in luck, because he gets to force the issue.  Camille, the Editor in Chief of Stiletto Magazine, decided to take a three month sabbatical and placed Cassidy in charge.  He was now in the perfect position to tell Emma that her next article would be about her exes.  Of course it was done in the desperate hope that he would gain some insight into everything that went down.  But his plan just may lead them down a different path.  Will he get even more than he bargained for?
Then he seemed to change his mind, and glanced at her anyway. "Sometimes I think I'd prefer you hate me. At least then you'd notice me."
Everything inside Emma seemed to freeze. I notice you— too much. Do you notice me?
When Emma and Alex were in the same vicinity, it was intense!  Their hurt runs deep, jealousy was unavoidable, and the sexual tension between the two of them was through the roof!  They try their hardest to ignore one another, but that never seemed to work out how they wanted.  That is because they have too many emotions that are barely simmering below the surface.  And each time those emotions tried to bubble over, I cringed, I gasped, I laughed, and I melted.  I loved every moment that they were near each other, even if it was torturous at times!
The Trouble With Love was heartbreaking, emotional and gave me just the right amount of hope and laughter.  Looking back, I wasn't even a few pages into their story and I was already gasping and sucking in my breath!  But what is also amazing about this series are the friendships.  The male and female friendships play such a key component in each story.  It's beautiful to watch true friends love and help each other.  It's impossible not to become attached to them, to not feel as though they are your best friends too.  Honestly,I'm not ready for their stories to end.  I'm hoping we will get a sneak peak here and there of the Stiletto women in the Oxford Series, but if not, I'm more than happy with how each book in this series ended. But going back to Emma and Cassidy, their journey was beautiful.  I loved Emma and Cassidy's story and I know you will too.
P.S.  Did I mention that I read this book in one sitting?  That is extremely rare for me!  Emma and Cassidy refused to allow me to close their story, even if for a moment! *ARC kindly provided by Random House Publishing via Netgalley in exchange for an honest review*
Reading Order & Links:


Amazon

(click on covers),

iBooks (click on titles)
***Each book can be read as a standalone, but best enjoyed in order.***

After the Kiss
Reviews:
Jen
Chelsea

Love the One You're With
Reviews:
Jen
Chelsea

Just One Night
Reviews:
Jen
Chelsea

The Trouble with Love
Reviews:
Jen
Chelsea
Buy Links:  Amazon | Barnes | Kobo | iTunes
Add To: Goodreads
Follow The Tour → Click Here
Excerpt:
[scroll-box]"Explain?" Julie said.
Emma sighed. "The apartment above me had some sort of water disaster. My entire apartment looks like the set of Titanic, minus the nubile Leo."
Julie eyed Emma's wet hair. "So, is your hair wet from, like, dirty pipe water?"
"No," Emma said, taking a last sip of Julie's coffee and handing the cup back as she located her badge. "Fortunately, I'd showered before the pipe burst and I managed to dodge the worst of the spray. Unfortunately, drying my hair wasn't an option."
"Right. That whole electrocution thing," Julie said as they swiped their badges and headed to the elevators.
"Um, yeah, I couldn't have gotten electrocuted even if I wanted to," Emma said, punching the Up button. "The power went out."
Julie's brown eyes bugged out. "Seriously? Flooded and you have no power? Is everything ruined?"
"Of course not. I still have this lovely dress," Emma said, pulling the hem of her dress out to the side, curtsy style. She pretended not to notice the way the two girls who had been gossiping happily as they crossed the elevator lobby immediately quieted when they spotted her.
The dress would have been a distraction all by itself. The drippy wet bun was also atypical for a swanky office building in which sophisticated and polished was the unofficial dress code for women.
But a lack of makeup made everything worse. Much worse.
Not that Emma was really a glam type of girl, but she had a distinct disadvantage of having very fair eyelashes, despite her medium brown hair. And her eyes' shape made it worse. They were both large and tilted upward in a semi-distinctive manner. Bambi eyes, her mother had always called them.
But without eyeliner and mascara, she was more Lord of the Rings' Gollum than adorable baby deer.
"You know, it's a good dress, if a bit out of place for work," Julie mused, as they followed the two gossiping girls and a middle-aged man yapping into his phone onto the elevator. "Sexy. A little slutty even. Go you!"
"That's great, Jules. Slutty was just what I was going for on a random Wednesday morning at the office."
"Well then, you should have called me. We're the same size–ish. I could have lent you something."
"I'll be taking you up on that tomorrow," Emma said as Julie hit the button for the twelfth floor. "Everything I have will need to be dry-cleaned at best, burned at worst. But this morning, I couldn't make it from Upper East over to Upper West in the middle of traffic and still make it to the office in time."
The elevator doors had just started to close when a male hand stuck between them, activating their sensors so that the doors reopened.
Great. Really freaking fantastic.
A lesser woman would have groaned in dismay at the sight of the man in front of her.
Emma merely straightened her shoulders, ignoring Julie's softly uttered "Oh, dear."
It was him.[/scroll-box]
Author Info: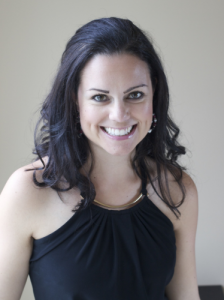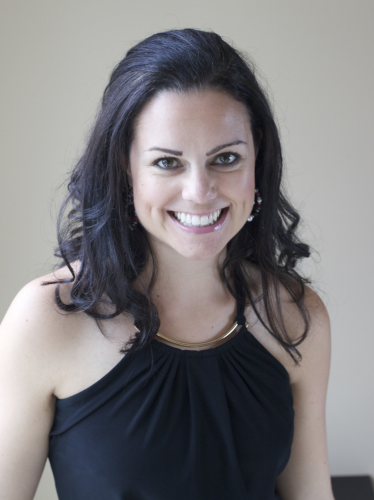 Lauren Layne is a snarky cynic with a serious weakness for happily ever afters. Marrying her high school sweetheart was a good start. *cue Disney soundtrack.* But Lauren wanted all romance, all the time. Now she writes fictional happy endings, and considers her job done well if you swoon while reading her books. Don't worry. You will. Once upon a time she lived in a Manhattan high-rise, but now she's on the laid-back train in the Seattle area. If you ever find yourself in Issaquah, she'll probably buy you a drink. Maybe. Author Links: Website | Facebook | Twitter | Goodreads
Giveaway:
Tour By:
Save
Related Posts
I'm so excited to be a part of the blog tour for Lauren Layne's newest book, The Trouble with Love! It's a definite must read! See below for my review, an excerpt, learn a little about Lauren Layne and enter an amazing giveaway. Enjoy!