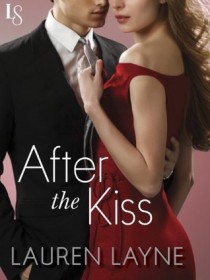 After the Kiss
(
Sex Love & Stiletto #1
)
by
Lauren Layne
Purchase on:
Amazon
, 
iBooks
Add to:
Goodreads
Synopsis:

Julie Greene loves flings. Loves steamy first dates, sizzling first kisses, and every now and then, that first sexy romp between the sheets. Comfy pants, sleepy Sundays, movie nights on the couch? Shudder. But when Julie gets assigned the hardest story of her career—a first-person account of that magical shift between dating and "I do"—she'll need a man brave enough to give a total commitment-phobe a chance at more.

Normally, Mitchell Forbes would be exactly that man. A devastatingly hot workaholic who tends to stay in relationships for far too long, he should be the perfect subject for Julie's "research." But what Julie doesn't know is that Mitchell is looking to cut loose for once in his life. And the leggy journalist notorious for avoiding love is exactly the type of no-strings fling he's looking for. In other words, Mitchell is the polar opposite of what Julie needs right now. And, at the same time, he's exactly what she wants.
Review:
I was extremely giddy while reading this book.  It is going on my favorite's list, and not just because it made me squeal out loud multiple times.  I loved the characters she created, the passion you felt from them, the angst between them, I loved every single page of this book!  I was completely lost in those pages.  At some point, I felt as though my heart was on the line, right along with Julies.  Tears became unavoidable, and keeping my fingers crossed while hoping for the best was my only choice.  After the Kiss was a beautiful love story that I fell deeply in love with.
"Do you have plans tonight?" he asked.
Tell him you're busy. It's too soon to be seeing each other every night of the week. Tell him—
"Nope, no plans." Idiot.
Julie is on a mission to finding out what happens after that first kiss and first few dates.  She's never cared before, but now she's left with no choice.  If she doesn't write an article, at the high profile magazine she works at, about how to advance a relationship to the next step, then her arch nemesis' article will be printed instead.  But Julie has only written what she knows.  So she needs help finding a man who will take her to that next step, who she won't get attached to and can dump at the end of it all.  Her friend finds her mark.  A boring suit who works in Wall Street.  But that suit, Mitchel, has other plans.  He's just made a bet with his friend that he can date, woo, and not fall in love or have a long term relationship with the next woman he goes on a few dates with.  See, he just got out of another long term relationship.  If he wins, then he gets amazing seats to Yankee games, but if he loses then he switches offices with his buddy.  Mitchell's friend sets the mark on Julie.  What unfolds is constant entertainment.
It was happening.
After six years with a flawless record, the queen of dating had just done the unthinkable.
She'd failed to land the second date.
Julie is used to being at the top of her game and having control of her dating life.  But when Mitchell enters her life, she keeps get shaken around and left a little confused.  Mitchell clearly isn't what she expected, and it was fun to watch Julie slip into the unknown.  But there's so much more to Julie then what meets the eye.  She has so many layers buried underneath her.  She is pain, she is closed off, yet she is successful and exceedingly skilled in the dating world.  Ha, until Mitchell that is.  I loved Julie and felt a connection to her, as though she was a close friend.  A close friend that I desperately wanted a happily ever after for.
Julie took a deep breath and looked at him again. Maybe she was underestimating him. Julie braced herself and waited for it. The zing, the sizzle. And she felt … absolutely nothing. He was like dry toast.
Mitchell, how deceiving you were.  While at first glance he screamed boring and practical, his personality was shockingly wild.  Mitchell was control, sexy and a heart of gold…….for the most part.  We all have our flaws, so of course Mitchell is going to also.  But regardless of his mistakes, it's impossible not to swoon!  I love that he called out Julie when she tried to play games with him.  I love when he pushed Julie out of her comfort zone.  Oh, and I love that he was downright seductive when he told Julie what to do.  Be prepared for Mitchell to win your heart and leave you hot, flustered and fanning your face!
Her hands slid up behind his neck, her nails scraping lightly at his skin as though wanting to mark him.  She wanted to leave a mark on him.  Mark him the way he seemed to be marking her very soul.  Mitchell growled before his mouth slammed down on hers.
After the Kiss was lovely, funny and gut wrenching.  Probably one of my favorite things about Lauren Layne books, besides the characters, emotions and storyline, is that she has this amazing ability to make her books hot yet classy.  It makes me love her books that much more!  This is a fantastic book that I can't recommend highly enough!
P.S. One of my favorite quotes which is spoilerish…. View Spoiler »Here was a short-term kind of girl begging for a long-term relationship from a long-term kind of guy who wanted a fling. It was movie-worthy. It was laughable. It was … incredibly painful. « Hide Spoiler
Reading Order & Links:


Amazon

(click on covers),

iBooks (click on titles)
***Each book can be read as a standalone, but best enjoyed in order.***

After the Kiss
Reviews:
Jen
Chelsea

Love the One You're With
Reviews:
Jen
Chelsea

Just One Night
Reviews:
Jen
Chelsea

The Trouble with Love
Reviews:
Jen
Chelsea
Related Posts