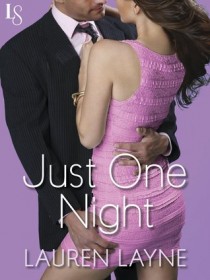 Just One Night
(
Sex Love & Stiletto #3
)
by
Lauren Layne
Purchase on:
Amazon
, 
iBooks
Add to:
Goodreads
Synopsis:

Riley McKenna knows sex—good sex, bad sex, kinky sex. Her articles in Stiletto magazine are the publication's most scandalous—and the most read. But when Stiletto's fiftieth anniversary issue requires her column to get a lot more personal, Riley is forced to confront a long-hidden secret: Her own sexual experience is limited to one awkward college encounter. Now Riley is about to call in the favor of a lifetime from the one man who's always held her heart.

Sam Compton knows two things about Riley McKenna: She's the only woman for him. But as his best friend's little sister, she's also completely off-limits. Sam shouldn't even consider her proposition: to have a one-night stand in the name of research. But the thought of another man putting his hands on Riley is more than Sam can handle, and soon he's agreeing to one night with New York's resident sexpot. But Riley's full of surprises, and what starts as "one time only" soon becomes "just one more time." And then one more. And before they know it, Riley and Sam learn firsthand that when it comes to love, there's no such thing as just one night.
Review:
Just One Night was an adorable friendship to lovers story.  And when you became entangled in the heart of it all, it took an amazing turn into something that was raw and emotional.  I tried my hardest to keep quiet, while my husband slept peacefully next to me, as I devoured this book.  But it was impossible.  The laughing couldn't be stopped and neither could the sobbing.  Riley and Sam's story is definitely a must read!
But it had been a decade. Sam had had a freaking decade to stake his claim on her.
He hadn't. He wouldn't.
No more waiting, Riley.
Riley McKenna is the sex columnist for Stiletto who has only had sex with one man.  And that was in her college years.  For the last ten years she has pined after her brother's best friend, Sam, who has never once made a move on her.  But fate has intervened and now she has to write a personal article about the woman behind her stories.  Not wanting to admit that she is a farce, she is going to need some help.  So of course that help has to come from Sam.
This is not happening," Riley muttered, glancing at the ceiling. "My mother is not telling me my spanking article lacked passion."
Eeks, you know what?  I loved Riley!  In the previous books she came across as this put together, sex goddess, but that is far from the truth.  On the outside she portrays that image perfectly but on the inside she is insecure.  It was so easy to relate to Riley.  Not only because of her insecurities but the fact that she is down to earth when she is around her family and friends.  But my heart bled for her because of how much she cares for Sam and how each time she seemed to have a grasp on the situation it would always slip away from her.
Don't do this, man, he ordered himself. He'd promised Liam. He'd promised himself.
He was no good for her, and one of them was going to get hurt.
Sam was alluring without even trying.  I loved him, but I also wanted to scoop him up, fix everything that was broken, and make it all better.  That's because Sam Compton has found in the McKenna family what he is desperately lacking in his own life, love and family.  Sam's mother is a wretched, evil woman who constantly belittles, diminishes and crushes Sam's self-esteem and happiness every moment she can.  And this has taken a huge toll on Sam's personal and business life.  He's afraid to move forward with his whiskey business or pursuing Riley because he doesn't feel as though he deserves them.  Well, and let's not forget that another reason he can't have Riley is because he made a promise to his best friend, her brother, to never touch her.  Worst promise ever!  So what's a man to do when Riley comes to him with a very sexy proposition?
His hand paused on the doorknob, and he gave her one last look over his shoulder. "It was good though, wasn't it? While it lasted."
The lump in her throat doubled in size. "Yeah," she whispered.
Anytime Sam and Riley were together it was fun, sexy and emotional.  Their long friendship allowed them to know each other's faults and downfalls and that added so much depth to their relationship.  Because underneath it all, they are good friends who care for one another.  Their friendship always bordered on platonic but there was an underlying simmering of need and lust.  And when they start to cross that line, WOW, they are breathtaking together.  You HAVE to read Sam and Riley's story!
Save
Related Posts