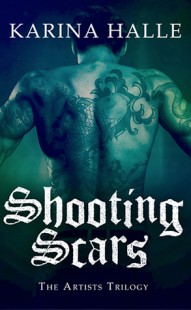 Shooting Scars
(
The Artists Trilogy #2
)
by
Karina Halle
Purchase on:
Amazon
, 
iBooks
, 
Book Depository
Add to:
Goodreads
*spoilers for those who haven't read Sins and Needles-book #1

She left me in a cloud of dust, a swirl of crushed cherry blossoms that choked my heart.

What is there to say about this deliciously complicated story? On one hand, we get to see into my beloved Camden's head every other chapter-I could read about him all day long. On the other hand we have Ellie stuck up Javier's ass for 90% of the story. This is where the plot lost some of it's appeal for me. Karina makes us (or most of us) fall in love with the beautiful, flawed Camden in book one, then leaves all his biggest fans high and dry, feeling nothing but remorse for the poor, tortured soul.
"Will you burn with me?" she asked. "Or will you go free?"
I grabbed her face as the heat pressed in. "I'll burn with you."
Shooting Scars immediately picks up where Sins and Needles left off-with Ellie being pulled away in Javier's car and leaving Camden at his shop, struggling to break free and get his precious Ellie back. I thought it was a good sign that this was the case. Many times a cliffhanger will be thrust upon us readers, then when the next installment comes out it's three months later and we're left to wonder what happened in those three months. What happened when she drove away? How was Camden feeling as he stood in the dust, struggling to break free? What were the actions they took after being thrown into a situation neither of them wanted? There are always things left unanswered. Karina Halle did us a solid, though, and made the transition painless-or so I thought.
"Sometimes…" A tear rolled down her cheek, the dam breaking, the release. She sniffed. "Sometimes I'd do anything to be good."
Damn it, God damn it. My heart was breaking all over again, just when I thought I didn't have anything inside me to break.
The beginning began well enough. Ellie was unhappy that she was stuck with an evil monster, and Camden was trapped in his hometown with his ex-wife and son while having to pine after the girl who got pulled away from him. Things were as they should be-angsty and somewhat hopeless. See, without this hopelessness, there wouldn't be any conflicted, anxious feelings from us readers. As confusing as it sounds, the hopelessness makes the readers hope…making for an intense story whether the author makes it action-packed or not. So yes, I had so much hope for this story.
All for a girl. But she wasn't just any girl.
She was mine.
And I was hers.
Until the bitter end.
But my heart was quickly crushed at around 60%. My soul was ripped to pieces. Why this had to happen, I have no idea. What ensued on GR after was also a tiny, piercing stab to my heart-people started to support the bad guy-the other guy. All while Camden is risking his damn life to save Ellie, despite the dire consequences he faces. Seems pretty fucked up to me. It killed me-no it destroyed me to see what was unfolding in this story. How easily Ellie believed in Javier's shit. It was sickening, maddening, annooooyyinnngg. And it totally drained me. It really, really did.
"Well, I still think there has to be a reason why she's there, why she's doing this. It can't be black and white."
"For as long as I've known Ellie, she's always been gray. No black, no white." Well said Gus.
Ellie is still, and only because of the very end, a gray area for me; albeit a very, very dark shade of gray. For a minute it was all black and white to me-very clear. I hated her for about 20% of the story. For a while, I found her actions unforgiveable. What was worse? Karina Halle View Spoiler »made the scenes extremely steamy. That's right, as one of my friends on here said, it was hot. She made us enjooooy the sex. « Hide Spoiler I can't say it didn't pique my interest, because that would be a damn dirty lie, but it still didn't sway my feelings in the least.
What I couldn't understand was his power over her. Or maybe I didn't want to. She was better than that. I believed it. I knew it.
So, while the story didn't completely wow me, I'd be fibbing if I said I hated it. Sure, I was disappointed and even considered rating it less than four (very painful), but I can't do that. I liked being in Cam's head way too much. The struggles he went through, seeing how desperately he was in love with Ellie…it was enough to make me love him even more, and for that, I can't give it any less than four. But I am speaking the truth when I say it's ONLY because of Camden McQueen. I will always and forever be on Cam's side-END OF STORY.
Related Posts