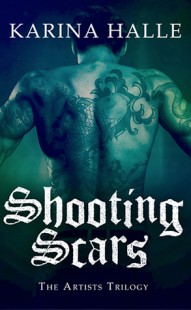 Shooting Scars
(
The Artists Trilogy #2
)
by
Karina Halle
Purchase on:
Amazon
, 
iBooks
, 
Book Depository
Add to:
Goodreads
Synopsis:

A Dangerous Kind of Love . . .
When Ellie Watt offered herself to her thuggish former lover Javier to save Camden's life, she never imagined the twisted game Javier had planned for her. Trapped by him and his entourage of killers, Ellie is forced to commit a dangerous, heinous crime-or Javier will kill Camden. Now ex-con artist Ellie must find a way to stay ahead of the game . . . before it destroys her and the only man she ever loved.
Camden McQueen can't forget Ellie Watt. Seeking revenge and pursued by the authorities for a crime he didn't commit, the talented tattoo artist does things he never thought himself capable of to save Ellie. As Camden straddles the line between love and retribution, he vows to do everything in his power to get her back. But if Camden unleashes his dark side, will Ellie still love him?
Review:
*Spoilers for Sins and Needles
*
I was the angel of death, walking arm in arm with Lucifer. – Ellie
Oh my gosh, oh my gosh, oh my gosh.  Wait, let me take a deep breath because that was amazing!  Shooting Scars was a phenomenal second installment that was even more dark and twisted than the first!  Not only was I glued to the pages, but I loved that I could never truly guess all that would eventually unfold.  Ellie, Camden and Javier could be such wild cards at times, and I loved that about them.  Their emotions, motives and persona's always kept me on the tip of my toes.  Just like the storyline!
Even at her very worst, she made me want to be a better man. To be good enough for the both of us. – Camden
Elie has sacrificed herself for Camden's happiness.  She has agreed to go away with Javier and his entourage of killers, so Camden can have his family back.  But what she doesn't realize, is what is in store for her.  Ellie is going to be forced to commit a horrific crime, and if she doesn't comply then Camden will be killed.  Now for a girl that I found myself struggling with liking from time to time, she had this amazing ability to pull vasts amount of sympathy from me.  Because in this story, she goes above and beyond what I consider forgivable.  My ability to like or even root for her was obliterated.  Or so I thought.  But somehow she managed to swing back around to my good side.  Again. Ugh, I don't even know how it happened.  Maybe it's the sympathy or the way she is manipulated and brainwashed to think that she is truly bad?!  I don't know.  But somehow by that last page I liked her again.  Ellie constantly messed with my head!
All I knew is what I felt. And that the woman I loved, had always loved, had sacrificed herself for me. There was no getting past that. She'd embedded herself in my skin, like a tattoo I could never give myself. – Camden
Do you want to know what my favorite thing about this book was?  That we got to alternate between being in Ellie and Camden's head.  Listening to Camden's thoughts…..sigh, I was ecstatic to be there.  But at the same point, we truly got to know him inside and out.  And ohhhhh Camden, how dark can one person turn?!  The things that he thinks and the things that he does, well at times it was horrifying.  There's this one part where uhhhhhh I never thought of something turning out that way and my stomach twisted again and again.  *shudders*  I was terrified that Camden was teetering on the edge of becoming someone evil.  Someone like to Javier.  And if you read my ON EVERY STREET review, you'll know how much I despise that man.  But I'm holding out hope for Camden, just like he holds out hope for Ellie.  Because Camden is sweet, faithful, has so much love in his heart, and always tries his hardest to do what's right!  I'm rooting for him all the way!
"Sometimes I'd do anything to be good." – Ellie
Shooting Scars encompassed love, revenge, torture, hope and despair while keeping me on the edge of my seat.  While I wish there wasn't so much time spent between Ellie and Javier, because I loathe that man, I get why it had to happen.  The conflict and struggles it created was paramount to this story.  BUT that ending?!?!  Must start the third and final book now!
Save
Related Posts