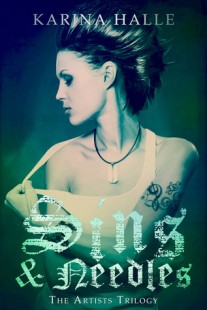 Sins and Needles
(
The Artists Trilogy #1
)
by
Karina Halle
Purchase on:
Amazon
, 
iBooks
Add to:
Goodreads
How can you possibly write a coherent review when you're speechless? Sure, I've read most of Karina Hall's EIT series, and I love it so much. But there is always a little feeling I get in the back of my mind when I start a new series by an author I love for a totally different series: Doubt. Skepticism. It's a number of things. I've realized something, though-Karina Halle? This badass writer cannot create a hero I don't love. Seriously. Even the oh-so-flawed Declan of the EIT series is unforgettable. But THIS. THIS new hunk of a man? He's a whole other beast, and I Can. Not. Stop. Thinking. About. Him.
"I only wear these for shows," he admitted in a conspiratorial voice that made me lean in close to him. A little thing I discovered as I got older, turns out women love men in glasses. Sure would have come in handy in high school."
Yes Camden, yes I do love men in glasses. The saddest part of the whole story is, Ellie may have been a real BITCH in high school, but it's clear from the minute she runs into him again, he is at least still highly attracted to her, and when he looks at her, it's as if he's seeing into her soul. I better veer off from this topic for a minute, lest I start to fangirl. Can't have that can we?
I could feel him smile. "Once a spazz, always a spazz".
Ellie is a special character, because she grew up in less than desirable circumstances. The daughter of two con artists and labeled a loser at school, Ellie felt like as much of an outsider as a person possibly can. But she had Cam: Albeit a super odd, gothy, lipstick wearing Cam, but still Cam. The guy who would do anything for her, even after she broke his heart-In front of the WHOLE SCHOOL.

I hate you, Ellie Watt," he whispered, lips coming closer to mine, "because I still love you after all these years." *MELTS*
A child can only be expected to follow in their parents' footsteps…but when does what she's doing start feeling wrong? That's why Ellie is a gray area character for me. She doesn't know any better, but doesn't she really? She feels remorse, and she hates being on the run. So why not try and make an honest living? Her final scam was going to be Camden, but when things go wrong, we fall into an action packed adventure where identities can't be the same and you can never go back.
Peril, deception, lies, insurmountable love, and action throughout, I couldn't find a moment where I felt good about putting this book down for a break. I never knew what was going to happen or where the story was going to go, and it was such an interesting read. Not everything in this story is as it appears, and you learn that sooner rather than later.
I loved this story so much. Each character had something that made them so fun to learn about, which made the experience so much more exciting. For anyone who has read anything else by her, I can say that you will most likely love this book just as much. The characters are extremely likeable and you can't help but fall in love with the beautiful, flawed, sinfully evil, devoted Camden. And if you haven't read anything else by her, I have to encourage you to give this one a try. It's fun, fast-paced, and easy to get lost in. You would definitely be missing something special if you passed this one up. So go give it a try-immediately. You won't regret it.
Related Posts