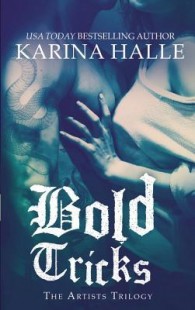 Bold Tricks
(
The Artists Trilogy #3
)
by
Karina Halle
Purchase on:
Amazon
, 
iBooks
Add to:
Goodreads
Synopsis:

Raised by con artists, Ellie Watt has a lot of crazy childhood memories-but none crazier than being scarred with acid by the demented crime boss Travis Raines. Now Ellie is a full-grown woman who lives for revenge, and Travis is a full-blown drug lord who kills for pleasure. The sadistic bastard has kidnapped her good friend Gus as well as her mother, whom he's been holding as prized possessions in his heavily guarded lair. And Ellie has only one chance in hell of getting them out alive-using two dangerous men who love her to death . . .

One is Camden McQueen, a talented tattoo artist who's made a permanent mark on Ellie's heart. The other is Javier Bernal, her fiery ex-lover who's busted more than a few heads in his time. From the crime-ridden streets of Mexico City to the predatory jungles of Honduras, this unlikely trio forms an uneasy alliance in the deadliest game of all-a gun-blazing battle to the finish that will pit enemy against enemy and lover against lover. And Ellie must choose the right man to trust . . . or die.
Review:
*Spoilers for Shooting Scars #2
*
Bold Tricks was the perfect way to close this stunning trilogy!  The angst kept me on the edge of my seat, the love made my heart swoon, and the dark, twisted storyline quickened my heartbeat and at times filled my veins with dread.  This book was so good.  So insanely freaking good!
…there was something so goddamn sexy about seeing Camden handle a gun, the shiny metal against his big arms and wide chest, muscle against muscle. With the blood smeared on his face, dripping down onto the tats that teased at his neck , he was 100 percent man. I just wished he was 100 percent mine.
We jump right into the story were Shooting Scars left off.  Ellie, Camden and Javier have barely escaped from Travis' house and they know it is a matter of time before they are found.  They are on the run for their lives, together.  And they will need to work together to keep Javier's sister safe and to rescue Gus and Ellie's mother.  What follows is an action packed, intense ride that was completely unpredictable at times.  It was impossible to put this book down.
"You own my heart. Please let me have yours."
This book was only told from Ellie's voice.  And while I was sad that I didn't get to be in Camden's head, it made a lot of sense.  We needed to feel as though we were in Ellie's shoes.  Because her heart and soul had been ripped apart.  She desperately wanted to be back together with Camden, but she betrayed him in the worst sense.  Ellie tried to make Camden see the light, but with Javier there it was impossible.  Javier's presence was slammed in Camden's face every second of every torturous day.  The anger, jealousy, betrayal and lust from all of them was beyond palpable.  I loved it!
"What happened to your glasses?" I asked him.
He bit his lip, his eyes darting to the car. "They fell off somewhere. Probably when I fell. I can't remember. That whole thing was… a blur."
"Can you still see?"
He smiled, all beautiful white teeth, full lips, and dimples. "I'm nearsighted. Which means I'll be a lousy shot until I get a new pair or some contacts. But at least I can see you clearly. The things up close. The things that matter."
Ellie was one of those characters where it was easy to vacillate from liking to hating her.  Her actions and thoughts could be entirely messed up, but I still wanted the best for her.  Maybe it's because I felt her suffering and remorse towards Camden.  I felt her desperate need for him to forgive her.  Or maybe it's because finally in this book Ellie became a total bad-ass!  She knew who she wanted to be and where she wanted to stand.  She finally figured out all of her shit.  She even had me laughing at her in scenes that were entirely inappropriate for laughing, like when she stole a weapon from someone, but gah, I was so ecstatic that she became the person I thought she deserved to be!
This was no longer a matter of good or bad.
This was all gray.
Hazy, fuzzy gray.
I squeezed the trigger.
The chamber clicked.
Loudly.
Empty.
I can't end this without talking about Camden.  I loved how dark he continued to be in this book.  A sexy, glasses wearing tatted up guy who would do anything to keep you safe, to do what is right, even if it meant not blinking an eye to kill someone?  UH, YES PLEASE!  I was so sad to say goodbye to him and Ellie (sooo not mentioning Javier here besides this part haha).  This whole series was utterly addicting, crazy, and entirely messed up but so, so, so good!  It's unlike anything I have ever read before and I plan to devour many more of Karina Halle's books!
Save
Related Posts