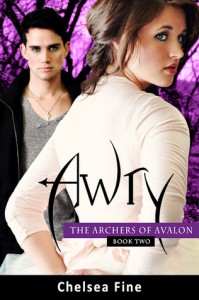 Awry
(
The Archers of Avalon #2
)
by
Chelsea Fine
Purchase on:
Amazon
, 
iBooks
Add to:
Goodreads
Synopsis:

Seventeen-year-old Scarlet has just died. Only, dying isn't unusual for a girl under a centuries old curse that left her semi-immortal. This time, though, she comes back to her current life instead of awaking in a new one, and she realizes her curse is changing. With the help of the immortal Archer brothers, Scarlet tries to piece together her life and break the curse before her impending death comes again.
Review:
**Spoilers if you haven't read Anew**
The last two sentences in Awry have me ecstatic for the final book. I feel as though I should be jumping around my house, fist pumping the air. Seriously. No, seriously. I loved every single thing about this book. The dialogue is witty and hysterical. The characters quirks and strengths make them that much more lovable or loathable. And the element of having star-crossed lovers? Oh, this was done perfectly. Tristan and Scarlet broke me over and over again and yet somehow, I still have hope for their future. Please let there be hope for their future.
Stars filled the December night sky, peeking through the tall forest trees, and moonlight cast a soft glow against Scarlet's cheek, making her look peaceful, healthy. The moonlight lied.
The beginning of this book is gut wrenching. Scarlet is dying in Tristan's arms. It was supposed to be him, not her. But after Scarlet dies, something strange happens. Her body doesn't disappear and they don't have to wait years or decades for her to materialize again. She just comes back to life. While everyone is struggling with trying to figure out why the curse is changing, they make a decision to go into seeker mode. They are determined to hunt for the Fountain of Youth to break the curse and to keep Tristan from trying to kill himself again.
He placed a gentle finger below her chin and tilted her head up. "My care is not wasted. You are the best part of my day and what I look forward to when I'm gone."
Scarlet looked into his eyes. "If you continue coming here, you are a fool."
He smiled again. "Then call me a fool."
There's a different element in this book that didn't exist in the first and oh wow, it made me fall even more in love with Tristan. We get to travel back in time and watch Scarlet, Tristan and Gabriel's lives unfold. Sometimes flashbacks can be awkward and detach you from the story. But these were done seamlessly. I never knew if I wanted to stay in the past or come back to the present, because both stories were alluring. The only thing I did know was that I was desperate for a solution for Scarlet and Tristan's current angst. Because nothing is right in the world until Hunter can be with his Scar again.
"First of all," he said angrily, "I couldn't stop loving you even if I tried. And I've tried." He shook his head and laughed without humor, his hands balling into fists. "God, how I've tried. But I am completely lost to you. I am lost and empty and broken-"
"My heart is broken too-"
"My heart is not broken, Scar. My heart is dead!" His eyes were hopeless and wild. "It is a hollow black object that sits in my chest without purpose, haunting me with memories."
Tristan was utter perfection in this book. We get to see the dark brooding Tristan and the Tristan that is thoughtful, caring and butterfly inducing. He is so selfless, honest, loyal, persistent, sweet, charming and breathtakingly beautiful. Now don't get me wrong, I love dark brooding Tristan, but his other side made me weak in the knees. I now understand why Scarlet feels such a strong connection to him. And I couldn't help but tumble even deeper into love with him as each piece of the puzzle came into play.
"I think," she said quietly, now that their mouths were close to each other, "that easy and clean love is not true. It is simply convenient. Messy love, though…that is something to revel in."
Scarlet was even better in Awry. Scarlett is so darn stubborn, but her stubbornness helped her persevere again and again. And while we get to learn about her past, we get a glimpse into a Scarlett that is truly remarkable. She is strong, brave and is a fighter through and through. She is definitely becoming one of my favorite heroines.
Scarlet was Gabriel's one ray of light, one beam of hope. And Tristan had taken her away from him. He was always taking her from him.
Gabe is still righteous. How can one person be so obsessed with always knowing what is best for others? I understand it and maybe I'm being a little harsh, because in the flashbacks we get to see a beautiful side of Gabe. His actions were honorable and technically speaking it should have made me a fan of Gabe. But I'm stubborn, so maybe I'll like him a little more in the 3rd book. Also, we get to see even more of Heather and Nate. They are both hysterical and I enjoyed every single moment they were in the book. You always knew that they were going to make you smile and laugh.
Heather plastered herself to Gabriel's side, sinking her fingernails into his upper arm. "I'm not immortal. I'm totally killable." She sucked in a breath as her pitch rose. "And I'm blond. Blonds always die first."
"That's true," Nate said matter of factly.
Heather made a freaked-out squeaky noise. "I don't want to die."
I loved every single thing about Awry. I can't wait to see how their journey proceeds and I'm keeping my fingers crossed for a Tristan and Scarlett happily ever after!
Related Posts