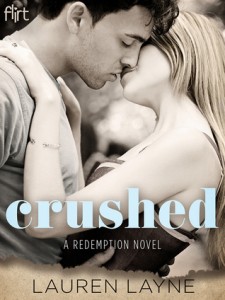 Crushed
(
Redemption #2
)
by
Lauren Layne
Purchase on:
Amazon
, 
iBooks
Add to:
Goodreads
Synopsis:

Growing up in New York, Michael St. Claire never expected to spend his twenties wearing cowboy boots. But that was before he learned about his real father, a total stranger with a family in Cedar Grove, Texas. Once in the Lone Star State, Michael meets Kristin Bellamy, who is exquisitely refined and everything Michael always thought he wanted in a woman. The only problem is that Kristin is dating Michael's new half brother, Devon.

Kristin's mouthy, curvy sister Chloe has always been in love with Devon Patterson. So when Michael offers to help Chloe break up Devon and Kristin, Chloe agrees to a deal that seems too good to be true. Before long, Chloe finally gets her man, only to make a startling discovery: She no longer wants the guy she had to fight for—she wants the one who stood by her side.

After all he and Chloe have been through, Michael swears he's damaged goods. Can Chloe convince him that love is worth the risk?
♥ BR with my wonderful Star-Crossed ladies, Chelsea and Jen ♥
✵Don't you hate when you're completely unable to gather your thoughts about a book? That's so annoying. Right?! Because I'm a scientific girl I'm really not. At all. I decided to complete a quizz to help me decide.✵
Who knows? Perhaps it will help you too. One can hope.
☛ Cross the odd one out! – Romance facts, anyone?
✔ Typical NA package with instalove, instalust, virgin and pure but beautiful perfect heroin Nope!
✔ Not free of stereotypes : hello, player, nice to meet you! Need a savior? Why, thank you, mean perfect sister, need a slap? Love triangle, anyone?
✔ Gradual and believable love-story
☛ Rate the characters! Or try to, anyways.

☛ Match the sentences! – Plot facts



☛ MCQ! – How in the world am I supposed to rate this?
If I'd only rate this book compared with other New Adult…
☑ Who am I kidding? I never could have finished it.
☑ It would deserve a high 4, perhaps 4.5
☐ It would share my overwhelming bunch of 2
As I rate this book with regards to other contemporary romance I read…
☑ I'm giving it a 3.5 because even if I'm pleasantly surprised by the lack of instalove and other bullshit, the male-lead is far from unforgettable for me and the stereotypical sister irked me. Overall, that was a cute read, but I won't reread it.
☐ It stands out from the rest.
☑ Lauren Layne did better before.
☑ But still – in the whole bunch of craps we find in New Adult, that's quite awesome. And that ending? Hilarious and swoon-worthy. Now, that's the Lauren Layne I love.
*ARC kindly provided by Random House publishing via Netgalley in exhange for an honest review*
Reading Order & Links:


Amazon

(click on covers)

& iBooks (click on titles)
***Each book can be read as a standalone, but best enjoyed in order.***

Isn't She Lovely
Reviews:
Jen
Chelsea

Broken
Reviews:
Chelsea

Crushed
Reviews:
Jen
Chelsea
Anna
Related Posts