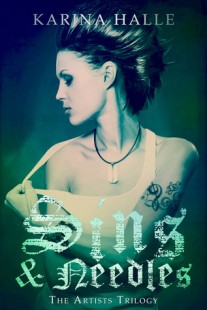 Sins and Needles
(
The Artists Trilogy #1
)
by
Karina Halle
Purchase on:
Amazon
, 
iBooks
, 
Book Depository
Add to:
Goodreads
Synopsis:

Ellie Watt is used to starting over. The daughter of a grifting team, Ellie spent her childhood being used as a pawn in her parents' latest scam. Now she's much older, wiser and ready to give her con artist life a rest. But returning to the dry desert town of Palm Valley, California means one more temptation than she bargained for – Camden McQueen. Once known as the high school weirdo, Camden is bigger and badder than the boy he used to be and a talented tattoo artist with his own thriving business. Ellie's counting on Camden still being in love with her but what she's not counting on is how easily unrequited love can turn into obsession over time. When Camden discovers Ellie's plan to con him, he makes her a deal she doesn't dare refuse, but her freedom comes with a price and it's one that takes both Ellie and Camden down a dangerous road.
Review:
Sins & Needles slowly dragged me in, and once it had me in it's clutches, it had a death grip on my heart!  I am still left stuttering, trying to wrap my head around what I just read.  I am completely astonished and blown away by what unfolded in front of me.  It's unlike anything that I have ever read before.  By the last page I had no clue whether I wanted to smile, laugh, cry, or scream.  My emotions were that twisted, just like the story was.  If you are looking for an insanely addicting yet utterly messed up book, then this is for you!
When I was a child, I was never in a town long enough to get enrolled in the softball team, which was a shame— because as the cue cracked against the side of his bald head, I realized it could have been a second career. – Ellie
Ellie Watt is a grifter, just like her parents taught her to be.  But after getting caught in a con, she is in need of a break.  In pursuit of a fresh start, she heads to the only place that has ever felt like home.  Her Uncle's ranch.  But for Ellie, she can't stop what is ingrained in her.  And she has her next mark in sight.  Camden McQueen.  Her one and only true friend from High School.  But Camden has plans of his own, and makes a deal with Ellie that is about to change both of their lives forever.
"You're a con artist. A liar. A thief. An unredeemable soul. You can't be reformed. You can't be saved. You'll die trying to make the world pay for what it did to you. And you'll die alone." – Camden to Ellie
Ellie was insanely difficult to connect with.  She was tough, her heart was buried deep within her, and for the most part it seemed as though she had no conscious or moral compass.  At times I contemplated whether I really liked her.  But throughout the story she earned my sympathy and eventually even my respect.  Who knows if she'll keep it, because her track record is beyond horrible.  But everything, and I do mean everything that she did intrigued me.  She was dark, twisted and I loved listening to her screwed up mind as she forged along her disturbing path!
My eyes squinted from the light. From the way he was positioned by the window, he almost looked angelic. But angels don't have tattoos and they certainly don't have guns in their hands. – Ellie
You will want to meet Camden!  He was such an enigma to me.  He is a talented tattoo artist that is sexy as sin, yet he always seemed to have something simmering below the surface.  He would give these looks or say these phrases that made me pause.  I would question what I just read, because I had to have read that wrong.  But after going back, nope I wasn't wrong and it made him appear dark and twisted.  Kind of like Ellie.  And there was no way that could be right.  Right?
Holy shit, did Camden just spank me? – Ellie
When Camden and Ellie were together, they were intense, raw and gritty.  I loved that we got to learn their whole sordid history.  At the beginning of the chapters, we would have a flashback to Ellie's earlier years.  We got to see Camden in High School as a goth who wore a trench coat, black fingernail polish and lipstick.  They banded together and were the outcasts of the school.  Of course no one wanted to be friends with the girl with the constant limp besides Camden.  The history between them created a picture that was whole and made this story amazingly powerful.  By the time I was almost halfway through the book, it refused to be put down.  Sins and Needles became action packed, sizzling sexy, dark, and I can't recommend this book highly enough!
Related Posts