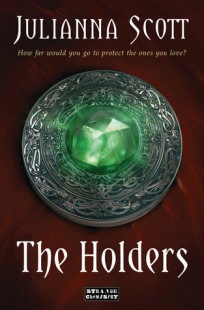 The Holders
(
Holders #1
)
by
Julianna Scott
Purchase on:
Amazon
, 
iBooks
, 
Book Depository
Add to:
Goodreads
Synopsis:

17-year-old Becca spent her whole life protecting her brother from, well, everything. The abandonment of their father, the so called 'experts' who insist that voices in his head are unnatural and must be dealt with, and the constant threat of being taken away to some hospital and studied like an animal. When two representatives appear claiming to have the answers to Ryland's perceived problem, Becca doesn't buy it for one second. That is until they seem to know things about Ryland and about Becca and Ryland's family, that forces Becca to concede that there may be more to these people than meets the eye. Though still highly skeptical, Becca agrees to do what's best for Ryland.

What they find at St. Brigid's is a world beyond their imagination. Little by little they piece together the information of their family's heritage, their estranged Father, and the legend of the Holder race that decrees Ryland is the one they've been waiting for. However, they are all--especially Becca--in for a surprise that will change what they thought they knew about themselves and their kind.
☠ Warning : the plot is VERY similar to X-men at first but it didn't bother me, because I get the impression that the author actually acknowledges it by several references. Secondly it's just…. so FUN, and if some readers find that fun is cheap, I don't : after trying a tons of books lately, I can say without doubts that fun isn't easy to find. Moreover, there are some magical additions that appealed to me (alchemy, for example) and the great villain, Darragh, while sharing some particularities with both Magneto and Sylar from Heroes, is more complex that I imagined at first. Finally, I don't mind inspirations of other works when it's well-done and when the author uses them as a background to create a compelling and original story. In my opinion it was the case here, and the way the story unfolded satisfied me.
But perhaps the most important thing to consider is the fact that The Holders managed to get me involved in Rebecca and Rylan's story at any time during my read : I was hooked from page one, and that's something because I started almost 10 books yesterday. Yes, 10! So freaking annoying. The writing style was compelling, and the pacing pretty fast, as there wasn't any dull moment and I couldn't have stopped reading for the life of me.
Sure, some of the plot twists were glaringly obvious, yet instead of spoiling my read, they made it an almost better experience because the knowing created an expectation in me that improved my read, you know? Therefore strangely, I never minded the predictability.
As for the settings, most of the story takes place in St Brigid, a special academy standing in Ireland. While I appreciated the fact that the descriptions weren't all over the place (I never had a huge patience for that, to my literature teachers' dismay) I have to admit that while quite atmospheric at times it never reached the level of others books set in Ireland I read. Indeed the settings aren't the main focus here, as we don't get to travel and wander a lot. Therefore don't expect to be transported otherwise you would be disappointed. This being said, I remained curious along the way, eager to catch any occasion to learn something about it, so it's almost a win for me. And to be frank, I read enough fantasy to be satisfied on that count, and this kind of book is refreshing, not to mention that everything actually makes sense (you would be surprised to see how many books TRY to create a world-building and FAIL because it's just too confusing and messy).
As far as the characters are concerned, the only thing I can that is that I loved them because they all were very likeable and felt genuine. Indeed Becca's voice was refreshing and believable for a 17 years-old-girl : she can be immature at times but never dumb or annoying. What defines her the most is her strong love and mean to protect her brother and her mother, and for this I loved her.
"It's just a school," the younger man interrupted, in what I can only imagine was his best peacekeeper voice. "I promise."
"You promise? What are we, twelve? Next I suppose you're going to pinky swear me that this will all be for his own good, and expect me to let you take him?"
Well, yeah, she can be kind of ill-tempered sometimes, but it's for a good reason, I promise! Pinky swear 😛
Alex has been designed for us to crush on him and strangely… I crushed on him. Hey, I never said I was immune to an adorable superpowered guy who can create illusions larger than life. I mean, seriously, the guy must rock on dates. Duh. Moreover, he's loyal, caring, blushes all the time and frankly? So sweet and kind and AWW, I adore him.
Concerning the romance, I realize how easy it would be for me to take all the information at once and shows something else entirely. The truth is, if some aspects are part of what I usually don't like in romances, here it worked. In my opinion here lies the talent of an author : when the peeves we can see in a book feel so right that we don't care nonetheless. How could I bother about objective complains if in my heart I wouldn't have wanted the story to be different? It would be so unfair of me – I won't.
First Becca's instant-crush on Alex, which could have been extremely annoying, strangely wasn't because she kept it in check, let's say. She's well aware that she isn't supposed to daydream about him and frankly, her take on the situation was refreshing. Yes, she has a crush. So what? Who never had? I might had a crush on him too As soon as it never morphs her in a somewhat pathetic and dumb heroine, but she stays focused on her goals, how can I complain? And as I already said, the guy is charming, and as we get to see their relationship growing from friendship to… something else, I didn't mind.
Hey, guess what? It even contains a plot twist I never like View Spoiler »soulmates and the like, even if it IS dealt differently with here « Hide Spoiler but I was so engrossed in their relationship that I didn't care and shipped them hard nonetheless.
Finally, as I said earlier, this story also deals with family bounds and friendship. First of all, I absolutely adored the heart-warming relationship between Becca and her brother : it's when I read books like this that I realize how much I have changed these past few years. When I was a teenager and my early 20s, I wasn't a kid person – like, at all. They annoyed me, and I didn't get all the fuss was about them, frankly. And then, well, I became a teacher, and most of my daily interactions are with children. What did I realize? That I liked talking with kids – that they were often more open-minded than the adults around us and that we underestimated grandly what they could understand. Therefore while I would have hated the addition of the little brother some years ago, I have to admit that today, I loved it, even more because in my opinion he talked like a 10 years old and not as if he was 5 (yes, because unfortunately that happens often in books)
Moreover, the friendship between Becca, Chloe, and really, all the side characters we meet was adorable and smile inducing : It won't surprise you to know that I love when my heroines care about their family and have actual friends. Because in the end, what this story says us is that even though you're different, there are people out there who care about you and who love you for who you really are – it can seem cheesy, but in our cynical world, sometimes it's good to remember it, don't you think?
► To sum up, The Holders came as a surprise as it kept me enthralled until the very end. Does it really deserve 4.5 stars? I don't know. Do I care? Nope, because it got me out of my reading slump and for this I'm really, really grateful.
Above that, contrary to many series I read lately, I won't be able to wait before starting the sequel : that says it all, doesn't it?
Related Posts