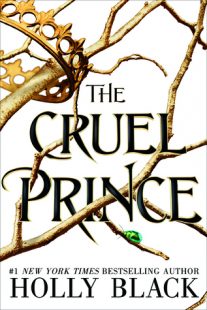 The Cruel Prince
(
The Folk of the Air #1
)
by
Holly Black
Purchase on:
Amazon
, 
iBooks
Add to:
Goodreads
Synopsis:

Of course I want to be like them. They're beautiful as blades forged in some divine fire. They will live forever.

And Cardan is even more beautiful than the rest. I hate him more than all the others. I hate him so much that sometimes when I look at him, I can hardly breathe.

Jude was seven years old when her parents were murdered and she and her two sisters were stolen away to live in the treacherous High Court of Faerie. Ten years later, Jude wants nothing more than to belong there, despite her mortality. But many of the fey despise humans. Especially Prince Cardan, the youngest and wickedest son of the High King.

To win a place at the Court, she must defy him--and face the consequences.

In doing so, she becomes embroiled in palace intrigues and deceptions, discovering her own capacity for bloodshed. But as civil war threatens to drown the Courts of Faerie in violence, Jude will need to risk her life in a dangerous alliance to save her sisters, and Faerie itself.
Review:
The Cruel Prince was a magical tale that swept me away. With deceit, lies, and personal motives swirling through the pages, there was so much unknown within this story. I loved the characters, I loved the way everything unfolded and I have a feeling this series is going to be one of my favorites! If you're a fan of YA fantasy or enemies to lovers, then you definitely need this series on your tbr if you haven't read it already!
What they don't realize is this: Yes, they frighten me, but I have always been scared, since the day I got here. I was raised by the man who murdered my parents, reared in a land of monsters. I live with that fear, let it settle into my bones, and ignore it. If I didn't pretend not to be scared, I would hide under my owl-down coverlets in Madoc's estate forever. I would lie there and scream until there was nothing left of me. I refuse to do that. I will not do that.
The prologue started off with a burst of action, bloodshed and I couldn't help but be glued to the pages. After Jude, her twin sister Taryn and her older sister Vivi witnessed something horrific, they were whisked away to Fairie. The world they were brought into could be so cruel and twisted. And even though Madoc, Vivi's father, treated Jude like his own, the others in Fairie weren't so kind to them. Jude and her twin were bullied at school. And Prince Cardan and his friends were the worst of the tormentors. But Jude refused to be backed into corners or made to feel less by others.
I hate him more than all the others. I hate him so much that sometimes when I look at him, I can hardly breathe.
I loved Jude with my whole heart! She was smart, cunning, fierce and stood up for others and what she believed in. Jude always worked so hard to try and make herself stronger. So we got to witness as she persevered time and again, I had so much respect for her! I loved that she could get away with lies, since the Fey couldn't lie. And while that may sound awful, she lived in such a ruthless world. She needed every advantage she could get. But I loved most of all that Jude had no problem standing up to Prince Cardan. Jude was loving, relentless, passionate and in the end she played a dangerous game that had me clapping out loud!
"You may win in the end, you may ensorcell me and hurt me and humiliate me, but I will make sure you lose everything I can take from you on the way down. I promise you this"—I throw his own words back at him—"this is the least of what I can do."
Cardan was deliciously complex. Him and his friends came across as ruthless and had no qualms with taunting Jude. Or asking her to back down, surrender, or put her into situations that felt dangerous. I didn't know what to think of Cardan, other than I was obsessed. I loved that he saw so much and how he spoke. Even if his words were cruel. And when we got a tiny peak into Cardan's life, it was not the wonder I thought it would be. My heart bled for him. So of course I looked deeply into any moment he seemed to help Jude, even if he had just hurt her. I tried to find his redemption. And in the end, I loved that Cardan was clever and my newest book boyfriend!
If I cannot be better than them, I will become so much worse.
But just like Cardan, Jude was also complex, and so were their relationships with others. I tried my best to figure out who I should like. Who I should trust. Because in Fairy, nothing was as it seemed. Taryn, Vivi, Madoc, Locke, Dain, and so many others left me feeling conflicted. And on top of that, I had so many questions. Looking back, there were lots of answers. It was amazing how much sense moments and words, from the past, made sense. At the time they were shrouded in puzzles, or made to seem like something else. And as those little pieces started to come together, the pictures it showed were shocking. I gasped out loud quite a few times. And while I did guess the ending, so much going into it was unknown.
His hand slides lower on my hip. I narrow my eyes at him.
"You really hate me, don't you?" he asks, his smile growing.
"Almost as much as you hate me," I say, thinking of the page with my name scratched on it. Thinking of the way he looked at me when he was drunk in the hedge maze. The way he's looking at me now.
The Cruel Prince enraptured me with its intricate tale. They all lived in such a dark and twisted world, filled with bloodshed and death, where anything was possible. So whether it was a bargain that was made with the devil or a moment that reminded me of a scene from The Princess Bride, this book played out like a movie in my head! And the betrayal in these pages?! Oh my. It cut so deep. Too deep. But I rooted for Jude every step of the way. And when her plans started to play out, you couldn't stop the constant smile on my face. I'm officially obsessed with this book and I have such high hopes for the next book in this trilogy!
I take a deep breath and decide that if I am really going to do this, I could use some help. "What do you think about stealing a crown? Right in front of the kings and queens of Faerie?"
Her grin curls up at the corners. "Just tell me what I get to blow up."
PS I loved the Bomb, Roach & the Ghost!
Related Posts