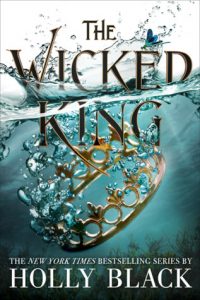 The Wicked King
(
The Folk of the Air #2
)
by
Holly Black
Purchase on:
Amazon
, 
iBooks
, 
Book Depository
Add to:
Goodreads
Synopsis:

You must be strong enough to strike and strike and strike again without tiring.

The first lesson is to make yourself strong.

After the jaw-dropping revelation that Oak is the heir to Faerie, Jude must keep her younger brother safe. To do so, she has bound the wicked king, Cardan, to her, and made herself the power behind the throne. Navigating the constantly shifting political alliances of Faerie would be difficult enough if Cardan were easy to control. But he does everything in his power to humiliate and undermine her even as his fascination with her remains undiminished.

When it becomes all too clear that someone close to Jude means to betray her, threatening her own life and the lives of everyone she loves, Jude must uncover the traitor and fight her own complicated feelings for Cardan to maintain control as a mortal in a Faerie world.
I wonder if there's a limit to what I will let them do, if there is something that would make me fight back, even if it dooms me.
If there is, that makes me a fool.
But maybe if there isn't, that makes me a monster.
I guess that's the thing about being in love with a series. You love the first, you anticipate the second, and then wonder what's to come with the third-but you can't ever really know if that author is going to do what you want. Do things that make sense to you while also coming off as exciting and better than you possibly could have anticipated. If that author will make you happy while also crushing your soul, like the best possible twist of the knife and manipulation of your heart. This never happens. Yes, I have MANY favorites. YES, lots of things happen that I like and that placate me. But rarely-VERY RARELY-does an author do every maniacal thing I could possibly imagine-and even take it farther than I could even fathom. And this is what Black did. She came. She wrote. She F****** conquered.

"Power," he said. "Power is the ability to get what you want. Power is the ability to be the one making the decisions. And how do we get power?"
"We learn how to fight well?"
"We get power by taking it."
I just…this NEVER HAPPENS. Yeah, there might be one little thing I wish wasn't a part of the end. But, like, that is nothing in the way of how excellent, how thorough, how utterly magnificent she wrote this book. The scheming. The lies. The betrayals. The heat. The ROMANCE. There was not one thing that I love about a fantasy book that was not in this story. There really and truly wasn't. In fact, this book taught me far more about myself than I've learned in a long time.
"It seems I have a singular taste for women who threaten me."
If you recall, or care at all, I read Outlander and The Diviners (how could you forget?) last year and they were so far out of my comfort zone that I read them YEARS after I was told to. A big mistake, I'll admit. And they consumed me-I'll just say it. Especially the prior, making the month of October a big waste of a TBR because all I read was the three books available in that series. But Outlander did something to my being, too, that possessed me for quite some time around the holidays. To say I was possessed in body, mind, and soul a few times last year would be an understatement. I even found Mariana Zapata and was a big 'ol mess when I read her books, too. Let's just say that 2018 was interesting, to say the least.
"The three of you have one solution to every problem. Murder. No key fits every lock." Cardan gives us all a stern look, holding up a long-fingered hand with my stolen ruby ring still on one finger. "Someone tries to betray the High King, murder. Someone gives you a harsh look, murder. Someone disrespects you, murder. Someone ruins your laundry, murder.
But then this. THIS masterpiece. The thing is, I'll be frank, that I hate middle books. I LOATHE THEM. They never go right. Ever. And I actually have started to hate final books, too, because authors just don't have what it takes to end things right, to wrap them up nicely, and, I'll say it again, rarely do they meet the expectations I've upheld through the series and give me what I am craving, needing, wanting to put the series down wholly satisfied. And-I always try not to have any expectations, to not fangirl too much before a release, and to not expect much. Sadly, I still always fail. My entire being always wants more, whether I try to keep it chill or not, and I end up with a broken heart. Always.
He smelled like smoke and dried blood, and Jude let herself sag against him. It was good to be hugged. Even by a monster.
But here's the thing, and my entire point: I didn't, not once, doubt Holly Black or her writing before the release, so I anticipated and fangirled freely. I've read her White Cat series, and it was nothing short of all consuming, even if not many talk about it. I loved it. Cassel was my first thief and conman, and he lead me to Kaz from SOC. So, to say Holly Black can finish a series with a bang, wrap things up neatly and how I love and expect is, again, an understatement. I legitimately, for the first time in as long as I can remember, wasn't the least bit worried that I would be bored, unhappy, or underwhelmed. I had that much confidence in this author. I had no worries at all. Well…except for what was to come. But that's a different beast entirely.
"Power is much easier to acquire than it is to hold on to."
What came with this story wasn't a fairy tale romance, nor an underhanded, leisurely stroll in politics (following the first book's end). No, it wasn't action every minute…but there wasn't a chapter that didn't steal my breath away. This book was pulse-pounding, heart-stopping, butterfly inducing panic and mayhem, wrapped in sexual tension and explosive….erm….developments. It was underhanded, dirty, and altogether a total mind bender that never let you have your guard down, your mind not spinning, and your soul not entirely invested. It was a home run, triple play, and home base stealing ride-you could never take your eyes off the page for reality and day to day activities because you couldn't ever possibly get enough.
"For a moment," he says, "I wondered if it wasn't you shooting bolts at me."
I make a face at him. "And what made you decide it wasn't?"
He grins up at me. "They missed."
I read both too fast and too slow, a perfect symphony of chaos and calm, and I never wanted it to end-But I had to know what was coming next. Where it was going…and what predicament my darlings would inevitably get themselves into, in the end. And I couldn't be happier with the absolutely soul-crushing finish.
My body has acclimated, and now it craves what it should revile.
An apt metaphor for other things.
And, before I can wrap this up, I have to embark on the journey that is Cardan and Jude. I can't say much, and I promise I won't (though it kills me slowly not to), but you must know that any feels that overcame you, possessed you, enraptured you in TCP…they are tenfold…and you just cannot be prepared. I don't believe in overhyping-in fact, I discourage it. But here, I am confident that even if you don't love this, you will feel something when it comes to the sexual tension between these two. I am THAT confident. And I would never do that to you, unless I believed it with my very being.
…and the single last thing in my head: that I like him better than I've ever liked anyone and that of all the things he's ever done to me, making me like him so much is by far the worst.
The heat, the tension, the pure and utter HATE they have for one another…it's so intoxicating. Sick. Depraved. Wrong. Yet you can't not ship them. You can't not love them. And, inevitably, you can't not hope for them to just do it already. He loves her. I know it. And she loves him. I know that, too. THEY HAVE TO. I just….I can't say anything. But, I will say this: I got everything I could ever want and more-without getting everything I want….and more.
It occurs to me that maybe desire isn't something overindulging helps. Maybe it is not unlike mithridatism; maybe I took a killing dose when I should have been poisoning myself slowly, one kiss at a time.
So, to say I didn't love this and that another book will pass by my love for it this year would be a lie-so I just won't say it. What I will say is this: If you didn't love the first, I don't know that you will love the second. But maybe you will. It has even more lies. Deceit. Chaos. Heartbreak. Longing. If you dig that, this is for you. It has it all. And it doesn't just come from the human in a faerie world. Just. F'in. Sayin'.
********************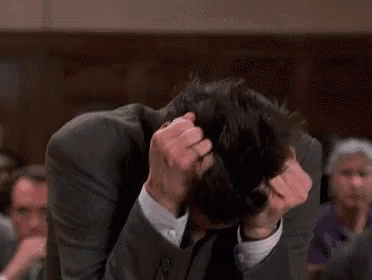 I am angry editing my Instagram pictures right now. My nerves are shot, my stomach is a mass of nervous butterflies. When, only moments before, they were butterflies of hope and romance and so much more. So, I guess what I'm saying in a nutshell is: Holly Black got me. She got me fucking GOOD. I am not alright. I am not okay. And I just don't know if I can pick up the pieces of my fractured heart off the floor for this one-And I don't think I've ever said that. Well played, Black-You own my soul.
**************
OMG JUST GOT MY EXCLUSIVE OWLCRATE VERSION BOX EARLY SO GUESS WHO IS STARTING THIS OMG THIS IS THE FIRST OWLCRATE BOOK IVE TAKEN OUT OF THE PROTECTIVE PLASTIC TO READ OMGGGG I CANT EVEN
Related Posts