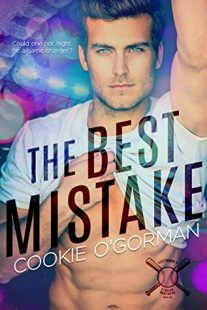 The Best Mistake
(
Southern U OBrien Brothers #1
)
by
Cookie O'Gorman
Purchase on:
Amazon
Add to:
Goodreads
Synopsis:

Honor Tierney just wants one night with the playboy.

One hot, steamy, meaningless hookup, and then she'll happily go back to reading her favorite books, studying to be an accountant and writing for the campus-paper-nobody-reads. Too bad she ends up in the wrong bed, with the wrong brother...who gives her the hottest night of her life.

Archer O'Brien just wants to play ball.

Well that, and for his brothers to stop acting out, so he won't have to worry 24/7. As the oldest O'Brien and team captain, it's his duty to make sure they don't drink too much, party too much, or get in too much trouble. But when she walks into his bedroom--mistaking him for his brother--life throws him a curveball.

She's determined to guard her heart. He's not giving up.

And when Honor gets assigned to cover the Wolves baseball team, it's game on.

This new adult sports romance features one hot (and hilarious) case of mistaken identity and a sexy set of brothers guaranteed to make you swoon.

Sometimes, the best mistakes are worth making.
Review:
The Best Mistake was sexy, hilarious and so much fun.  When I finished that last page, I still had happy tears falling down my face.  This book was exactly what I needed.  It had friendship, family, love and made me laugh so much.  So if you're a fan of romance set in college or sports romance, then definitely add this one to your tbr!
Only I, Honor Tierney, bookworm extraordinaire, writing recluse, and apparent virgin-for-life, could've confused one O'Brien brother for another.
Honor was looking for a one night stand and who better to have one with then Baylor O'Brien. He was absolutely gorgeous, athletic and known for his player ways. Except Honor hooked up with Baylor's brother, Archer, and she was none the wiser.  But it set Honor and Archer on a path that had me smiling and laughing from that first chapter to the last.
The only thing I knew for certain: Guys like him and girls like me didn't mix.
This couldn't end well.
I loved how easy it was to connect with Honor Tierney.  She was a down to Earth girl who didn't want to emotionally get hurt from a relationship.  Her past had jaded her and I understood why she doubted others interest in her.  But she was a wonderful friend and had such a good heart.  I absolutely loved Honor, especially when she spoke her mind.  Her happiness, embarrassment, nervousness all felt like mine.  And a lot of those emotions were tied into her moments with Archer.
"Did you really think I'd give up that easily?"
"Most guys would," she said with a shrug.
Yeah well, I wasn't most guys.
Archer O'Brien was the oldest of six siblings.  And he played on a college baseball team with three other of his brothers.  They were amazing and some of them were destined to go pro.  But it felt like Archer had the weight of the world on his shoulders.  So when Honor stumbled into his life, I loved how his worries disappeared when she was around. And even though Honor had her walls up, Archer was patient with her.  Just like he was in baseball.  I loved watching him try and knock down her walls.  Especially since he was kind, determined, smart, humble and oh so sexy.  He even had a sense of humor and made me laugh.  I fell so hard for Archer!
"I went along with the friends thing because that's what you wanted. I'm absolutely willing to try no strings attached, if that's what will make you happy."
He paused, shook his head.
"But I want so much more from you than sex."
I forgot how to breathe.
This book was a ton of fun and I was rooting for Honor and Archer every step of the way.  From awkward to embarrassment to heartfelt to steamy, they had all the moments.  So when Honor got tasked with covering the baseball team Archer was on, for the school paper, I couldn't contain my excitement.  I loved how their time together could turn from being so simple into something with so much heat.  But family and friendship also played such a huge roll in this story.  I loved Archer's siblings and Honor's close friends.  They rounded out the story perfectly and I'm so excited for future books about the siblings.
"Can I—"
"Yes." My answer was immediate.
Honor gave me a look. "But you didn't even let me finish. I could've asked for anything."
"Exactly. And I would give it to you."
So yes, I definitely recommend this book!  The Best Mistake was mesmerizing, addictive and sexy!  This book is for everyone out there who loves romance that melts your heart.  The chemistry between Honor and Archer was addictive and the family and friendships added so much depth to this story.  It all felt so real and it was so easy to devour.  The Best Mistake is another huge hit by Cookie O'Gorman and I can't wait to see whose story she writes next in this world!
His frown softened to something that looked like awe as I shivered.
"You're so beautiful," he said, meeting my eyes again. "So damn beautiful."
*I voluntarily read and reviewed an advanced copy of this book, provided by the author. All thoughts and opinions are my own.*
Excerpt:
A sudden feeling drew my attention to the other side of the room. I couldn't really explain it. It was hot like electricity, something magnetic. My eyes searched for the source of that strange pull—and clashed with gray.
My breath caught.
It was like looking into the heart of a storm, intense, powerful. I hadn't gone up in flames for any of the others, but this guy… Well, this O'Brien who was staring at me—devouring me—with those unusual gray eyes, wearing a frown like he never smiled, a stare so focused I thought he might be memorizing every move I made? Or reading my mind?
"Wow," I said, voice nothing but a shaky exhale.
This guy caused a slow burn inside me. I wanted to run. Either to him or away, I wasn't sure. But as his eyes traveled the length of my body, all the way down to my shoes, and back up again to meet my gaze, everything inside me turned to wildfire. I licked my lips, thighs clenching together instinctively.
His frown deepened, jaw tight.
And that made him seem even sexier.
About Cookie O'Gorman:
Cookie O'Gorman writes YA & NA romance to give readers a taste of happily-ever-after. Small towns, quirky characters, and the awkward yet beautiful moments in life make up her books. Cookie also has a soft spot for nerds and ninjas. Her novels ADORKABLE, NINJA GIRL, The Unbelievable, Inconceivable, Unforeseeable Truth About Ethan Wilder, and The Good Girl's Guide to Being Bad are out now! She is also the author of NA sports romance, The Best Mistake.

Website / Goodreads / Facebook / Twitter / Instagram / Bookbub / Newsletter
Giveaway:
Related Posts
I absolutely loved this book! So check out my 5 Star Review below, read when Honor and Archer first met and enter a fabulous giveaway! Enjoy ♥