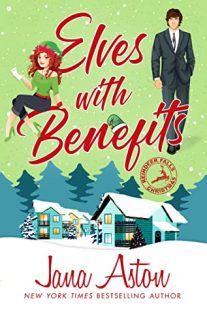 Elves with Benefits
(
Reindeer Falls #4
)
by
Jana Aston
Purchase on:
Amazon
Add to:
Goodreads
Synopsis:

My name is Ryan Sheppard and I don't care about Christmas. I'm only returning to my over-the-top Christmas-themed hometown to sell the house I inherited from my late uncle so I can get back to the city and the promotion I'm chasing at work.

Unfortunately, there's a flaw in my plan.

Because according to the town Christmas cop, there's a moratorium on selling houses during December. She says it's bad for the aesthetic. She's also slapping an alarming number of tickets on my front door. For being in violation of holiday décor. And I swear on Rudolph himself, one is for 'unsportsmanlike Christmassing.'

To top it all off, this Christmas cop looks like a red-headed elf.

A sexy red-headed elf…

Warning: Christmas in Reindeer Falls is more naughty than nice. These stories are over-the-top festive with merrily-ever-afters guaranteed. Novella length for quick holiday binge reading. Enjoy!
Review:
Elves with Benefits was over the top fun and had tons of holiday cheer!  With lots of Christmasy vibes, friendship, sexy moments and scenes that were laugh out loud funny, this book was definitely binge worthy.  I read this novella in one sitting!
He scans the ticket labeled 'decoration violation.' "This cannot be real. There's a cartoon elf on these tickets."




I grin, glad he noticed. I made the tickets myself.
The story was told in Maggie's voice and oh my goodness was that women unique.  Her job for starters was the town's holiday enforcement officer.  She actually wrote people tickets for not having their house or business decorated with all the Christmas cheer.  And she took her job very seriously.   Maggie was obsessed with reading Christmas books with her bestie's all year long.  And she loved Christmas with her whole heart and soul.  She was a little crazy, a little intense but she somehow won me over by the end of this book.
He puts a hand into his pocket to fumble for his wallet. Unfortunately, this draws my attention to the sweatpants again. And I definitely don't think that's a candy cane I'm seeing.
The moment Ryan stepped on the pages, I fell for this story.  And started laughing too.  You see, Ryan inherited a house from his late uncle, and he just wanted to sell it and leave.  His life was in the city, where he was up for a huge promotion.  He didn't have time for his childhood Christmas hometown.  Yet Maggie refused to not let Ryan decorate his house.  The more time she spent around Ryan, the more she felt that pull towards him.  And it seemed like Ryan couldn't ignore Maggie either, even if I didn't always see what Ryan saw in Maggie lol.
I laugh, and it's a real laugh. A hopeful laugh. Because the Scrooge of Reindeer Falls himself is inviting me into his house on Candy Cane Lane to make me hot cocoa and watch a Christmas movie.
Maggie was the ultimate Christmas cheer elf and Ryan was definitely the Grinch.  They were polar opposites who had the most fabulous banter!  It was a mix of sexy and hilarious and was sooo addictive!  I loved the push and pull between them.  And their steamy moments were *fans face*!  While you don't need to read any of the previous books in this series, the first and third book in this series are still my top favorites.  Elves With Benefits was a quick, fun, quirky Christmasy read that was definitely entertaining!
"Just remember to wrap those packages before shoving them down the chimney."
Related Posts