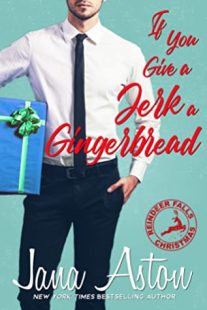 If You Give A Jerk A Gingerbread
(
Reindeer Falls #2
)
by
Jana Aston
Purchase on:
Amazon
Add to:
Goodreads
Synopsis:

Dear Santa,

I do not want Keller James for Christmas.

I will not fall for him, no matter how charming or irresistible or famous he is. I will not be swayed by his skills in the kitchen or by his British accent. I'm going to win the Great Gingerbread Bake Off and no one is going to stand in my way. Not even Keller.

All kisses are off. I mean all bets. All bets are off. And all his clothes.

Grr, never mind. I'll figure this out myself.

XOXO,
Ginger Winter

Warning:
Reindeer Falls is more naughty than nice. They're over-the-top Christmas with merrily-ever-afters guaranteed. These stories are novella length for quick holiday binging. Enjoy!
Review:
If You Give a Jerk a Gingerbread was sprinkled with delicious goodies, hilarious banter and a charming story line.  And just like the previous book, The Boss Who Stole Christmas, I couldn't stop smiling.  If you love romance, Christmas and the Food Network Channel during the holidays, then definitely add this one to your list!
I don't like him. I can't like him.
Still, my heart is racing.
Ginger was chosen as a contestant on The Great Gingerbread Bake-Off for TV….think Food Network holiday bake offs. And after a meeting with celebrity chef, Keller James, she was rattled.  Keller was unbelievably sexy and she was going to be competing against him.  But Ginger wanted to be the one to win the grand prize of $10,000.  That way she could open up her own bake shop.  And she didn't need Keller distracting her.  Except sometimes life has other plans in mind for you…..
Oh, sweet heavenly fruitcake, I've lost my mind.
I adored Ginger!  She was funny, quirky, and kind and her verbal and inner monologues were absolutely hilarious at times. She was so open with us and it made her easy to like. Plus I loved how motivated she was for winning the prize money.  We got to hear the whole story from her point of view and it was so effortless to feel what she felt.  But even I saw that there was no way she could avoid falling for Keller.  He seemed to be everywhere she was.
"This town, the people. You. It all reminds me of what's really important. Of what I'm missing."
"What are you missing, exactly?"
"Something real."
Keller James was a sexy professional baker who knew what he wanted in life.  And it seemed like he set his sights on Ginger, while also tackling the bakeoff.  He could be oh so smooth and irresistible.  But would he really stick around after the bakeoff was done?  I kept my fingers crossed for their happily ever after, while watching him try to get Ginger to want him.
"It's Christmas, Ginger, and anything is possible at Christmas. Have a little faith in the magic."
If You Give a Jerk a Gingerbread was merry and bright and can easily be binged in one sitting.  I loved how adorably sweet the story was, but that there was also spice in the pages anytime Ginger and Keller were near each other.  And the use of Christmas words throughout the story, ohhhhh so cute!  So now I'm off to the last sister's book, The One Night Stand Before Christmas, and I can't wait!
Related Posts