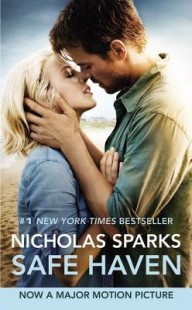 Safe Haven
by
Nicholas Sparks
Purchase on:
Amazon
, 
iBooks
, 
Book Depository
Add to:
Goodreads
Nicholas Sparks, no matter how sad the novels can or may be, no matter the outcomes, whether or not they are labeled one of his best, is an author you can count on for his descriptive imagery and beautiful writing.
I had just read a sad novel and decided I needed a change of pace. Now, I realize some of Sparks's novels are marked for their tragic finales, but I had a hunch this one might end a little better. While still overshadowed with the abuse she endures from her husband in flashbacks, it still had an overwhelming hopefulness and happiness that inhabited the main characters throughout the story. It was just what I needed after reading such a sad book before, which is so ironic because one would think that's what happens after a Sparks novel.
Near the end there is a twist I truly did not see coming, and sometimes Sparks makes the endings easy to anticipate, but not this time. There are mixed reviews from those who have read this novel that either did not like the ending nor the twist or they really liked it. I found I am in the latter category: I didn't mind the twist at the end. While it startled me and halted my reading for a few moments, seeing as how I had to re read those few sentences a couple times, I still felt at peace with the twist. I discovered that it actually added some mystery or intrigue to the story and added incite to the decisions Katie made.
Some people also disliked the climax of the story, and I felt myself building towards the end with that in mind….but I really liked what happened. I thought there was just enough buildup and finally, FINALLY, the story and the characters came to a crossroad and the final scenes are worth the wait. Maybe I liked it so much because I expected something boring because of what people were saying, but I just did not feel bored at the end, I wanted to keep reading and see these characters finish everything they started.
So I do believe Safe Haven deserves more praise, it builds up into a wonderful story and I STILL, damnit, misted up at the ending. How he does it I will never know, but I truly found this story to be a great read and would recommend it to my friends.
Related Posts