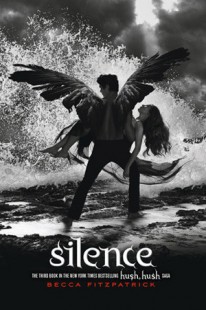 Silence
(
,
)
by
Becca Fitzpatrick
Purchase on:
Amazon
, 
iBooks
, 
Book Depository
Add to:
Goodreads
What a breath of fresh air! I was really starting to think I was never going to rate a book in this series more than 3 stars! It's like Fitzpatrick has all these awesome, creepy ideas, but didn't know how to execute them! Well, I am happy to say I really and truly enjoyed the third installment in the series and I'm glad I didn't give up on it.
Patch is finally a guy I can relate to-protective, sweet, helpful, vulnerable, and jealous. Guys who are mysterious and quiet for each and every story in their series are not for me (well, that might be a lie, maybe I just couldn't relate to Patch-whatever, moving on),
so I was ecstatic when I realized he had dropped the facade.
I have never disliked Nora, so again, Nora was cool, and it appears she has gotten a little smarter in her decisions. Sooo I liked her even more. What I liked the most, though, was the lack of Vee. That girl just drives me insane. She is loyal, sometimes funny, yes, but she really makes the stupidest decisions and aside from helping Nora, she is totally self-centered and thinks only of numero uno. So, yes, I was very happy with the lack of Vee in this installment.
Now, I am going to go out on a VERY shaky limb here and say that I don't get Nora's venemous attitude toward Marcie ALL the time. Yes, Marcie is a bitch, but in the past two books she honestly hasn't been as bad as Nora previously described. More so in this story I feel Marcie was actually pretty decent. She, of course, has a hidden agenda, but she isn't evil. Her father is evil-of course she has a 'tude. We probably all have people we don't like or didn't care for in HS-I know I did. But the fact is, my senior year, we tolerated and talked to each other. It happens-people grow up and get nicer or, I suppose, more tolerable. Idk. That's just my opinion. I'd much rather have Marcie plastered all into the story than Vee. She is WAY more interesting and makes funnier comments than the latter.
This is definitely my favorite in the series and I am happy to say it left me wanting more. There is an epic battle to come, from what I hear, and I hope it will satisfy in both action and peril. I can't wait to see what happens in the finale of the Hush, Hush series. (haha, incidentally, Finale is the name of the last book, funny)
Related Posts