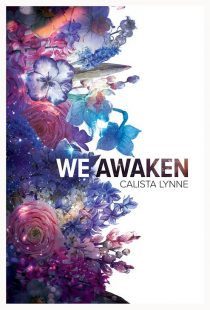 We Awaken
Purchase on:
Amazon
Add to:
Goodreads
We are ecstatic to announce the release of We Awaken by Calista Lynne,  which brings light and attention on the important subject of asexuality.
So. Let's take a look at the blurb, shall we?

Victoria Dinham doesn't have much left to look forward to. Since her father died in a car accident, she lives only to fulfill her dream of being accepted into the Manhattan Dance Conservatory. But soon she finds another reason to look forward to dreams when she encounters an otherworldly girl named Ashlinn, who bears a message from Victoria's comatose brother. Ashlinn is tasked with conjuring pleasant dreams for humans, and through the course of their nightly meetings in Victoria's mind, the two become close. Ashlinn also helps Victoria understand asexuality and realize that she, too, is asexual.

But then Victoria needs Ashlinn's aid outside the realm of dreams, and Ashlinn assumes human form to help Victoria make it to her dance audition. They take the opportunity to explore New York City, their feelings for each other, and the nature of their shared asexuality. But like any dream, it's too good to last. Ashlinn must shrug off her human guise and resume her duties creating pleasant nighttime visions—or all of humanity will pay the price.
What about the author?
Calista Lynne grew up on the American East Coast and is currently theater in London. She's having difficulty adjusting to the lack of Oxford commas across the pond and writes because it always seemed to make more sense than mathematics. Look for her near the caffeinated beverages.
With We Awaken, she decided to write the book she wish she had growing up : "So many young people who don't feel sexual attraction think they're broken because there's so little representation in the media. Even if there is, it usually ends with the asexual character being "cured". My intention was to show that being ace is normal and that these character can still have a happy ending."

Curious? Enter the giveaway and win one of the 5 e-copies offered!

And you, are there subjects that you wish had more representation in the media? Tell us about them in the comments!
Related Posts