I am so honored to be hosting a giveaway for one of the most highly anticipated reads of 2017! Check out below to see exclusive content, videos introducing the characters and the world, and an awesome giveaway! I hope you guys enjoy the post-make sure to follow the link to enter our two week giveaway ending on 5/10. Good luck! 🙂 <3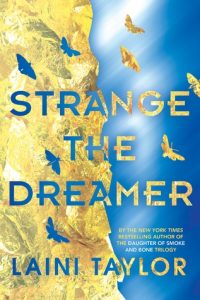 Strange the Dreamer
(
Strange the Dreamer #1
)
by
Laini Taylor
Purchase on:
Amazon
, 
iBooks
, 
Book Depository
Add to:
Goodreads
Synopsis:

A new epic fantasy by National Book Award finalist and New York Times bestselling author Laini Taylor of the Daughter of Smoke & Bone trilogy.

The dream chooses the dreamer, not the other way around--and Lazlo Strange, war orphan and junior librarian, has always feared that his dream chose poorly. Since he was five years old he's been obsessed with the mythic lost city of Weep, but it would take someone bolder than he to cross half the world in search of it. Then a stunning opportunity presents itself, in the person of a hero called the Godslayer and a band of legendary warriors, and he has to seize his chance to lose his dream forever.

What happened in Weep two hundred years ago to cut it off from the rest of the world? What exactly did the Godslayer slay that went by the name of god? And what is the mysterious problem he now seeks help in solving?

The answers await in Weep, but so do more mysteries--including the blue-skinned goddess who appears in Lazlo's dreams. How did he dream her before he knew she existed? and if all the gods are dead, why does she seem so real?

In this sweeping and breathtaking new novel by National Book Award finalist Laini Taylor, author of the New York Times bestselling Daughter of Smoke & Bone trilogy, the shadow of the past is as real as the ghosts who haunt the citadel of murdered gods. Fall into a mythical world of dread and wonder, moths and nightmares, love and carnage.

Welcome to Weep.
Dreams are crazy things; Most tend to be obscure, unearthly images that leave you baffled upon waking. Or, you know, you simply forget the moment you wake. The star(s) of my dreams tend to be random instances from years ago, drawing upon old relationships that have long since been terminated and I have no desire to rekindle-old friendships where it ended badly, yet you have no clue what you did wrong. I dream about old best friends so much it's unsettling. I tend to let dead horses lie, so why do these old friends pop in my head so  much? Is that a saying? I probably phrased it wrong. My point is-dreams are odd and they come from your subconscious out of absolutely nowhere…and leave you a bit disturbed after, no matter how realistic they may seem. And then there are those dreams where you are in a totally normal-ish situation, yet in a totally unexpected, ODD, creepy place. Those are my most common dreams-these dreams? I'm more than happy to leave behind.  
But I think dreams more often refer to what you want out of your life, what you wish and pine for-what you work so hard for. And I'll admit, I've had plenty of dreams-Too many to count. But, until recently, they haven't come to fruition. 
Just last month my biggest dream (after being married to my high school sweetheart) came true-I had a little baby girl and she is literally the light of my life. My husband and I are over the moon. And it's crazy…because this was my dream-not his. He always agreed to my dream, but he dragged his feet-but come last July, he finally agreed and we were so happy to begin trying…except, you know…we got pregnant literally the first try. 
I was shocked, elated. There are no words for the amount of happiness I felt. But I was equally terrified to tell my husband-after all, it was literally the first attempt and I couldn't be sure how he'd take the news. Turns out? He was beyond words ecstatic-we stayed up all night talking about it. He guessed it was a girl, I guessed a boy. Wouldn't you know it, he was right. 
So here we are, 10 months later-and it's not nearly as terrifying as I had imagined it would be (9 months is a looooong time to fret about being a bad mother). She sleeps through the night, eats great, and is one of the strongest babies ever-she lifted her head right after being born! And she has a beautiful, full head of brown hair. Did I mention that literally all I do is brag about her? Yeah. Well, I imagine that won't end any time soon! 
My dream came true….but there are so many more now. I think that's how dreams work. My dreams kept being fulfilled (husband, house…now baby), yet I always want more. Now I dream of our next baby (a sister or brother) and  everything I plan to do for our current baby girl. Nothing will ever be good enough for our girl-and God help the boy(s) that tries to win her heart-Dad will have NO part of that. 
My dreams may not be in line with everyone else's, nor would I say they are conventional for this day and age where career comes before self…but that's me and it has always been me-I refuse to change. I have everything I've ever dreamed for-and more.
What are your dreams? What do you dream about? Are they odd, crazy, weird….do they make you wonder where in the world they came from? Or, have any of your real life dreams come true? Sound off below in the comments! I'd love to hear your thoughts! 
ONCE UPON A DREAM: Keep the nightmares at bay with this dreamy prize pack! (Re-tweet and follow to enter giveaway! here )

One (1) winner receives:
copy of Strange the Dreamer
sleep-mask and aromatherapy pillow sleep mist
and a luna moth enamel pin to watch over your dreams!
Giveaway open to US addresses only.
Prizing and samples provided by Little, Brown & Co.
Visit the Official Site
Follow @TheNovl on Twitter and Instagram
Follow @LainiTaylor on Twitter
Hashtag #StrangetheDreamer
Check out a sneak peek here:
Read the Prologue on EW
Read Chapter 1 on Mashable
Read an Excerpt on TheNovl
Bonus Content!
Which Godspawn are you? Take the quiz!
Download a variety of quote-art here.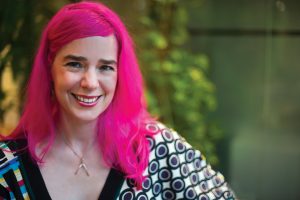 About the Author
Laini Taylor is a New York Times bestselling author and a National Book Award finalist. She is the author of the global sensation the Daughter of Smoke & Bone trilogy: Daughter of Smoke & Bone, Days of Blood & Starlight, andDreams of Gods & Monsters, and the companion e-novella, Night of Cake & Puppets. She is also the author of the Dreamdark books Blackbringer and Silksinger, and the highly acclaimed Lips Touch: Three Times. She lives in Portland, Oregon, with her husband, illustrator Jim Di Bartolo, and their daughter Clementine.
So….is Strange the Dreamer on your MUST READ list for 2017?? Or perhaps you've already read it (and hopefully loved it). Share below! I know I cannot WAIT to try this one out-I'd love to hear your thoughts on Strange!
"I partnered with Little, Brown to share this giveaway."
Save
Save
Save
Related Posts