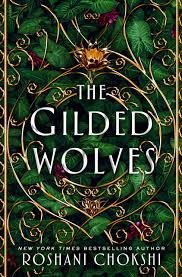 The Gilded Wolves
(
The Gilded Wolves #1
)
by
Roshani Chokshi
Purchase on:
Amazon
, 
iBooks
, 
Book Depository
Add to:
Goodreads
Synopsis:

Set in a darkly glamorous world, The Gilded Wolves is full of mystery, decadence, and dangerous but thrilling adventure.

Paris, 1889: The world is on the cusp of industry and power, and the Exposition Universelle has breathed new life into the streets and dredged up ancient secrets. In this city, no one keeps tabs on secrets better than treasure-hunter and wealthy hotelier, Séverin Montagnet-Alarie. But when the all-powerful society, the Order of Babel, seeks him out for help, Séverin is offered a treasure that he never imagined: his true inheritance.

To find the ancient artifact the Order seeks, Séverin will need help from a band of experts: An engineer with a debt to pay. A historian who can't yet go home. A dancer with a sinister past. And a brother in all but blood, who might care too much.

Together, they'll have to use their wits and knowledge to hunt the artifact through the dark and glittering heart of Paris. What they find might change the world, but only if they can stay alive.
Review:
Well I feel like I need to keep this short and to the point until it actually comes out (January 15th)! This was a good book. That being said, did I expect more? Kind of.
There were so many wants inside him that he doubted there was room for blood in his body.
At this point I honestly don't know if I didn't LOVE it because I started reading it a few months ago, put it down and read a ton of really great books in-between, and then just now finally finished it. I do think that this also might suffer from a case of "people said it was super similar to Six of Crows so my bar was set SUPER HIGH" or what. And I get that, it had a cast of misfit and super diverse characters that came together to pull of a heist which was awesome. BUT. I guess there was also a lot I didn't get. Maybe it was because unlike Six of Crows which is set in a completely fictional world, this was set in France is 1889 and I kept forgetting that. There are instances of people being treated a certain way because of their race and talks of revolution and things of that nature that had me pausing for a second because I honestly have no idea what kind of a place France was during that time period. I do always feel bad too, when books are compared to a series that was hyped up so much and so loved by so many. I'm always nervous like, okay, is this book set up to fail because too many people are going to go into it expecting something exactly like the other series??!?! I really hope not!
"Tristan, my love," said Laila with dangerous calm. "If you get it the way of a woman's battle, you'll get in the way of her sword."
EITHER WAY, this book has solid bones. The characters, like I said, were really diverse and fun and had hilarious banter with one another. A lot of things really intrigued me about them (like their different powers and mysterious pasts) and I hope that we continue to get more back story on all of them, ESPECIALLY Laila..Also, the ending set the next book up in a way that I NEED IT YESTERDAY. I need more Severin and Laila (they are the definition of tortured romance, folks), I need to know more about last thing that was said about a certain someone being an heir……I just need to know a lot of things. So again, this wasn't life-changing great like I thought it was going to be, but it was still really good and I will be 100% checking out book two. Chokshi's writing is as amazingly rich and vibrant as it was in her previous books and I still think this will get a lot of buzz and that a ton of people will fall madly in love with the characters, too.
"When you are who they expect you to be, they never look too closely. If you're furious, let it be fuel," Severin said, looking each of them in the eye. "Just don't forget that enough power and influence makes anyone impossible to look away from. And then they can't help but see you."
Huge thanks to NetGalley and the publisher for allowing me to honestly review this eArc! ♥
Related Posts