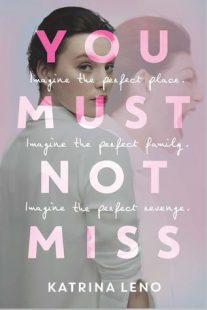 You Must Not Miss
by
Katrina Leno
Purchase on:
Amazon
, 
iBooks
, 
Book Depository
Add to:
Goodreads
Synopsis:

Magpie Lewis started writing in her yellow notebook the day her family self-destructed. That was the night Eryn, Magpie's sister, skipped town and left her to fend for herself. That was the night of Brandon Phipp's party.

Now, Magpie is called a slut whenever she walks down the hallways of her high school, her former best friend won't speak to her, and she spends her lunch period with a group of misfits who've all been socially exiled like she has. And so, feeling trapped and forgotten, Magpie retreats to her notebook, dreaming up a place called Near.

Near is perfect--somewhere where her father never cheated, her mother never drank, and Magpie's own life never derailed so suddenly. She imagines Near so completely, so fully, that she writes it into existence, right in her own backyard. It's a place where she can have anything she wants...even revenge.
If you give a name to an impossible thing, does it make the impossible thing any less impossible?

This was a weird book and I really didn't know what to rate it or how I really felt about it by the end. On the one hand, I thought it was great idea and the writing was excellent. On the other, I was really put off by the main character and it was even more weird than I expected, especially the ending.

"You Must Not Miss" follows Magpie Lewis, who unfortunately has a very rough life. Her parents are divorced after she witnesses her dad cheating with her aunt. Her mom is an alcoholic and she is no longer on speaking terms with her best friend. She sits with a few other "outcasts" at school, who were actually my favorite characters. I wish we could have got a little more from them, but ultimately, the story was around Magpie and those she was angry with.

And boy does Magpie have a lot of anger. Some of it is justified, but other times she lashes out at those who are specifically trying to help her. There's a heartbreaking (at least to me) scene involving a teacher trying to help Magpie, but also trying to hold her accountable for her actions. While I think a lot of people who Magpie was upset with deserved it in some way or another, this teacher did not.

Let it be worried. Let the whole town be worried. If they knew what was good for them, they would be.

The blending between the real world and the mythical Near is done well. There were a lot of interesting rules, especially about other outside people entering into Near with Magpie. I wish I could say, even knowing all the unfortunate events in Magpie's life, that I could say I liked Magpie, but ultimately, I did not. While I felt sorry for her, the way she treated others was honestly not OK with me. And because of that, I found the ending to be unsatisfactory and more open-ended than I would have liked. Ultimately, this was a miss for me.

We all make mistakes. Wasn't that the truth? The thing was-there were some mistakes you couldn't come back from.
Related Posts