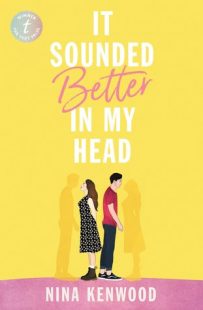 It Sounded Better in My Head
by
Nina Kenwood
Purchase on:
Amazon
, 
iBooks
, 
Book Depository
Add to:
Goodreads
Synopsis:

From debut author Nina Kenwood comes a tender, funny, and compulsively readable novel about first love and its confusions, and all of the awkwardness of teen romance.

When her parents announce their impending divorce, Natalie can't understand why no one is fighting, or at least mildly upset. Then Zach and Lucy, her two best friends, hook up, leaving her feeling slightly miffed and decidedly awkward. She'd always imagined she would end up with Zach one day―in the version of her life that played out like a TV show, with just the right amount of banter, pining, and meaningful looks. Now everything has changed, and nothing is quite making sense. Until an unexpected romance comes along and shakes things up even further.

It Sounded Better in My Head is a compulsively readable love letter to teenage romance in all of its awkward glory, perfect for fans To All the Boys I've Loved Before and Emergency Contact.
Review
I decided after finishing this book that I need to be more…true to myself(?) with ARC ratings this year. I sometimes tend to rate higher than what I actually feel because I have this weird sense of guilt when I rate them under a four and I don't think that's fair to anyone, really. However, with this book specifically, I think it's truly a case of "it's not you, it's me." This book had a lot of parts that gave me butterflies and made my heart race and other parts that were so….truthful, that I had a lot of appreciation for it. However, it just wasn't for me. I have been mostly avoiding YA contemporaries lately and this just kind of reaffirms that I can't read them like I used to. I'm pretty sure that if I had read this in high school or even during my first few years of college, it would have been a five star read.

Even though I can appreciate the conflicts in this book, it's getting harder and harder for me to put myself back in those shoes and deal with some of the other immaturities that realistically come from being that age.

What I liked: Natalie the main characters has PCOS (which is an aspect of life that I don't think I've ever read about a young character suffering through), which made her acne bad. When I say bad, I mean BAD. I mean like physically scarring but also emotionally scarring in a way that changed her entire personality to that of a shut in during high school basically. You read about bad acne and typical puberty problems in a lot of YA books but this is the worst of the worst. That felt SO real and I felt for her so hard. But again, there were some aspects where I was trying to put myself in my mom's shoes more and trying to decide how I would have handled things for my own daughter if she had been suffering through that. We get first relationships, all of the messy bits that that can entail, we get college acceptances and failures, and friendships tested. We get all of that stuff in the realest way possible and while I LOVED that, I just couldn't love the book as a whole.

Again, I think a ton of people will really, really enjoy this. For being Kenwood's debut novel I really am impressed! I just…probably should finally take a break from YA contemporaries for real this time, lol.

Huge thanks to NetGalley and Flatiron Books for allowing me to read an eARC of this book in exchange for my honest opinions!
Related Posts