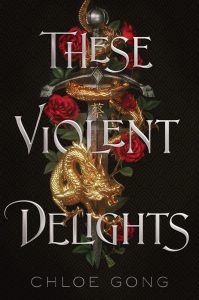 These Violent Delights
(
These Violent Delights #1
)
by
Chloe Gong
Purchase on:
Amazon
, 
iBooks
, 
Book Depository
Add to:
Goodreads
Synopsis:

The year is 1926, and Shanghai hums to the tune of debauchery.

A blood feud between two gangs runs the streets red, leaving the city helpless in the grip of chaos. At the heart of it all is eighteen-year-old Juliette Cai, a former flapper who has returned to assume her role as the proud heir of the Scarlet Gang—a network of criminals far above the law. Their only rivals in power are the White Flowers, who have fought the Scarlets for generations. And behind every move is their heir, Roma Montagov, Juliette's first love…and first betrayal.

But when gangsters on both sides show signs of instability culminating in clawing their own throats out, the people start to whisper. Of a contagion, a madness. Of a monster in the shadows. As the deaths stack up, Juliette and Roma must set their guns—and grudges—aside and work together, for if they can't stop this mayhem, then there will be no city left for either to rule.

Perfect for fans of The Last Magician and Descendant of the Crane, this heart-stopping debut is an imaginative Romeo and Juliet retelling set in 1920s Shanghai, with rival gangs and a monster in the depths of the Huangpu River.
**arc provided by Riveted by Simon Teen in exchange for an honest review**


His words had a physical force to them-multiple stinging hits that struck her skin. Juliette could hardly breathe, never mind find the energy to speak, to continue, the staged whispers of their screaming match. She hated him so much. She hated that he was right. She hated that he was inciting this reaction in her. And most of all, she hated that she had to hate him, because if she didn't, the hatred would turn right back in herself and there would be nothing to hate except her own weak will.

So few books surprise me these days. It's not simply because I've seen it or read it before, but more that delivery is such a special thing, a delicate thing. It can be done well frequently, and I always-almost always-love my tired and true tropes. But then there are the times when an author tweaks it just right, twists a scene, a revelation, a reveal in a whole new way, a burst of shining light that blinds you behind even your closed eyelids. Those are the authors who wow you. Those are the authors that stick with you. THOSE are the authors that knock you out of your seat…that shock you. And that is me-here. Now. Forever. Because Roma and Juliette may be the ultimate cliche (And I have and always and forever will be a fan of it)…but never in my life have I been so moved by it, and never in my life have I seen it done so beautifully monstrous.


The warning that radiates from such a sound is not a deniable sensation. It is not the sort of paranoia one feels when they think they are being followed down an abandoned junction; nor is it the sort of panic that ensues when a floorboard creaks in a house thought empty. It is solid, tangible-it almost exudes a moisture into the air, a weight pressing down on bare skin. It is a threat as obvious as a gun to the face, and yet there is a moment of inaction, a moment of hesitation.

I knew the moment I picked this up that it was special. That's crazy, but its true. For reference, I text not one, not two, but THREE friends after two pages and said just that: This is fresh. This is new. This was made just for me (save, the bugs). This is unique. Because it was. It was made just for me. The drama without being dramatic. The intrigue without the info-dump. The irony of a monstrous book being beautifully written. The subtle perils. And, obviously, the tortured, misunderstood, star-crossed lovers romance. Hook. Line. Sinker.


For months they flirted and pretended and toed the line between enemy and friend, both knowing who the other was but neither admitting to it, both trying to gain something from this friendship but being uncareful, falling too deep without knowing.

But, somehow, its even more than that. A friend mentioned this book to me and, honestly, I pushed it off. It looked good, but it hadn't been on my radar and I'm just now back on my regular reading schedule-I am being delightfully picky, because I can. Because I missed out on so many books in the past three years because of life and children and many tired nights. But then I was approached by a publishing contact and was shortly after given the wondrous opportunity to feature this book on all my platforms…and I got a feeling deep in my gut I needed to read this as soon as possible. Don't ask me why, I just knew. Deep in my bones, I knew. This book was going to really be something, and I couldn't wait to discover it-uncover what made it so alluring.


"We are not kids anymore, Tyler. And if you are to threaten me with outrageous accusations, then you will answer for them."
A soft laugh. "How so?" Tyler rasped. "Will you kill me right here in the hallway? Ten paces away from the breakfast table?"
Juliette pressed the knife in deeper. A stream of blood started down her cousin's cheek, trailed into the lines of her palm, dripped along her arm.
Tyler had stopped laughing.
"I am the heir of the Scarlet Gang," Juliette said. Her voice had grown just as sharp as her weapon. "And believe me, tangdi, I will kill you before I let you take it from me."

And it's really simple. This book was just a well-written, fast-paced, strong characters, enemies-to-lovers smorgasbord of a contagion mystery that I clearly wasn't prepared for. I really and truly had no idea it would be so heavily…itchy. My skin crawled with the vivid imagery and masterfully in-depth descriptions. This book truly made you feel as though you were a part of it, that you, too, were about to rip your throat to shreds with the madness. Oh-side note-this book is NOT for the squeamish or people with entomophobia. You will not like this. My head STILL itches as I write this review a night after the conclusion. Pity, though, because underneath all that chaos, there is utter beauty on each and every page.


Roma was a liar through and through-his tactics of persuasion knew no bounds.
When Roma came out, however, it was immediately clear in the slouch of his head that he hadn't gotten what he wanted.
"Don't look so smug," he whispered while Juliette passed him.
"That's just my face," she hissed back.

And, even more than that, the depth of this novel lies in the cast of characters Gong has created. Obviously there are the two rival families, just like Romeo and Juliet, and the details, for me, are fuzzy because it was something I read in High School, but it all felt so detailed and imaginative and a wonderful homage to the namesake it is loosely based off of. The friendships, the trust, the betrayals among this group of friends, old lovers, and family swept me in and kept me captive…but the real heart-stoppers were my beloved Juliette and loyal Roma…obviously.


Memories were beastly little creatures, after all-they rose with the faintest whiff of nourishment.

I'll admit I waited on a bated breath to see what had torn these two apart. The looks, the touches, the betrayal in their hearts and the accusations in their eyes. It was clear they were far from over, yet couldn't find trust or reason in the other. Juliette, known to be ruthless in the name of family and her gang, was hurt years ago by Roma, the leader of her rival gang, and she thinks she has recovered from it…when clearly she is like any other girl. She can act tough. She can act like she doesn't need him or want him or cherish their past time together, but, in the end, at the faintest moment of his undivided attention, her heart stutters and she feels herself weakening…but she'd never let him know that.


The pain of it was almost physical. The years had worn on between them, had aged them into monsters with human faces, unrecognizable against old photos. Yet no matter how much she wanted to forget, it was like no time had passed at all.

And I think that's the crux of it for me-these two clearly have feelings for one another but can't seem to find trust enough to show their feelings. This kind of heart-wrenching dynamic is what I live for-They would do anything for one another, but they won't show their hands, they skirt around half-truths and pretty lies to keep the other at arms' length…and I am totally here for it. The switch of POV from Juliette to Roma back to Juliette gives the most amazing depth and so many layers of perception, all leading up to the crescendo that is their past confronting them in the most pivotal, daring, and dangerous moments. It made my heart sing to see ugly truths spill, to see destruction and chaos rain down upon them as they confessed their deepest truths. And, even still, keeping their worst and darkest moments in their back pocket.


A long time ago, Roma had told Juliette that her anger was like a cold diamond. It was something she could swallow smoothly, something to be placed upon other people, gliding along their skin in glitter and glamour before they realized far too late that the diamond had sliced them into pieces. He had admired her for it. Mostly because his own anger was the precise opposite-an uncontrollable wave of fire that knew no subtlety.
And it had arrived.


To say this book made my soul ignite with light and emanate from within would be an understatement, and to imply it was anything less than extraordinary would be selling it short. I can't comprehend how or why this book spoke so deeply to me or why it enraptured me so, but it did, and the moment I started it I felt everything click, and everything just felt right. It's not often I start a book and the first few moments pull me in and I know I'm going to love it right then and there, but when it does it's nothing short of a miracle and I take it to heart, because it's just. So. Rare.


Roma's control was slipping through his fingers like fine grains of sand. When he closed his fist, there were almost no grains left for him to hold on to. His hands were almost empty.


***


It was a haunting. He had buried Juliette like a corpse beneath the floorboards, content to live with the ghosts that whispered to him in his sleep. Seeing her again was like finding the corpse beneath the floorboards to not only have resurrected, but to be pointing a gun right at his head.


Roma's broken heart that we can't quite understand mixed with Juliette's hardened [also] broken heart was a symphony of misunderstanding we got a front row seat to, that made it impossible to put TVD down. I have NO clue how book two will go, if I will fall as hard as I did for the this story, but if it has even a fraction of the boy tears (I just…it's a favorite thing, okay?) and heart breaks and betrayals…of the action and mayhem and darkness, I will be an utter fool for it, and lord help anyone who doesn't want to hear me talk about it, because it will not go over well. In short: you're going to hear about it anyway-bugs and all. Now I'm off to wash my hair. And that is all.


She…hoped. And hope was dangerous. Hope was the most vicious evil of them all, the thing that had managed to thrive in Pandora's box among misery, and disease, and sadness-and what could endure alongside others with such teeth if it didn't have ghastly claws of its own?

************

This. Book. Was. EPIC. My heart is still pounding and my stomach is in knots. No idea how I'm supposed to wait for the second.

But MAN does my head itch.

Review to come



Related Posts