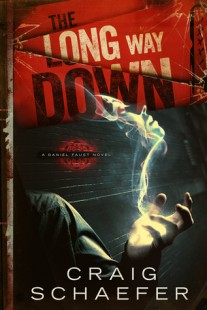 The Long Way Down
(
Daniel Faust #1
)
by
Craig Schaefer
Purchase on:
Amazon
Add to:
Goodreads
Synopsis:

Nobody knows the seedy underbelly of Las Vegas like Daniel Faust, a sorcerer for hire and ex-gangster who uses black magic and bullets to solve his clients' problems. When an old man comes seeking vengeance for his murdered granddaughter, what looks like a simple job quickly spirals out of control.

Soon Daniel stands in the crossfire between a murderous porn director; a corrupt cop with a quick trigger finger; and his own former employer, a racket boss who isn't entirely human. Then there's Caitlin: brilliant, beautiful, and the lethal right hand of a demon prince.

A man named Faust should know what happens when you rub shoulders with demons. Still Daniel can't resist being drawn to Caitlin's flame as they race to unlock the secret of the Etruscan Box, a relic that people all over town are dying -- and killing -- to get their hands on. As the bodies drop and the double-crosses pile up, Daniel will need every shred of his wits, courage and sheer ruthlessness just to survive.

Daniel Faust knew he was standing with one foot over the brink of hell. He's about to find out just how far he can fall.
What you should know is this : I don't like Urban Fantasy, which is baffling, given that I love Fantasy and cities – there's just something in them that never really appeal to me, a feeling of something lacking even though I hardly can pinpoint why that is.
The Long Way Down is perhaps one of my best discoveries in that genre, so although it will probably never be a favorite of mine, I cannot hide how pleasantly surprised it made me. Well done, and here's why.
➊ The world building is vivid and horrific, spreading very noir vibes. Did I say that I loved thrillers? Because I do. These are dark times guys, and I should issue a trigger warning against violence, abuse and murder (including towards kids at some point). Abusive. Disgusting. Maddening. Welcome to Daniel's world. Granted, he has a pretty healthy way to look at it, and doesn't condone it by any means, but it was still hard to take on sometimes. Some graphic scenes of violence made me want to throw up, and I don't think I'm easily disturbed. You've been warned.
➋ The Long Way Down pictures a morally ambiguous – but likeable all the same – hero. I loved this sorcerer, alright? If he doesn't shy away from harsh decisions and actions sometimes, he stays in the good side of things as far as I'm concerned (I never disliked a hero ready to beat the fuck out of sociopaths, SUE ME). As for Caitlin, CAITLIN! The girl's a DEMON. A not-so-nice one at it – how awesome is that?! Despite my slight disbelief at the way their relationship evolved *cough* THIS IS TOO FAST! I DON'T BUY IT!! *cough* I still immensely enjoyed their banter and… hmm… differences? I also very much laughed at the stunts Caitlin pulled because… Reversal of genders, people. Seeing Daniel dumbfounded because she ordered his food for him – and understandably upset about it – was in my opinion a great way of denouncing stereotypical controlling behavior, even implicitly.
➌ For ONCE the plot kept me interested, which is so rare in everything UF. Indeed I genuinely wanted to know where the story would go and in the end, I'm pretty satisfied by the way Craig Schaefer wrapped its mystery. Note that I (almost) never read any UF, therefore I am not able to notice the similarities between this book and the other ones in that genre. Perhaps it's cliché. Perhaps it's been better done before. The thing is, I don't freaking know, and honestly? I don't care.
➍ Finally the perfect balance between grim and humor. Forget all the books where we don't know if we should laugh or be horrified – but think sparks of humor lightening the mood a little. I say yes to that.
Daniel, Daniel, what did you do to me?