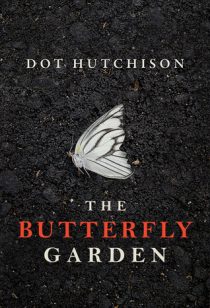 The Butterfly Garden
by
Dot Hutchison
Purchase on:
Amazon
Add to:
Goodreads
Synopsis:

Near an isolated mansion lies a beautiful garden.

In this garden grow luscious flowers, shady trees…and a collection of precious "butterflies"—young women who have been kidnapped and intricately tattooed to resemble their namesakes. Overseeing it all is the Gardener, a brutal, twisted man obsessed with capturing and preserving his lovely specimens.

When the garden is discovered, a survivor is brought in for questioning. FBI agents Victor Hanoverian and Brandon Eddison are tasked with piecing together one of the most stomach-churning cases of their careers. But the girl, known only as Maya, proves to be a puzzle herself.

As her story twists and turns, slowly shedding light on life in the Butterfly Garden, Maya reveals old grudges, new saviors, and horrific tales of a man who'd go to any length to hold beauty captive. But the more she shares, the more the agents have to wonder what she's still hiding…
"Cowardice may be our natural state but it's still a choice."
For more than a year now I've been making little pictures for my reviews, and this is the first time it doesn't feel right. Thinking about letting my mind wander around a butterfly makes me sick, if I'm completely honest. I'd rather not express my thoughts that way because it would feel a little like corrupting myself.
Those who read The Butterfly Garden know.
The only art I can think of is a huge, covering splash of black paint, for some reason. I'm sure psychologists would have things to say about that, but then, I am not one of those. Perhaps I would be more equipped to review this unforgettable novel if I was, but somehow I doubt that it would change a single thing. I sure don't regret being speechless, because I would feel uncomfortable with myself if I was not.
I'm sure you would love for me to make some kind of sense, though? Alright.
The Butterfly Garden is a disturbing, dark, unforgettable novel that you won't be able to put down until the very end, whose sick atmosphere will grab you instantly and attach you to its characters whether you like it or not. Once I turned the first page, I knew that I couldn't rest until I learned everything Maya had to say, even if it meant going through a fucking nightmare.
The Butterfly Garden is not the kind of novels where Stockholm syndrome is praised and called love. It seems baffling to me that I have to point that, but we can't ignore the ridiculous amount of these love stories now can we? Do not fear, The Butterfly Garden is definitely not a love story (and again, a statement whose need baffles me, given the subject handled).
Although I would be lying if I told you that it was an easy journey to take, I don't regret exploring this twisted and gruesome story one second. Perhaps it's the complex and true-to-life characterization. Perhaps it's the never-ending suspense. Perhaps it's the compelling writing, part poetic and part trivial.
Really, though? Despite the complaints I could have considering the believability, it's how deeply it affected me, because in this news-saturated world, I believe that we need books that don't let us indifferent. The Butterfly Garden sure didn't. How could it?
Trigger warning : Rape & Violence.