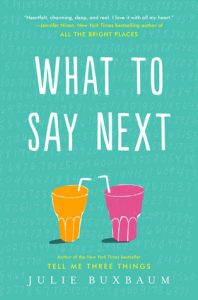 What to Say Next
by
Julie Buxbaum
Purchase on:
Amazon
, 
iBooks
Add to:
Goodreads
Synopsis:

Two struggling teenagers find an unexpected connection just when they need it most.

Sometimes a new perspective is all that is needed to make sense of the world.

KIT: I don't know why I decide not to sit with Annie and Violet at lunch. It feels like no one here gets what I'm going through. How could they? I don't even understand.

DAVID: In the 622 days I've attended Mapleview High, Kit Lowell is the first person to sit at my lunch table. I mean, I've never once sat with someone until now. "So your dad is dead," I say to Kit, because this is a fact I've recently learned about her.

When an unlikely friendship is sparked between relatively popular Kit Lowell and socially isolated David Drucker, everyone is surprised, most of all Kit and David. Kit appreciates David's blunt honesty—in fact, she finds it bizarrely refreshing. David welcomes Kit's attention and her inquisitive nature. When she asks for his help figuring out the how and why of her dad's tragic car accident, David is all in. But neither of them can predict what they'll find. Can their friendship survive the truth?
 "What are we going to do with you?" she asks, and my stomach clenches. Freshman year, when I would find myself in trouble at school on a biweekly basis, Principal Hoch would pose this question, which is both idiomatic and rhetorical. What are we going to do with you? Like I was a group project.
Just once I'd like the answer to be: nothing.
Just once I'd like the answer to be: You are just fine as is.
Just once I'd like the question not to be asked in the first place.
Not so long ago I read and fell in love with an amazing book by this very author. It had a secretive, fun romance that stole my heart. It was laced with family drama and new relationships. It was brimming with the realities of what happens when you move to another state and start making new friends…all while your best friend is way back where, making new friends, as well. In short: It was a story that touched on many different levels with me and I devoured it within days (again, this is great for me lately lol).
It doesn't matter whether you call me an Aspie or a weirdo or even a moron. The fact remains that I very much wish I were more like everyone else.
So, naturally, I saw this book and knew I just HAD to read it as soon as possible-but I didn't. I saved it, waiting for that perfect moment when I could finally pick up a book by a new promising author I loved, thinking that, of course, this book would bring forth the same amount of emotion from me as her first novel did. And, for many, it accomplished that feat. As for me? I was left wondering how this could possibly be the same author.
Your outsides match your insides better now, Kit said earlier, but she was wrong. No, now my real insides are all on the outside for everyone to pick apart and laugh at. I'm like roadkill. I'll be looked at, examined, but I won't even be eaten. I'm not worth that much.
Sure, it was cute enough. It was interesting. It was sweet…and it even had some of the same quirkiness that her first book did. But, that's just it-I'm reaching here, trying to grasp onto things that don't really exist. Yes, it had its moments where I'd gear up and think, well here we goooo!, almost immediately finding that it was going in a direction I couldn't stand behind.
Here's the thing about making a friend that I didn't understand before I started talking to Kit: They grow your world. Allow for previously inconceivable possibilities.
I suppose, in part, this is my fault. I had extremely high expectations and wanted another win. I wanted to fall in love as hard as I had previously, wanted my expectations exceeded. Instead they fell flat.
Miney does that sometimes, though she accompanies it with the words Can I get a woot woot? I never oblige. I have no idea what a woot woot is.
I didn't much care for the characters. I think this is the base of my emotions. The main girl is fine, and I think she really did like David (I loved David, naturally), but it made me more mad than happy most of the time. I almost felt like it wasn't authentic, that she was judging him the whole time. And this is a big contradiction for me-Don't we all judge those who are we dating? I mean, yeah, of course! But….but. Seeing as he is, well, I can't say, I just, my feelings were hurt for him on more than one occasion. And yes, that's the way its meant to be taken-buuuuut not always. The type of sadness I felt sometimes was off, like I was sad for the wrong reasons. Anyway, back to my point- He can't help the way he is, and I don't know. I hurt. I hurt a lot while reading this…and I don't quite think this is what the author had intended.
I stop listening. No, this isn't fixable. I see that now. Reading my notebook is like opening up my brain and exposing to the uncaring world all the parts that don't make sense. The parts that make me a freak or a moron or a loser or whatever words people like to throw at me.
The parts to them that make me other.
The parts to me that make me me.
Don't get me wrong, I signed up for this and normally I devour these stories. This just didn't work for me. I didn't like the school and how they only were nice to David once he changed his look, and I don't believe those are the reactions he'd get for what happens half way through, and, honestly, I just didn't believe any of it-and I'm not one that is bad at suspending disbelief, so you know its off.
Catty mean girls, bully jocks, and a girl who is going through a sad time but inspires our main man…for me, there just wasn't enough story or enough something to keep me interested. More issues than likes, I have to sadly say this book didn't work for me. It made me, more than anything, depressed. And I wanted so badly to love this story-the guy was just so sweet. But, as they say, a spade is a spade….I just didn't enjoy anything much about this book. Hopefully her next will be better for moi.