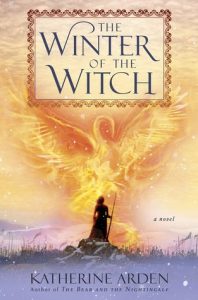 The Winter of the Witch
by
Katherine Arden
Purchase on:
Amazon
, 
iBooks
Add to:
Goodreads
Synopsis:

Following their adventures in The Bear and the Nightingale and The Girl in the Tower, Vasya and Morozko return in this stunning conclusion to the bestselling Winternight Trilogy, battling enemies mortal and magical to save both Russias, the seen and the unseen.

Now Moscow has been struck by disaster. Its people are searching for answers—and for someone to blame. Vasya finds herself alone, beset on all sides. The Grand Prince is in a rage, choosing allies that will lead him on a path to war and ruin. A wicked demon returns, stronger than ever and determined to spread chaos. Caught at the center of the conflict is Vasya, who finds the fate of two worlds resting on her shoulders. Her destiny uncertain, Vasya will uncover surprising truths about herself and her history as she desperately tries to save Russia, Morozko, and the magical world she treasures. But she may not be able to save them all.
**ARC Provided via netgalley in exchange for an honest review**

Many say, better to die, until the time comes to actually do it, Morozko had told her once. He was right.
So, this series was a true love-hate thing for me. Yet, as a month and a half has passed since I finished it and have had sour thoughts about since, I can't help, as I start writing this review, to have fond feelings for this story-so I guess that tells more than any nasty feelings that lingered. I hated the first, but loved the setting, the vivid storytelling (when it wasn't talking about something totally triggerish for me), and, of course, Morozko. So I read the second-And I just plain adored it. Many times it's not enough for the guy to be the only appealing thing to me, but, for this one, I really just had to know more about the mysterious Winter King and his oddly protective personality-even though, over the course of the series, he said time and again that he couldn't always be around to protect Vasya, that it was taking him away from his duties, and that he wouldn't ever do it again so be warned. Yet, every single time she was in danger…a certain freezing cold and rain or snow would assist our daring Vasya, and we just knew who couldn't help himself from not letting her die. How romantically thrilling.
"I do not like him."
"I fear," said Sergei, "that he does not care in the slightest."
And I finished this book around Christmas, or right before, what-have-you…and couldn't find the words to write the review. After everything, this is what we were left with? Yeah, it was good. But, gone was what made me fall in love with this series, which was how Vasya was so strong, and how Morozko picked up the pieces and was relentless when she couldn't be. I loved that. No matter how trigger-happy, nor how angry I got, I always loved that about this series, which is why I finished in the first place. Morozko had sacrificed so much over the course of this series, therefore he was at his weakest in this book-so we didn't get to see many of theses moments (Though, he still continued to sacrifice all he had, in the only ways he could). It hurt me deeply, even though I know the goal was to show Vasya's growth and what she can do to save her city on her own. But, with all the bullcrap surrounding these epic moments, the lack of Morozko was hard to swallow.
"…that is the only way you can play for everything, when you do not fear to lose."
For all the triggers in all the lands of these books, one thing has stood out above all that that I just….just…could not stand, and that's that bastard priest that was a thorn in my side from book one on. Can he just not, like, DISAPPEAR?! Go. Away.
YOU CAN'T SIT WITH US. He ruined so much and caused so much pain, heartache, and desperation that I could barely stand the series because of it. But, alas, he's gone nowhere, and here we are.
Raising her head, she snapped at him, "Did you bring me here to watch me bleed to death? You are going to be disappointed. I am getting used to spiting people by surviving."
TRIGGERS: Death, animal death (TRAUMATIC), child deaths, scary moments for weaklings such as I, and, like, so much more? What am I forgetting? Abuse at the hands of a misinformed and angry mob? And, for book two, which is what really hurt me most out of this whole series…a baby death. I have never been okay with this moment and, had it been erased from this series and book two, I think I could stomach it more.
"I knew you couldn't do without me!" cried Ded Grib, triumphantly. "Even if now you have allies that are bigger." He gave the Bear a very hard look.
"This is going to be a terrible war," the Bear interjected. "What damage do you expect to do with a mushroom?"
I am a very sensitive soul, so when a mother is weeping for her child (book one) or an animal is slaughtered (1, 2, and 3) or burnt to death (2) or a baby dies traumatically and because of a selfish heroine (2) I cannot. I cannot I cannot and I will not. Yet, again, here we are. I feel fondly of this series…even after all this. All the tears. All the heartache. It all hurts. But I still, in a weird way…imagine skimming all that to get to the bright and amazing and shining parts. So I guess, again, that speaks louder than my angry reviews.
Which leads me here-Do I want these absolutely STUNNING books on my shelf? Yes. Will I get them? I don't know. Is it worth it? There is so much heartache and sadness. Despair. But then-Morozko. Romantic peril. My baby Solovey. And those gorgeous covers. Here we are. Again. And again. And again.
None of the tales spoke of both wanting and resentment, of grand gestures and terrible mistakes.
Most enjoyable, to me, in order:
The Girl in the Tower (Favorite, might even just buy this one)
The Winter of the Witch
The Bear and the Nightingale
******************
ARC from Netgalley!!!
If I'm being frank, this series was one of the most confusing I've ever read-My emotions were all over the place. One minute I would hate the books, then next I would love them. I was sad. I was angry. I was annoyed. My heart would beat fast for Morozko. My heart would leap when Solovey was around. Back to angry again. It was a mess. I was a glass case of emotion. And, if I'm being honest, here is the order of enjoyment of these books:
A Girl in the Tower
The Winter Witch
The Bear and the Nightingale
And I'm not sorry about it.
RTC.
********************
I figured, why not walk straight into the fire? My soul is already broken anyway
Also, BR with the lovely Candace who has kept me sane through all this!