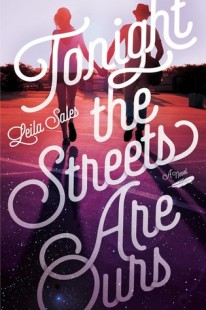 Tonight the Streets Are Ours
by
Leila Sales
Purchase on:
Amazon
, 
iBooks
Add to:
Goodreads
Synopsis:

From the author of This Song Will Save Your Life comes a funny and relatable book about the hazards of falling for a person you haven't met yet.

Seventeen-year-old Arden Huntley is recklessly loyal. Taking care of her loved ones is what gives Arden purpose in her life and makes her feel like she matters. But she's tired of being loyal to people who don't appreciate her—including her needy best friend and her absent mom.

Arden finds comfort in a blog she stumbles upon called "Tonight the Streets Are Ours," the musings of a young New York City writer named Peter. When Peter is dumped by the girlfriend he blogs about, Arden decides to take a road trip to see him.

During one crazy night out in NYC filled with parties, dancing, and music—the type of night when anything can happen, and nearly everything does—Arden discovers that Peter isn't exactly who she thought he was. And maybe she isn't exactly who she thought she was, either.
"Other people matter hugely. But you have to matter to yourself, too. There has to be a balance. I'm still figuring out that balance, myself. But I know this one thing : sacrificing everything that you care about in order to make another person happy is not love."
Nobody can deny that internet – and others in general, for that matter – influences our lives in a way or another. As soon as judgments aren't shoved down my throat, I'm okay with that, but what happens when the boundaries between what we think and what we show are so blurred that everything we're told can cause us to lose our groundings?
Can we really lose ourselves when what we presumed about our personality was – maybe – a lie in the first place?
Tonight the Streets Are Ours takes us on a journey through multiple characters' life. In that aspect, the story is strictly contemporary, sometimes not completely believable (aka. going to New York) yet it didn't bother me because let's face it, I was engrossed and understood what Leila Sales was trying to say. To be frank, I have absolutely no desire to spoil the story for you, because my enjoyment was linked with my complete lack of knowledge. I know, I know, Anna, meet blurb. Anyway – instead of going on and on about what you will find in this journey, I'm going to offer you some questions (it's Saturday! Enjoy!)
Perhaps this book brings its share of unbelievability, yet it always stays fundamentally HONEST, and if I can't say that I loved every part of it, its brilliant characterization and flawless writing will leave their mark on me.

The writing has .. voice-over vibes that I really appreciated. In all honestly, I realize that readers could feel quite disconnected to the characters because of it but I never did, and what happened was actually the opposite. Arden, who could have annoyed me in the beginning, benefited from the sensation I got that I was scrutinizing her life through a screen. More than the main character whose thoughts I shared, she became important – dear – to me.
I should warn you : if you expect a book where you'll like the characters, turn the other way. *waves*
Now, if you can enjoy a story in which every single character recreates events in its own fashion and where complexity comes out of imperfection in a splendid manner, fasten your seatbelts and be prepared for the ride.
Can I get a FUCK YEAH?
What is wonderful is the way their complexity is handled : you know how infuriating a book where everything is told is, right? Here we get both : now enjoy finding the difference between what's real and what's not –
What we're told or what we see or tries to see?

Call me pessimist, but the tension before Arden breaks apart – or not – stole my breath. Why can't I imagine her not being resentful of every "good deed" she does? WHY? I don't know, but what I can say is that Leila Sales gradually unraveled inner thoughts until … You know what? Just wait – don't let the beginning convince you that Arden is some special snowflake, because she's (fortunately) way more complex and yes, unlikeable than she appears at first.
The characters here are hard to like at times, albeit never hateful. Let's be a little honest, okay? The story is told through Arden's POV. We are in her head. She does nice things, and less kind ones. She especially shares comments that can be seen as selfish but… in her head, people. I don't know about you, but my inner thoughts are sometimes bitchy, sarcastic, definitely not nice. Perhaps you would hate me if you spent a whole book in my head. Perhaps I would hate you. Perhaps we're all fucking hypocrites when we complain about this kind of characters.
I guess we'll never know, won't we?
These characters are so realistic that despite the fact that some parts made me cringe, I would recommend this book to teenagers, because real people NEED to read about characters who don't seem to come straight out of a fairytale and where relationships are sometimes messed-up and filled with resentment and misunderstandings.
Well done, Leila Sales.