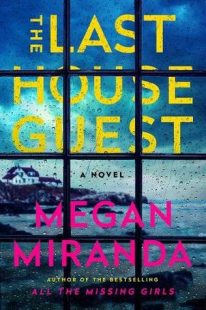 The Last Guest House
by
Megan Miranda
Purchase on:
Amazon
, 
iBooks
, 
Book Depository
Add to:
Goodreads
Synopsis:

Littleport, Maine is like two separate towns: a vacation paradise for wealthy holidaymakers and a simple harbour community for the residents who serve them. Friendships between locals and visitors are unheard of - but that's just what happened with Avery Greer and Sadie Loman.

Each summer for a decade the girls are inseparable - until Sadie is found dead. When the police rule the death a suicide, Avery can't help but feel there are those in the community, including a local detective and Sadie's brother Parker, who blame her. Someone known more than they're saying, and Avery is intent on clearing her name before the facts get twisted against her.
Thank you NetGalley, Megan Miranda and Corvus for an ARC in exchange for an honest review.
Megan Miranda is back with her newest adult mystery/thriller and as much as I've enjoyed her previous works, this is easily my favorite from her yet.
I'm sorry. I wish it didn't have to be this way.

One year ago, Avery Greer's best friend, the affluent Sadie Loman, is found dead on the night of the infamous end of summer party. The police determine it was suicide and close the case. Avery, after having a rough start at life – losing her parents to a car accident and her grandmother to illness – stays in Littleport to oversee the Loman rental properties.
Around the one year anniversary of Sadie's death, strange things begin to happen around Littleport and the Loman rentals. Homes are rummaged through, candles lit but not by the renters, etc. Avery is sure these are connected to Sadie's death and begins to raise questions with those who were at the party the night of her death.
The biggest danger of all in Littleport was assuming that you were invisible. That no one else saw you.

The books jumps back and forth between present day and the night of the party, but all through Avery's point of view. We learn a lot about Avery and what brought her and Sadie together, as on paper, they had very little in common and not a lot of reasons to become as close as they did, even closer than Sadie was with her older brother, the handsome and charming Grant Loman. This even leads fellow a Littleport resident to say this to Avery: "She created you. A mini-Sadie. A monster in her likeness. And now she's gone, but here you are."
As with all Megan Miranda novels, all the layers of the story are peeled back until there's a clear picture of exactly what happened. The ending was a doozy and I loved it. I definitely did not see everything that coming but was elated when it was put in front of me. I was very satisfied with the whole story and was sad when I got to the last page.
As I said up top, this was my favorite Miranda novel to-date. I loved Avery, the main character, and really liked a lot of the supporting cast. It was well-paced and kept me enthralled the entire time. This story would make a perfect summertime adaptation for HBO, a la "Big Little Lies." The setting – an almost private and exclusive sea-side town in the summer, with a colorful cast of characters and slow-burning mystery and a touch of romance – would really lend itself well to the small screen.
When this comes out in May, be sure to pick it up and I hope you enjoy it as much as I did!
I stared once more down at the article in my hand. The truth, always inches away, just waiting for me to look again. The unfinished sentence, our paths crossing over and over, unseen, unknown.

The Last Guest House will be released on May 2, 2019.