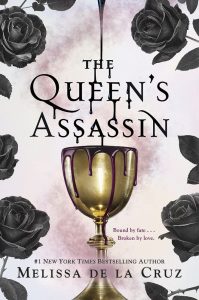 The Queen's Assassin
by
Melissa de la Cruz
Purchase on:
Amazon
, 
iBooks
, 
Book Depository
Add to:
Goodreads
Synopsis:

Perfect for fans of Sarah J. Maas and Red Queen, this is the first novel in a sweeping YA fantasy-romance duet about a deadly assassin, his mysterious apprentice, and the countrythey are sworn to protect from #1 NYT bestselling author Melissa de la Cruz.Caledon Holt is the Kingdom of Renovia's deadliest weapon. No one alive can best him in brawn or brains, which is why he's the Guild's most dangerous member and the Queen's one and only assassin. He's also bound to the Queen by an impossible vow--to find the missing Deian Scrolls, the fount of all magical history and knowledge, stolen years ago by a nefarious sect called the Aphrasians.Shadow has been training all her life to follow in the footsteps of her mother and aunts--to become skilled enough to join the ranks of the Guild. Though magic has been forbidden since the Aphrasian uprising, Shadow has been learning to control her powers in secret, hoping that one day she'll become an assassin as feared and revered as Caledon Holt.When a surprise attack brings Shadow and Cal together, they're forced to team up as assassin and apprentice to hunt down a new sinister threat to Renovia. But as Cal and Shadow grow closer, they'll uncover a shocking web of lies and secrets that may destroy everything they hold dear. With war on the horizon and true love at risk, they'll stop at nothing to protect each other and their kingdom in this stunning first novel in the Queen's Secret series.
Review:
Guys, I really, really, really liked this book. Like I finished it in three sittings over two days and I can't get it out of my head. Shadow and Cal have made themselves at home and now I'm desperate to find out what's next, which is TOO FAR away.
Quick note before I start gushing – this book probably won't be for everyone. I'm already seeing some mixed reviews and I'm sure there will be more. There's a lot of historical backstory and there's a some tropes happening in this book. But let me be clear – I didn't care. Tropes are tropes and we all have ones we love. I adored the main characters and was invested in their struggles.  I also think there's enough differentiating factors to make this feel unique in its own right. So there, now moving on. Mild spoilers ahead.
Do you like…
Adventure, action and traveling for a secret mission?
One person keeping a secret from the other in order to protect them?
Characters constantly denying their feelings but get jealous (a lot)?
Royalty, balls and spying?
Witchcraft and knights?
Oh no, there's only one bed at the inn, guess we'll have to share?
One person making a huge sacrifice for other and then both have to deal with the aftermath?
A bit of a cliffhanger ending?
If you said yes to any (all) of these, it's time to start reading The Queen's Assassin by Melissa de la Cruz. Outside of read the Au Pairs a long, long time ago, I haven't read any other of her books, so I can't compare to any of her other series.
TQA is told from the alternating perspectives of Shadow, who has spent her whole life trying to prove she should follow in the footsteps of her family and join the Guild, and Caledon "Cal" Holt, the queen's personal assassin. Cal is bound by a blood oath, passed on from his father, to find the Deian Scrolls as a means to not allow warring countries old and serious magical powers. Shadow has been learning some of this forbidden magic that has been passed down through the generations and hopes to be as helpful to the crown as Cal.
Their paths cross after Cal saves her life and after a daring escape, Cal and Shadow team up to find the scrolls and identify a new threat to their country. Of course, there's plenty of complications along the way.
This series is described as a romantic fantasy and I think that's an incredibly fair description. There's a lot of historical information given to help the readers truly understand the history of the different nations and bloodlines, as well an understanding of the magic in the world. There's royalty and court intrigue and spying and balls (of course!). And there's a blossoming romance between Cal and Shadow that's pretty much apparent from the moment Shadow goes out of her way to help Cal. He's reluctant to team up, as he's always worked solo. And he's even more determined to never fall in love, as his blood oath could be passed down to the next generation if he fails to find the scrolls. Obviously Shadow's addition to his life complicates all his best laid plans.
Shadow is determined to prove that she is more than capable of training and joining the Guild. The opportunity to rescue and join Cal in a secret mission is more than she can hope for to prove her worthiness, but she's also keeping a secret from Cal that could change everything.
I don't recall specific ages being mentioned, but I imagined our two were somewhere between 17-20 (sorry if I missed this detail). Even as they go from reluctant partners to friends to more, they both are constantly fighting against their feelings, as both are determined to focus on the task at hand. However, their immaturity shows at various times, as jealousy becomes a huge point of frustration between them. They can't stand the idea of the other flirting or kissing others, even when it means they may get important information for their mission. I'll be honest, I really enjoyed these moments, but I can see others struggling with the drama of it all. But to each their own.
While I liked the historical information that provided throughout the book, sometimes it did slow the pacing down. It was important and informative, but so much else of the book was moving at lightning pace. A LOT happens in the 384 pages, and yet, I am in desperate need of more. As much as I enjoyed all the fantasy aspects, it was Cal and Shadow's relationship that truly drew me in. In some ways, it really reminded of Serpent & Dove (which I also LOVED), with shades of Red Queen and Everless.
Hard spoilers for the ending: View Spoiler »[Let's talk about that ending shall we?!?! I should have guessed that Shadow was also Lilac, but I was so engrossed in everything else, I didn't. I'm sure when I read it again I'll pick up on it, but I didn't the first time around. *shrugs* As Cal started to figure out who she really was, my heart was breaking for him. He also agreed he should have known, but was blinded by everything that was happening, and he literally couldn't deal with the fact she was now being forced to marry a king in exchange for his safety and freedom. I'm glad they were able to have a final scene together (and wowza, what a scene it was!), but I was pretty surprised when we didn't get confirmation of a pregnancy from that night. Especially since it was clear that author jumped ahead only a few months and made note that Shadow and the king had not consummated their marriage. But there's always book two to see what happens with that, especially since he is determined to not pass his blood oath down to his (possible) children. And ending with a knock on the door from the room she wanted him to be in? I know it's not a life or death cliffhanger, but I still am dying on the inside!] « Hide Spoiler
Overall, I REALLY enjoyed this book and I'm full of anticipation for the future books. While I have ideas where it could go, I can see a lot of things getting in the way of the happy ending I'm wishing for. The ending of this book ripped my heart, but I still have hope for the next book.
If you've made it this far, THANK YOU. This was a long one, but I just had a lot of thoughts and feelings lol. I hope if you decide to pick this up, you enjoy it as much as I do!
Favorite Quotes:
I want to train. If I go to the palace, it will be as an assassin. Not as a doll. Or a pawn.
*
"Not saying I don't believe you," he says, noting just how quickly she grows defensive. "Good thing I was here then," he says with a grin. "To help you out when your magic couldn't."
Instantly, he know he should've kept his mouth shut.
*
Here I am, about to embark on an adventure under the tutelage of the Caledon Holt. It's all I've ever wanted-and yet all I feel is frustration and fury.
*
Today he hasn't been half as irritating, which I find rather irritating.
*
He would spend every night at the flea-bitten inn if it meant he would lie next to her again. But of course he doesn't tell her that, as much as he wants to, and as much as he wants to know how she feels about all of this.
*
"All I did was kiss a girl I didn't particularly want to kiss, but I did it, for us."
"For me? You kissed her for me?" Shadow whips from the window. "Should I be grateful? Should I kiss the king too? For you?"
*
"Keep in mind, you're my brother," Shadow whispers to him. "Thanks for reminding me. I almost forgot," he says, a mischievous twinkle in his eye. "That would certainly give them something to gossip about, wouldn't it?"
*
Unbeknownst to Shadow, her lies were made of truth. "After all, there is no place safer for the princess than with the Queen's Assassin."
*
"I am not free, not without my love," he says and this time, when he looks at me, I don't look away. "Shadow. Be with me. Always. I am yours. Be mine."
Giveaway:
Win one copy of The Queen's Assasin (US only)! Contest runs Feb. 4 – Feb. 18, 2020.
About the Author:
Melissa de la Cruz is the New York Times and USA Today best-selling author of many critically acclaimed and award-winning novels for teens including The Au

Pairs series, the Blue Bloods series, the Ashleys series, the Angels on Sunset Boulevard series and the semi-autobiographical novel Fresh off the Boat.Her books for adults include the novel Cat's Meow, the anthology Girls Who Like Boys Who Like Boys and the tongue-in-chic handbooks How to Become Famous in Two Weeks or Less and The Fashionista Files: Adventures in Four-inch heels and Faux-Pas.She has worked as a fashion and beauty editor and has written for many publications including The New York Times, Marie Claire, Harper's Bazaar, Glamour, Cosmopolitan, Allure, The San Francisco Chronicle, McSweeney's, Teen Vogue, CosmoGirl! and Seventeen. She has also appeared as an expert on fashion, trends and fame for CNN, E! and FoxNews.Melissa grew up in Manila and moved to San Francisco with her family, where she graduated high school salutatorian from The Convent of the Sacred Heart. She majored in art history and English at Columbia University (and minored in nightclubs and shopping!).She now divides her time between New York and Los Angeles, where she lives in the Hollywood Hills with her husband and daughter.
Keep up with Melissa: Goodreads | Website | Twitter | Facebook | Instagram | Tumblr