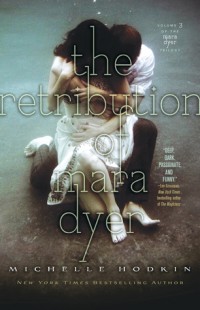 The Retribution of Mara Dyer
(
Mara Dyer #3
)
by
Michelle Hodkin
Purchase on:
Amazon
, 
iBooks
, 
Book Depository
Add to:
Goodreads
Synopsis:

Mara Dyer wants to believe there's more to the lies she's been told.
There is.

She doesn't stop to think about where her quest for the truth might lead.
She should.

She never had to imagine how far she would go for vengeance.
She will now.

Loyalties are betrayed, guilt and innocence tangle, and fate and chance collide in this shocking conclusion to Mara Dyer's story.

Retribution has arrived
Now, Here's how you should end a trilogy.

Reviewing this book without any spoiler?
Well, I guess I'll do what I can.
Can I remind you something? The sequel was very confusing. Awesome, but you know, it was this kind of plot, when we don't understand anything. I must admit, I was afraid that Michelle Hodkin lost us in her final, and guess what?! I couldn't have been more wrong. Because the only thing I can say is the plot ended to be very well-wrapped and even if I didn't get all the answers I was waiting for, that was good enough for that wonderful mystery.
"One scalpel (held)
One tape recorder (held)
One human eye (brown) (held)
One blood-soaked surgical gown (worn)
One gold Rolex (worn)
I really wished the stupid hospital gown had pockets."
Let me be short : I got shivers from the beginning to the end. Some parts were so creepy I had to stop reading to breathe, frightened under my blanket like a middle-grade child. Yet it isn't an horror book, nah, but it contains the exact amount of tension and angst to make me worry all the freaking time – and especially at the beginning. Brrrr. What a rude rude world to live in.
Concerning the characters, that final book kept the flaws present since the very first book in my opinion : That is to say, the relative hollowness of the secondary characters. Of course Stella and Jamie are here, but, you know, I never really cared about them. Maybe that's just me, but I think Michelle Hodkin failed to improve their characterization unfortunately. It didn't affect me though, because I utterly enjoyed the fact Mara was finally able to evolve. Freed from her whining or annoying I'm guilty inner monologues, our heroine became much more interesting for me. A bad guy? Let's kill him, dammit!

Hey, Mom, I've been tortured and experimented upon, but don't worry because my tormenters are dead. Because, P.S., I killed them.

Of course Noah was my hero – even if I was waiting for him a ridiculous amount of time. His personality started to grow in the sequel and he ended to be that multi-layered man whose actions we can't always understand and let me say, that's f*cking great, because he's never, ever boring. Oh, and because he speaks french! That's amazing, isn't it? Say it. That totally is.
As for the writing, I found it addictive as usual : Whereas I wanted to savor it, I couldn't fail to eat that beautiful book. Of course it wasn't perfect : we came through a cheesy crisis at some point, and I found myself wanting to roll my eyes, but what can I say? I can forgive Noah everything.
"Would I trade one of them to have Noah back?
Would I trade all of them to have him back?
I was stripped of all illusions, about this and myself. I knew without thinking that the answer was yes."