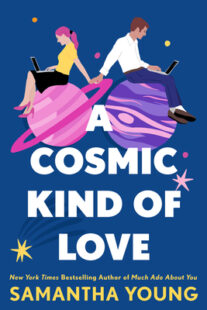 A Cosmic Kind of Love
by
Samantha Young
Purchase on:
Amazon
, 
iBooks
Add to:
Goodreads
Synopsis:

Space is the last thing an event planner and an astronaut need in this charming new romantic comedy from New York Times bestselling author Samantha Young.

When event planner Hallie Goodman receives party-inspiration material from the bride of her latest wedding project, the last thing she expects to find in the files are digital videos from Darcy's ex-boyfriend. Hallie knows it's wrong to keep watching these personal videos, but this guy is cute, funny, and an astronaut on the International Space Station to boot. She's only human. And it's not long until she starts sending e-mails and video diaries to his discontinued NASA address. Since they're bouncing back, there's no way anyone will ever be able to see them...right?

Christopher Ortiz is readjusting to life on earth and being constantly in the shadow of his deceased older brother. When a friend from NASA's IT department forwards him the e-mails and video messages Hallie has sent, he can't help but notice how much her sense of humor and pink hair make his heart race.

Separated by screens, Hallie and Chris are falling in love with each other, one transmission at a time. But can they make their star-crossed romance work when they each learn the other's baggage?
*ARC Provided by publisher in exchange for an honest review*
My whole life I'd done the chasing, the people-pleasing. No one had ever chased me. No one had ever prioritized me the way I was willing to prioritize them.
This poor soul of a book had the unfortunate circumstance of being read in a year where 95% of the time I've rated every book 5 stars. That is to say, I've had almost a full year of perfection and this book was just not…that.
It was cute, sweet, and a typical romance, but I just never truly got into it fully. I can't say it was bad, but I can't say it was extremely well-written either….and, again, I don't think it was poorly written. This book was just maddeningly average and I didn't feel much depth and I am honestly scrabbling for what to say. And while I sometimes don't mind quick romances with a hero I really enjoy (and I really really truly did like him), sometimes it doesn't work out that I fall as easily for it as I normally would. That is the case here, unfortunately.
A tad too predictable, a bit lacking in side characters I cared about, and just…I didn't believe it, no matter HOW choked up a few of the hero's quotes made me. And that's the part that really stinks is there were some great things mentioned about self-worth and embracing who you are, about loving someone for who they are and not what they DO. There was a lot of good to unpack here, just not a lot to follow it up…and that's where, unfortunately, the story fell short for me.
So while this book will likely appeal to a lot of people, I just couldn't fall for it. Maybe a different time, maybe a different place in my life…but I just highly doubt it. If you're looking for a cute, fun, quick read, then I highly recommend it for that. Otherwise, if you perhaps want more to happen, maybe save this for a rainy day.