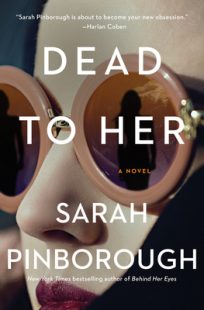 Dead to Her
by
Sarah Pinborough
Purchase on:
Amazon
, 
iBooks
, 
Book Depository
Add to:
Goodreads
Synopsis:

For fans of Liane Moriarty, Liv Constantine and Lisa Jewell, a twisty psychological thriller about a savvy second wife who will do almost anything to come out on top from the New York Times bestselling author of Behind Her Eyes.

Being the second wife can be murder . . .

"Once a cheat, always a cheat," they say. Marcie Maddox has worked hard to get where she is after the illicit affair that started her new life a few years ago. But her world of country clubs, yachts and sumptuous houses in Savannah, Georgia, isn't easy to maintain, no matter how hard she tries. Nor is keeping her husband, Jason, truly interested.

So, when Jason's boss brings home a hot new wife from his trip to London, the young Mrs William Radford IV isn't quite the souvenir everyone expected. Sexy, drop-dead gorgeous and black—Keisha quickly usurps Marcie's place as the beautiful second wife. But when Marcie sees the extra spark in the room when Keisha and Jason are together and their obvious, magnetic attraction, the gloves come off.

Revenge is best served cold, but in the steamy Savannah heat, blood runs so hot that this summer it might just boil over into murder.
Thank you to Edelweiss, William Morrow and the author for an ARC in exchange for my honest review.

"But in this town, dear," she continued. "murder is considered classier than embezzlement."

This was a really unique and refreshing mystery/thriller book. I feel like I've read a lot of thrillers and I truly haven't read anything like it. Between the setting and mystical realism components, it certainly has some unique features that aren't found in most mystery/thriller book.

Here's the main characters:
•Marcie Maddox: Second wife to Jason, working her way into the upper echelon of the Savannah elite
•Jason Maddox: Marcie's husband and business partner to William Radford
•Keisha Radford: The much younger wife to the newly widowed William; Fish out of water in Savannah, as she is from London
•William Radford: Much older and richer husband to Keisha; Upper crust of Savannah circles

There's a lot of side characters, but those four really serve as the main characters, with chapters told in alternating viewpoints of Marcie and Keisha.

Let's start with the setting: Savannah, Georgia. I've read very few thrillers set in the south, let alone a large city in the south. So right off the bat I was happy for the change. The oppressing summer heat and humidity is almost a character itself. There's a lot of discussion about what it means to be in southern high society and the expectations that are pressed on those trying to get in and stay in.

They were all poison one way or another, and maybe she was the only one honest enough to see it.

I found all of the characters to be incredibly engaging, even if I didn't personally connect or particularly like any of them. If you're looking for likeable character(s), this may not be the book for you. All of them are doing what they feel they need to, but it doesn't mean it's the right thing. However, especially for Keisha and Marcie, I had a lot of sympathy for them at various times. They are both different from a lot of the other Savannah elite and are doing their best to fit in. It's also incredibly clear that their marriages are not everything they thought they would be and there's a very serious power imbalance between them and their husbands.

"Often what you worry other people might be thinking of you is most likely to be what you think of yourself. Be kinder to yourself, Marcie. Nobody's perfect."

Another thing that sets this apart is just how risqué it is. Sex is often part of thriller books, but not as explicit as this. There's several different relationships that have fairly graphic sex scenes between partners. I would imagine they wouldn't be too hard to skip if that isn't your thing, but there are numerous ones. If you're also totally not OK with cheating, this definitely won't be the book for you. It's a very big point for several of the characters.

Overall, Dead To Me was very well written and fairly different from a lot of other thrillers. I was left guessing until the very end and was even surprised (but happy with) the route the author took. If you are looking for a steamy mystery, look no further.
Dead to Her is available February 11, 2020.

Their marriage foundations had been secrets, an affair and lies. It had been exciting then. It wasn't so much fun now. But still-if he had his secrets, what was so wrong with her having hers? Why shouldn't she have something for herself?

Content Warnings: Cheating spouse/partner, explicit sex scenes (m/f and f/f), death, attempted murder, talk of death of animal, abusive relationship, sexual assault.