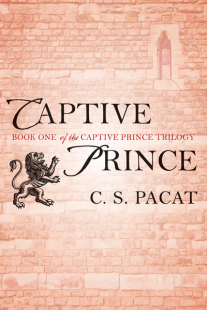 Captive Prince : Volume One
(
Captive Prince #1
)
by
C.S. Pacat
Purchase on:
Amazon
, 
iBooks
Add to:
Goodreads
Synopsis:

"This was Vere, voluptuous and decadent, country of honeyed poison"

Damen is a warrior hero to his people, and the truthful heir to the throne of Akielos, but when his half brother seizes power, Damen is captured, stripped of his identity and sent to serve the prince of an enemy nation as a pleasure slave.

Beautiful, manipulative and deadly, his new master Prince Laurent epitomizes the worst of the court at Vere. But in the lethal political web of the Veretian court, nothing is as it seems, and when Damen finds himself caught up in a play for the throne, he must work together with Laurent to survive and save his country.

For Damen, there is just one rule: never, ever reveal his true identity. Because the one man Damen needs is the one man who has more reason to hate him than anyone else...
TRIGGER WARNING : graphic violence, rape, slavery
Oh, the dilemma. Review it? Jump on book 2? Review it? Jump on book 2? Review it? Jump on book 2?
Eenie meenie miney mo
Catch a tiger by the toe
If he hollars let him go
Eenie meenie miney mo
Oh, screw it. I swear that I'll write a real review of Captive Prince: Volume One because Helloooo, it deserves ones, but for now my excitation and eagerness to freaking KNOW what will happen leads me to shorten my ramble and only give you reduced information (perhaps that's for the best) (you don't want to read my entire rambling) (trust me)
☑ Welcome to a harsh and unforgiving world where slavery (including sexual), torture and rape are common practice (including towards youngers, which makes the book so fucking hard to stomach at times). I know, I know, YIKES, but trust me, if I could handle it it's only thanks to C.S. Pacat's talent for dealing with these awful subjects without never showing any form of indulgence towards them. Indeed it's obvious from the start that Damen, the MC, doesn't condone nor accept Vere's barbaric customs. This said, he is the product of this world, therefore what is normal to him can appear quite horrible for our contemporary minds, and with reasons. If he hates people to be abused, he does accept slavery as normal – like a Roman would have. This does not mean that we readers are supposed to agree with him, but actually the opposite. Although I was trembling with rage as soon as I reached page two – and my sentiments never wavered – my fury was focused on this world, as I'm sure the author intended to.
☑ If the world-building leaves several shadow zones and can't be compared to the level of a full fantasy novel, in my opinion it wasn't the point : Captive Prince: Volume One is character driven and the political machinations and cunning mostly made up for the relative lack of information about the 'outside' world. Early on my mind was reeling, and despite the fact that I guessed several outcomes, it didn't diminished my enjoyment because –
Well, because –
☑ Laurent. HOLY SHIT I CAN'T HATE HIM. He fascinates me way too much. Perhaps I should feel ashamed, given the fact that he's a torturer son of a bitch for most of the novel but HEY! You're talking to the girl who loves Jorg of Ancrath. So there's that. You know you can't trust me when it comes to COMPLEX and straight on CAPTIVATING villains. I just can't. I'm sorry, blablabla, and all that. So, Laurent. He's harsh, manipulative, intransigent, secret, unwilling to trust, multi-layered, HE MADE ME LAUGH (because dry humor is somehow right up my alley. WOOT!) – He also is growing. I cannot wait to see who he will become in the next books. (to be taken literally) (on to book 2 right now)
☑ The grow of Damen and Laurent's relationship is perfectly handled – there's no romance here, guys. THANK YOU FOR SLOW BURN. Also, banter. Banter is EVERYTHING. Especially when it's so subtle that every giggle comes with a gasp of surprise.
To conclude this review that is already way longer than I had expected (somehow it doesn't come as a surprise), I'll say that I was never bored – Not at any moment. Appalled, furious, captivated, curious, yes. Not bored.
► This is quite a success. Color me surprised. No, scratch that : color me stunned instead. Beware, this does NOT mean that I would recommend this book to anyone. I WOULDN'T, because I'm not lying when I say that it's really REALLY harsh and morally questionable. Please go warned.