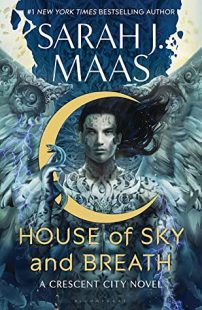 House of Sky and Breath
(
Crescent City #2
)
by
Sarah J. Maas
Purchase on:
Amazon
, 
iBooks
, 
Book Depository
Add to:
Goodreads
Synopsis:

Bryce Quinlan and Hunt Athalar are trying to get back to normal―they may have saved Crescent City, but with so much upheaval in their lives lately, they mostly want a chance to relax. Slow down. Figure out what the future holds.

The Asteri have kept their word so far, leaving Bryce and Hunt alone. But with the rebels chipping away at the Asteri's power, the threat the rulers pose is growing. As Bryce, Hunt, and their friends get pulled into the rebels' plans, the choice becomes clear: stay silent while others are oppressed, or fight for what's right. And they've never been very good at staying silent.

In this sexy, action-packed sequel to the #1 bestseller House of Earth and Blood, Sarah J. Maas weaves a captivating story of a world about to explode―and the people who will do anything to save it.
"…I did that to him. With my lightning. With a blow a fraction of what I unleashed on the Starsword."
"Yeah, yeah, you're the tough, smart male who knows best and I'm an impulsive female whose feelings get her in trouble—"
"For fuck's sake, Quinlan."
This is the farthest thing from an easy review to write, but that doesn't make it any less important for me to purge the thoughts from my mind. To say I am shocked to be doing anything less than fangirling, anything less than screaming my love from the rooftops-from the mountains-anything less than cooking up theories with friends….is an understatement-yet here we are.
I literally won't make this long, but I will say what didn't work for me and what did. It's only fair and the only way to get this thing off my chest. For one, I just am clearly not an SJM follower so I didn't understand the assignment. I thought that, ya know, for once this story was just about Bryce and Hunt and that whoever surrounded them did just that…surrounded them. I was okay with other POVs, I mean who cares, but when they kind of began to overshadow what I really came here for-for my ship to sail and deal with their shit-it just struck me dumb.
That's not to say I don't like more of Ruhn. Ruhn is probably now my second favorite character only under HUNT [duh]…so to see him finding a thread to follow, it was refreshing. I like having more stakes, more to root for…more to lose. But that came at a price, in my opinion, when he and Tharion seemed to almost be doing more than Bryce and Hunt. I know that's not the case, but it did feel as though we barely got any of Bryce and Hunt. I assume that's the aftereffect of me assuming that the book would be centered around them.
So yeah…I was bummed to not get exclusive and unending Hunt content. That should come as a surprise to no one. That butt hurt aside, probably my second-or maybe first, if I'm being completely honest (or maybe it's a tie in to the characters?)-issue is that I am a creature of habit and I do. Not. Like. Change. Book one was literally grit and action and desperation and loneliness and finding love through heartbreak and rising above betrayal and-most importantly for my psychotic ass-peril.
There just was something so unnerving about everything being the same yet different. Evolved yet not evolved. Hunt and Bryce ended in a tentative relationship and with the understanding they would lay low but of course they CANT lay low and then we enter book two and it all just…it seems so different than what I envisioned. And there, I suppose, inlays the problem: me. Well. I have always been my own worst enemy; overhyping, overthinking, overanalyzing, playing out what I want the end to be like, wanting only what I expect…
But I fear that, while yes, a lot of this rating has to do with lack of anything happening, it's definitely not wholly my fault. Look, this is a long ass book . For conversations to be 80% of the story-that's absurd. Well, at least to someone who doesn't want a million new characters and threads to tug on. So I guess that leads to my third and final issue: Maas has always been too big, too grandiose, too all inclusive of her own worlds and ideas for me.
So why did you even read this series, then, you ask? Who the hell DOESN'T want to become apart of such a big fandom with your friends? I LOVED and adored book one and was SHOCKED at how amazing it was-truly. It was dead set on searing it's own path and I blazed alongside Hunt, Bryce, and all involved. I was trash for it-still am. So to say I can't look away from minor inconveniences and flaws and overlook past biases is both untrue and unjust. I simply just did not see eye to eye with the paths this story took. IE: Farther away from Bryce and Hunt and their tentative domestic bliss.
"Even if **** or **** told Emile it was safe to hide out, if I were a kid, I wouldn't have come here."
"You were a kid, like, a thousand years ago. Forgive me if my childhood is a little more relevant."
"Two hundred years ago," he muttered.
"Still old as fuck."
Now here is where my positives start flowing in: Boy do I love Bryce and Hunt together. They are the epitome of one of my OTP couples. I will never not root for Hunt to find true peace and happiness-and I AM SO GLAD this was not a cakewalk for them. Bring on the pain. Bring on the hurt. Bring on any and every big bad that is trying to tear them apart. I. Am. Down. For. That. Maas wouldn't and couldn't and shouldn't
make them an easy couple and that's okay-divine even. Domestic bliss is boring and lack of tension after a couple gets together drives a book to Boring Town in less than 5 pages. So the fact that we all knew book two wouldn't send our main lovers sailing into the sunset is a given-Maas certainly delivered. Perhaps a little too thoroughly. I'd say I have more on that alter, but I'm past being upset and negative and it holds no place among Maas fans so what is the point-I stand by the fact that this book was far from perfect but it had so many perfect elements laying within it that I cannot hate it. Will not. My heart may be shattered that this wasn't a masterpiece in my eyes but that doesn't blind me to the fact that Maas gives me so many things I crave.
"Not sexy enough."
"Lover?"
"Does that come with a ruff and lute?"
He swept a wing over her bare thigh. "Anyone ever tell you that you're a pain in the ass?"
"Just ye olde lover."
And then she can so easily taketh away: (view spoiler)[I hate the mate trope. Period. Almost always. (hide spoiler)] I thought we avoided that but clearly not. I didn't say this to start down that path (though what long, winding, desolate road that would be), but to implement the fact that so many amazing elements were presented within it: Pain. Desperation (though a far tamer desperation than I wanted and needed which was delivered in book one). Longing. Loss. I love these moments above the rest, and to see them given to me in a different way I didn't expect (though Arielle had mentioned this when I read it over a year ago as a possibility) was refreshing, though unwelcome at times.
All this being said, I am still in shock I even have to think about how I'm phrasing this and that I'm not 5 more paragraphs in blasting to the cosmos with how enraptured I am and that I am now forever an SJM fan, not lost in the throes of book slumpdom alongside my ride or die bitch, but I can't be that person and I guess I never will. I would be remiss if I didn't say that, of course I will still pine to know what happens in book three and I will still try with my whole heart to love book three, but am now far more unsure if that's possible. Why bother, you're probably asking, if you don't like SJM. Well-what a sad world we'd live in if we gave up on our favorite characters and what will inevitably become them. What a sad world that I'd let a few things I don't like kill the love and fire in my torch I have for Hunt and his journey for peace and happiness. My hope cannot be killed, no matter how little I felt for most of this novel. So onto three and wishing for nothing but the best in the final installment of a series I plan to die still loving.
****
Oh God the way I'm terrified to rate this candidly
Don't tear apart my carcass please
RTC
****
ARIELLE. CASSIE. LET'S DO THIS THING.