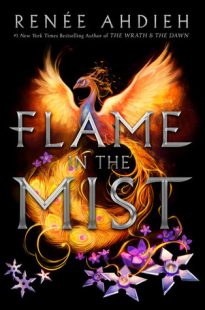 (
Flame in the Mist, #1, #1
)
by
Renee Ahdieh
Purchase on:
Amazon
, 
iBooks
Add to:
Goodreads
Synopsis:

The daughter of a prominent samurai, Mariko has long known her place—she may be an accomplished alchemist, whose cunning rivals that of her brother Kenshin, but because she is not a boy, her future has always been out of her hands. At just seventeen years old, Mariko is promised to Minamoto Raiden, the son of the emperor's favorite consort—a political marriage that will elevate her family's standing. But en route to the imperial city of Inako, Mariko narrowly escapes a bloody ambush by a dangerous gang of bandits known as the Black Clan, who she learns has been hired to kill her before she reaches the palace.

Dressed as a peasant boy, Mariko sets out to infiltrate the ranks of the Black Clan, determined to track down the person responsible for the target on her back. But she's quickly captured and taken to the Black Clan's secret hideout, where she meets their leader, the rebel ronin Takeda Ranmaru, and his second-in-command, his best friend Okami. Still believing her to be a boy, Ranmaru and Okami eventually warm to Mariko, impressed by her intellect and ingenuity. As Mariko gets closer to the Black Clan, she uncovers a dark history of secrets, of betrayal and murder, which will force her to question everything she's ever known.
"The only power any man has over you is the power you give him."
Holy guacamole. This was wonderful.
HOW COME NO ONE TOLD ME THIS IS A SERIES AHHHHHH. I WAS NOT PREPARED….
Alright. I wasn't that into the first 30-40%. It wasn't bad at all, but I just wasn't really connecting. Mariko is on the way to her betrothed (the prince) when she gets attacked by who she believes is the Black Clan. She manages to escape (as told by the synopsis), but she refuses to return home and tell of her survival until she can figure out who paid the Black Clan to kill her. So, she infiltrates their camp and attempts to gain their trust.
Mariko has quite the aversion to men, being that men predominately rule in their society and women are left to please men. I totally get that, and Mariko was justified in feeling that way, but she does bring it up quite a lot. Almost too much, but whatever.
Anyway, about half way through, once we're into the Black Clan hideout, things start to get interesting. And they just keep getting better and better. I literally could not put it down past the 70% mark. Like holy wowza… SO GOOD. It was non stop, action packed, with so many fun turns. AND THE END AHHHHH WHAT DO I DO NOW?!?!
I TOTALLY GUESSED THE TWIST TOO. And I don't even care that I guessed it because it was so great. I was actually hoping I was right because just.. yes. So good.
Some of the highlights for me were:
1. Japanese inspired culture. Lush and gorgeous.
2. Okami. And he the fact that he has long hair.
3. Topknots.
4. The scene where Mariko falls from the… cliff thing.
5. Gorgeous quotes, like the following…
"A blossom can split through a rock, given enough time."
I did have a few small complaints – one being the magic system. It was really confusing and not really explained at all – no rules were mentioned and it seemed very random. I'm assuming this will be explained much more in the next book, but it was odd to me that it was so sporadic.
The only other thing was the writing- not that it was bad. It just felt a bit dry and hard to follow at times. I felt the same way about Ahdieh's other series too – 'The Wrath and the Dawn'. Whatever, the story here is amazing.
All in all, I totally recommend this. I'd read it again in a heartbeat.