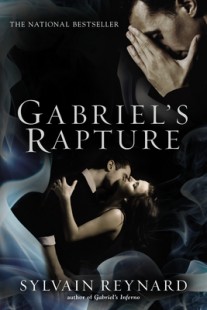 Gabriel's Rapture
(
Gabriel's Inferno #2
)
by
Sylvain Reynard
Purchase on:
Amazon
, 
iBooks
Add to:
Goodreads

"I would have done whatever it took to save you." His voice and his expression were grave. "Even if that meant I had to spend an eternity in Hell."

After an amazing first installment, I don't think anything could have truly exceeded my expectations. I started this second book with high hopes and an excitement for the blossoming relationship between Dante and Beatrice Gabriel and Julia and was left feeling a little underwhelmed by the relationship content in the middle of the story.
I love angst-I do. But when unnecessary and over-the-top things happen, I begin to feel a little more than just frustrated. I love G & J, and I love the way they interact. The love they share is beyond beautiful and beyond words. More than once I have found myself fantasizing
'What if Gabriel was real???' and wondering what kind of life I would have if that were possible. So when I felt the repercussions of their previous actions in GR, I was more than sad and a little depressed.
"Your love makes me beautiful."
"Then let me love you forever."