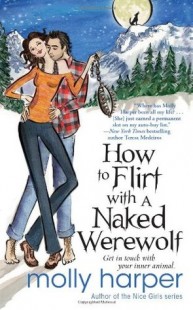 How to Flirt with a Naked Werewolf
(
Naked Werewolf #1
)
by
Molly Harper
Purchase on:
Amazon
Add to:
Goodreads
Synopsis:

Even in Grundy, Alaska, it's unusual to find a naked guy with a bear trap clamped to his ankle on your porch. But when said guy turns into a wolf, recent southern transplant Mo Wenstein has no difficulty identifying the problem. Her surly neighbor Cooper Graham—who has been openly critical of Mo's ability to adapt to life in Alaska—has trouble of his own. Werewolf trouble.

For Cooper, an Alpha in self-imposed exile from his dysfunctional pack, it's love at first sniff when it comes to Mo. But Cooper has an even more pressing concern on his mind. Several people around Grundy have been the victims of wolf attacks, and since Cooper has no memory of what he gets up to while in werewolf form, he's worried that he might be the violent canine in question.

If a wolf cries wolf, it makes sense to listen, yet Mo is convinced that Cooper is not the culprit. Except if he's not responsible, then who is? And when a werewolf falls head over haunches in love with you, what are you supposed to do anyway? The rules of dating just got a whole lot more complicated. . . .
► Just confess already : Don't you die to know what happens when a stubborn Southern Belle meets a sulky hot werewolf in Alaska? Don't be shy, that's gonna be so much fun!
Well, now, I'm just going to say it : This book turned me schizophrenic. Sorry about that. (NOT SORRY! JUST READ IT! NAKED HOT WEREWOLVES! OKAY MOSTLY ONE! *cough* COOPER! *cough*) Okaaaaay, that's gonna be hard.
"Well, that cinched it. He was an asshole. I was definitely going to end up sleeping with him."
Look → there's an alpha-male. Who is a werewolf. Oh, FUCK. Save me from these protective douches who think that women are better rudely pinned against a wall before talked to –
BUT WAIT! COOPER! I JUST LOVE THIS GRUMPY ASSHOLE! Wait – NO. He's adorable : I can't help it, there's just something I found absolutely endearing when it comes to wolves. JACKASS. But so damn cute. FUCKING STUBBORN. Yet he respects Mo's choices and never puts her down.
"There is no wolf. This was all just a dream," he said in a deep, resonant, Obi-Wan Kenobi voice, and waved his hand in front of my face as if to project his Jedi mind trick. My eyes narrowed at him. He shrugged. "It was worth a shot."
Sigh. I'm not going to lie, the "asshole (very, very, very) secretly sweet guy" trope works with me in one and only one situation : when the female lead is a (snarky) kick-ass. Indeed I just can't deal with heroines who shy away and look down when meeting the Big. Strong. Man. *shudders*
No worries here. MEET MO! A witty and hilarious heroine who isn't afraid to say what she wants – Hell no, she's stubborn, never listens when asked to stay safe, well, she goes her own way without being annoying. I repeat, she's NEVER, even ONCE, annoying. God I love her.
"The rational side of my brain had a hard time catching up to my rampant disbelief. I mean, it made sense on a certain level. The man had too much general pissiness to fit into one corporeal form. "
► In a nutshell : she fights an angry wolf with a fire extinguisher, calls (repeatedly) Mr. Big.Bad.Wolf on his shit, cooks incredible cakes and has a passion for expensive underwear. Plus, she's got no problem to buy an economy super big box of condoms and joke about it (and about huge… about everything including proportionality, let's say). In a word : she's plain awesome. By the way, she's the perfect age. What? Isn't 30 the perfect age? HUH? WHAT? OF COURSE IT'S MY AGE, DUH. NOW NOD AFTER ME.
I'M WAITING.
► Told you it made me schizophrenic right? I mean, I couldn't stop my ANNOYING AS HELL inner voice whispering…
♫ ♪ *instaluuuuust…….* – YES BUT NO INSTALOVE! LOVE/HATE PEOPLE! LOVE/HATE!
♫ ♪ *prrrrrrrrrredictable……* (yes, because my little voice comes as all Voldemortly sometimes, don't pay attention) – YES BUT HOT CHEMISTRY! NAKED WEREWOLF! WHAT DO YOU MEAN I ALREADY SAID IT?
♫ ♪ *alphamaaaaale* OH, COME ON. MO CAN HANDLE HIM.
"With a snarl, I raised my knee with lightning speed, right into Cooper's now-bulging zipper. I slid out of his embrace and stood panting beside him as he leaned against the wall for support while his crotch recovered.
"What the hell?" he grunted.
"You don't get to kiss me," I told him. (…) "I do not mess around with men who don't even like me. Just stop screwing with my head, Cooper. Leave me alone."
NOW BACK OFF INNER VOICE. I'M LAUGHING MY ASS OFF.
Well, that was rather hysterical. Forgive me?
► Next, please?