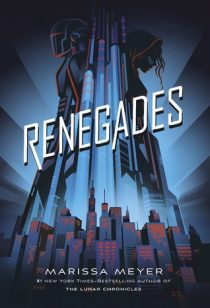 Renegades
(
Renegades #1
)
by
Marissa Meyer
Purchase on:
Amazon
, 
iBooks
, 
Book Depository
Add to:
Goodreads
Synopsis:

Secret Identities. Extraordinary Powers. She wants vengeance. He wants justice.

The Renegades are a syndicate of prodigies—humans with extraordinary abilities—who emerged from the ruins of a crumbled society and established peace and order where chaos reigned. As champions of justice, they remain a symbol of hope and courage to everyone...except the villains they once overthrew.

Nova has a reason to hate the Renegades, and she is on a mission for vengeance. As she gets closer to her target, she meets Adrian, a Renegade boy who believes in justice—and in Nova. But Nova's allegiance is to a villain who has the power to end them both.
This was SO fun! I went into it not knowing anything about the story itself, and I was so pleasantly surprised. Think of it as a superhero mashup told from opposing side POVs in a totally unique way. I was worried that with the overcrowded superhero media these days, the constant similar retellings and such, that this one wouldn't stand on its own.
It totally did. Super fun and unique, while still throwing nods at other stories.
Before I say anything else, a big thank you to the publishers for sending me an ARC in exchange for an honest review!
Basically, this is a world where prodigies (people with special abilities) used to be oppressed, but a man named Ace Anarchy rose up and fought for their freedom & acceptance. Except, the age of Ace turned into a villainous era, where villain gangs broke out and terrorized the citizens. So in turn, "good" heroes rose up to fight them, called the 'Renegades'. They overthrew the Anarchists and took control.
So you here you have it – the Anarchists (those who survived living underground) and the Renegades.
"One cannot be brave who has no fear."
I don't want to spoil much, but we open up into what DOES look like a typical superhero origin story. We witness Nova's family and how they meet their end, in which young Nova, who idolized the Renegades, realizes they never came to help her family after promising to protect them. But guess who did? Uncle Ace.
Now, Nova lives with the Anarchists underground. Her alias is the 'Nightmare', and she's able to put people to sleep with a single touch. While carrying out a plan to take out the Council (the original leaders of the Renegades), Nova is stopped by a boy who calls himself the 'Sentinel'. After a heated battle between the two, Nova barely escapes, wondering who the heck he is, because she's never seen him or heard of him from the Renegades.
A lone hero? Perhaps.
Enter Adrian (aka smol).
Adrian is the son of an original Renegade – his mother, who was murdered when he was young. Now, he lives with his adopted dads – the two heads of the Council (aka the most worshipped Renegades). They adopted him (and here I cry because it's so sweet) and he grew up within the Renegade headquarters. He's brilliant and has a super cool ability which I won't spoil. But he also has a secret that no one in the Renegades knows about.
He's the Sentinal.
And when he fought the 'Nightmare' (he has no idea who she is underneath her mask), she utters a phrase that tells him she might know who his mother's murderer is. So Adrian sets out to find her, while Nova sets plots in place to take out the Renegades for good. I'm going to stop there and leave the rest of the book as a surprise. Trust me, just dive in!
As I mentioned before, this is like a mashup of all your favorite superhero movies, but at the same time, the story is totally unique and so are the characters. I didn't feel like I was reading another origin story or watching a movie I've seen a thousand times. This was SO fun, twisty, and fast paced. And visual. Meyer is so insanely creative – we saw that in her Lunar Chronicles series that I loved – and I would argue that this might even be stronger (though no one can replace Thorne.) All the prodigies have crazy cool powers – ones that I would have NEVER thought of. The whole plot is brilliant.
My only complaint is that we don't get resolution for the one thing I craved, though it will certainly be in the sequel(s). I neeeeeded to see how that played out. Oh well, whatever. I'm hooked, Marissa. You got me.