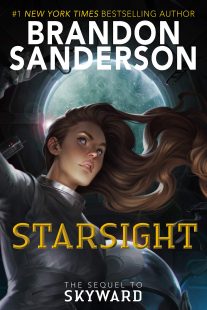 Starsight
(
Skyward #2
)
by
Brandon Sanderson
Purchase on:
Amazon
, 
iBooks
Add to:
Goodreads
Synopsis:

All her life, Spensa has dreamed of becoming a pilot. Of proving she's a hero like her father. She made it to the sky, but the truths she learned about her father were crushing.

Spensa is sure there's more to the story. And she's sure that whatever happened to her father in his starship could happen to her. When she made it outside the protective shell of her planet, she heard the stars--and it was terrifying. Everything Spensa has been taught about her world is a lie.

But Spensa also discovered a few other things about herself--and she'll travel to the end of the galaxy to save humankind if she needs to.
Review
"You know the worst part about being in charge, Spin?"
"No, sir."
"Perspective. When you're young, you can assume that everyone older than you has life figured out. Once you get command yourself, you realize we're all just the same kids wearing older bodies."

I'm currently sitting here, drinking my coffee, trying to decide how I want this review to start. Even though this was a perfect second novel in a series to me, I just didn't fall as hard as I did for book one. And that's fine. I mean, book one SHOULD be the intense one to get you hooked into the world, into the characters, into the plot. I guess I maybe just wanted a tad bit more and now I'm left sad and a little empty over the thought that we might have to wait a good amount of time for the third book after that cliffhanger!

This book brings us out further into the universe in a way that I wouldn't have expected. That part to me, was great. While it was a bummer that we weren't with the Skyward flight much at all, Spensa gained some new friends and perspective that was really important. Honestly, I thought her character development from page one of Skyward to the end of this book was incredible. She used to be so quick to put up a fight about ANYTHING to opening her heart and mind up to the fact that the universe is as much bigger place than she ever could have imagined and that the alien's that inhabit that space aren't all going to be either good or bad.

Spensa's new "squad" was a delight. The concept of Morriumur in general and their *want* to please their family enough to be born with their personality and traits, Vapor (again, in general really), THE KITSEN and Hesho (cries)…omg…even though it said they were like tiny space foxes I honestly envisioned them as little hamsters, lol. And of course the other human, Brade. Like wtf girl. I get that if you've spent that much time with the Krell and are basically brainwashed that that mindset isn't just going to go away but I was really not expecting her betrayal. Damn her. Ummm let's see. I hope the real Alanik wakes up and I want, NO NEED to know more about her planet and the fact that they may have a human refuge on there. My heart was broken over M-Bot and I need that whole situation fixed. DOOM SLUG(s)?????? Did NOT see that coming. I really thought that Spensa would find out that they were basically using people/ cytonics to hyperjump and that the screams were them dying. Nope. And again, that ending. Wtf man. I haven't read a book with a cliffhanger in what feels like so long and I can't handle it. I need to know what's coming next. Sanderson I don't want to rush you but…don't keep a girl waiting for too long!