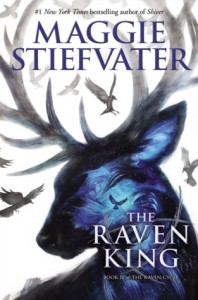 The Raven King
(
The Raven Cycle #4
)
by
Maggie Stiefvater
Purchase on:
Amazon
, 
iBooks
Add to:
Goodreads
Synopsis:

Nothing living is safe. Nothing dead is to be trusted.

For years, Gansey has been on a quest to find a lost king. One by one, he's drawn others into this quest: Ronan, who steals from dreams; Adam, whose life is no longer his own; Noah, whose life is no longer a lie; and Blue, who loves Gansey…and is certain she is destined to kill him.

Now the endgame has begun. Dreams and nightmares are converging. Love and loss are inseparable. And the quest refuses to be pinned to a path.
I don't know. She held him tightly, loving him and keeping him. We could just stay here.
I love you, Blue, but I know what I have to do. I don't want to. But I know what I have to do.
So the wait is finally over-The coveted final book of the Raven Cycle is finally out-or rather, I was one of the lucky people who got her copy early-and now all our questions have been answered (Were they, though??? No, not all of them, frankly). I finally found out the fate of my beloved Gansey and…I just can't help to be a little disappointed. IE, this is me all alone, not liking this book:
It was this: this moment and no other moment, and for the first time that Gansey could remember, he knew what it would feel like to be present in his own life.
GAWD this makes me sicker than a dog, saying that. Was it because I expected too much?? Was it my fault for putting so much pressure on the finale of one of my favorite series of all time? Or could it possibly be that I blame the author a little bit? Because, in all honesty, I kind of do. I mean…this was supposed to be out 6 months ago or more. That's a long time. At that point, it had already been a year wait, and then adding on many months more is a like a punch to the gut. When I found that out, I was one of those that figured it was more than worth the wait.
Gansey asked, "Do you have time to run an errand with us? Do you have work? Homework?"
"No homework. I got suspended," Blue replied.
"Get the fuck out," Ronan said, but with admiration.
"Sargent, you asshole."
Blue reluctantly allowed him to bump fists with her as Gansey eyed her meaningfully in the rearview mirror.
But here I am, one of the privileged people lucky enough to have finished the book before it's even been released, and I can't help but feel like maybe I was a little disconnected. I LOVE Gansey…I can't even breathe when I think about him. He will always and forever be one of my absolutely favorite book boyfriends ever. But, even with my large and obsessive I-lost-so-much-sleep-awaiting-Gansey's-fate feels, I still didn't fall in love with this story like I did with the previous three.
"For what?"
"Emptying another student's backpack over his car. I don't really want to talk about it."
"I do," Ronan said.
"Well, I don't. I'm not proud of it."
Ronan patted her leg. "I'll be proud for you."
I guess maybe I should be up front and say that I didn't think there was enough Gansey-or even Blue-for my liking. And when he did appear?? He was like….so boring. It crushed my heart every time he came on and was totally unlike himself, totally without that whimsical aura around him I've become used to. Call me selfish, but I guess I just wanted way more of the guy who has became a large part of my universe in the final installment. And also, just to be up front, I read this in one day and it's hard to say if some things didn't get lost in my mad dash to finish, so maybe I'm looking at this from entirely the wrong perspective. But then again…maybe I'm wholly right.
Ronan's throat was raw. I'll do anything! I'll do anything! I'll do anythi
It was unmaking everything Ronan loved.
Please
For those of you Ronan and Adam shippers, this is most definitely your book. I can't say I'm bitter, because I am quite obsessed with Ronan and I don't dislike Adam anymore, but it did suck to feel like this book was, yet again, focused on Ronan. Now, that being said, I have a certain friend I just know will die from excitement when she reads this. I'm happy for her-and all those who thought this was the best one ever-but disappointed for myself.
It was Blue's shoulder and her collarbone and her legs and her throat and her laugh her laugh her laugh. He couldn't stop looking at her, and here, it didn't matter, because no one here cared that they were together. Here, he could play his fingers over her fingers as they stood close, she could lean her cheek on his bare shoulder, he could hook his ankle playfully in hers, she could catch herself with an arm around his waist. Here he was unbelievably greedy for that laugh.
I got a little greedy, is all, and I need to get my head on straight, because this book was fucking excellent, in more ways than one. I mean, the creepy demon in this one just…ugh it made my day. The problems in this story, they were everything I could ask for. And oh man….the things that happen because of evil….Agh! They are by far my favorite parts of the story and what made me the happiest-Now, hey, I never said I was sane.
"Don't be like that," Calla said.
"Like what?"
"Bitter." Maura considered, and then added, "I just want you to look at your future as a world where anything is possible."
Blue shot back, "Like Gansey not dying before April? Like me not killing my true love with a kiss? Any of those possibilities?"
I did cry, I did laugh, I did smile. Though, because of my disconnect somewhere along the line, it wasn't as much as I had hoped I'd feel. I'd get the beginnings of butterflies and then they'd disappear almost as immediately as they appeared. I'm not used to this sensation when reading this series, I must tell you. And I don't know if it's because I was reading the hardback (though that's SURELY not it?), because I just really needed more Gansey because, really, I really am just that selfish, or because….I just felt pressure to love it. I don't know I don't know I don't know. I am just sooooo mad and upset I didn't feel the love I'm used to.
"I don't know, Adam! You're asking me to define an abstract concept that no one has managed to explain since time began. You sort of sprang it on me," Gansey said. "Why do we breathe air? Because we love air? Because we don't want to suffocate. Why do we eat? Because we don't want to starve. How do I know I love her? Because I can sleep after I talk to her. Why?"
And you might be saying oh, but that's a good rating! No…it is, really, but in Chelsea ratings? For books Chelsea loves and cherishes and adores and obsesses about for a year and a half?? This is a very lackluster rating. And it makes me so sad.
Richard Gansey was failing to sleep. When he closed his eyes: Blue's hands, his voice, black bleeding from a tree. It was starting, starting. No. It was ending. He was ending. This was the landscape of his personal apocalypse. What was excitement when he was wakeful melted into dread when he was tired.
So. I don't know. I just don't feel like dwelling on why it wasn't perfect for me as I had hoped it would be. There were too many extra POVs talking about things I just didn't care about (THOUGH THEY WERE ESSENTIAL TO THE STORY, I REALIZE) and not enough of what I had hoped and expected and longed for. Gansey is still some one I will never forget and I will ALWAYS obsess about this series…but, even with all the peril and darkness and epic endings and fantastic writing…for me?? It just wasn't enough.
Unmaker, unmaker, I wake, I wake, I wake