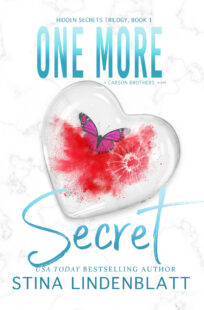 One More Secret
(
Hidden Secrets Trilogy #1,
)
by
Stina Lindenblatt
Purchase on:
Amazon
, 
iBooks
Add to:
Goodreads
Synopsis:

A steamy, dual-timeline romance about a survivor of domestic abuse starting her life over in a small town and the protective ex-Marine determined to save her…

After being wrongfully imprisoned for the death of her abusive husband, all Jessica Smithson wants is to start a new life where no one knows her true identity. Maple Ridge is the perfect place to hide from the media circus battling to know who really rid her of the man. A question she can't answer.

The last thing she expects to find in the small idyllic mountain town is the good-looking and very persistent Troy Carson. From the moment he sees her, the ex-Marine is determined to help Jess with her anxiety attacks and to get to know her better. He's determined to help her renovate the old house she bought—a house with secrets hidden behind the walls.

Heat simmers and grows between the pair, but Jess can't risk getting too close to Troy. Can't risk her own secrets being revealed.

So much is at stake if the truth gets out.

THE CARSON BROTHERS
ONE MORE CHANCE (Lucas & Simone, standalone)
ONE MORE SECRET (Troy & Jessica, book 1 of the Hidden Heart Trilogy)
ONE MORE BETRAYAL (Troy & Jessica, book 2 of the Hidden Heart Trilogy; coming Jan 2024)
ONE MORE TRUTH ((Troy & Jessica, book 3 of the Hidden Heart Trilogy; coming May 2024)
Review:
One More Secret was a small town romance that was filled with new beginnings, struggle and hope.  While this is the second book in the Carson Brothers series, you can easily start with this book just like I did!  After finishing this I bought One More Chance, so I'm excited to go back and read one of the other brother's story!  One More Secret brimmed with heart, second chances, and was an emotionally gritty and rugged read.
Savannah Townsend was gorgeous. Unforgettable. The two words my husband called me the first time we met.
Jessica Smithson is the one with the scars on her face. The scars the media never found out about.
I'm safe now. They'll never find me.
With Jessica leaving prison, this story started off with a bang.  She had served 5 of her 25 year sentence, since she had been convicted of killing her abusive ex-husband.  The glimpses we got of her thinking about the past was beyond heartbreaking and more cruel and frightful than I ever could have imagined.  Upon release, she moved to a quiet little town to start her new life. Somewhere that no one would know her, hopefully. The media had swarmed around her story, and she just wanted to disappear. As Jessica slowly started to put roots down, I was so proud of her.  She tried to work, while avoiding triggers, and bought a house.  But within that house, she found a box filled with items and journals.  The journals told the story of Angelique D'Aboville who was a SOE agent in France during World War II.  As Jessica and Angelique's stories unraveled, I saw so many similarities between the two of them.  And there came a point where I was just as invested in Angelique's life and desperately didn't want to leave my time with her.  I had to know what happened next.
He puts his hand gently on my arm. My muscles instinctively tighten under his touch. He's not my dead husband. He's not my dead husband. He's not my dead husband.
Jessica, previously Savannah Townsend, had so many insecurities because of how she was physically and emotionally damaged. Not only from her ex-husband, but also from her time in a maximum-security penitentiary. So each time she took the tiniest step forward, I was so nervous for her.  That she would have another PTSD episode.  That someone would figure out who she was.  That her whole world would get blown up all over again. So I got why she was terrified of everything. I understood why she was so challenging for others to get to know her. And why her walls were higher than almost anyone I have read about. I wanted to connect with her, but it was challenging. Her past wasn't her fault. Yet it was embedded into every single aspect and moment of her life. Thankfully Troy stepped into her life, and was the hugest of help.
But the effect Troy has on me makes me wonder if I was wrong. Maybe I'm not quite as broken as I believed. Not all my bits were smashed into a million tiny pieces and discarded.
And that's… that's kind of a relief. Not that I'm in any rush for that. Not yet.
Troy was someone that was so easy to fall in love with.  He was kind, patient and had the most wonderful heart.  He noticed signs of Jessica suffering from PTSD, and as someone who lost their friend to the battle of it, he wasn't going to walk away from her.  He tried his best and did everything he could to help her with it.  It was beyond amazing the lengths he went to, to help Jessica mentally.  And all the while, he tried to be just her friend.  Even though he was attracted to her.   Yet Troy definitely took some routes that make me nervous for him. And will probably bite him down the road. So I'm thinking all of my happy thoughts for him!
But even after what we just did, I don't feel any closer to her. There's still the wall between us.
And I'm not sure how I feel about that.
We also got the story from Troy's POV, and he had an uphill battle trying to get to know Jessica.  This story took place over several months and I loved watching an acquaintance slowly start to turn into a friendship between them.  And as more time passed, that friendship started to slowly blossom to more. The length that it took to get there felt realistic to me. But even when Troy and Jessica pushed the limit of their friendship, and that was steamy!, Troy still didn't feel like he completely knew her.  And I understood his sentiment.  I felt the same way in regards to being able to connect with her.  It took me till about 4/5ths of the way into the story till I made that connection with her.  And I'm so grateful I did!
I can't see him right now as the enemy. He's just a man who looks as though his own world is caving in on him in a way I hope to never understand.
This book wove two stories together.  One of Jessica in the present, and another from the journals that Jessica found about Angelique the SOE agent during World War II.  The lengths Angelique would go and risk her life left me terrified. There were moments that were so terrifying that it felt like if she took a breath too big, she could die. Nowhere felt safe and I questioned all of those around her. So by our 4th chapter with her, I was obsessed.  I officially didn't want to leave the past and had to know what happened next in her story.  Angelique was so easy to like and connect with. As we got to know those around her, I became obsessed with Schmidt.  Yet he was a part of everything she hated and was working against, but I kept holding out hope that there was more to him the meets the eye.  I kept my fingers crossed that he would be one of the good guys!  So where their story ended left me so excited for that next book!  And I'm keeping my fingers crossed that sparks start to fly and that they can be more.  The romantic in me just can't help but wish for that haha.
"Please be okay. Please be okay. Please be okay." My voice is a shaky whisper, a prayer, a plea.
Suspense wove its way into the end of these two stories, and one scene even made me cry.  And that ending?!  It was a brutal cliffhanger for both Jessica and Angelique!  We're left mid scene in perilous situations for both of them and I need that next book now please! If you're looking for a memorable journey that intertwines the past and the present, definitely pick this one up! It brimmed with feelings that were both raw and real. And I'm looking forward to continuing this series! 
PS I adored Butterscotch and Bailey! They were the cutest!
PPS There was a festival scene that had me screaming out loud because I was so happy with something Troy did haha!
*I voluntarily read and reviewed an advanced copy of this book, provided by the author. All thoughts and opinions are my own.*