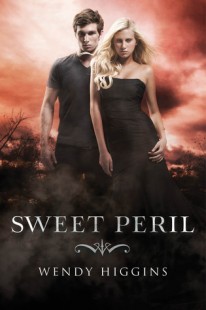 Sweet Peril
(
The Sweet Trilogy #2
)
by
Wendy Higgins
Purchase on:
Amazon
, 
iBooks
, 
Book Depository
Add to:
Goodreads
Synopsis:

Anna Whitt, daughter of a guardian angel and a demon, promised herself she'd never do the work of her father--polluting souls. She'd been naive to make such a claim. She'd been naive about a lot of things.

Haunted by demon whisperers, Anna does whatever she can to survive, even if it means embracing her dark side and earning an unwanted reputation as her school's party girl. Her life has never looked more bleak. And all the while there's Kaidan Rowe, son of the Duke of Lust, plaguing her heart and mind.

When an unexpected lost message from the angels surfaces, Anna finds herself traveling the globe with Kopano, son of Wrath, in an attempt to gain support of fellow Nephilim and give them hope for the first time. It soon becomes clear that whatever freedoms Anna and the rest of the Neph are hoping to win will not be gained without a fight. Until then, Anna and Kaidan must put aside the issues between them, overcome the steamiest of temptations yet, and face the ultimate question: is loving someone worth risking their life?
Review:
Sweet Peril was completely mesmerizing.  Whether Kaidan was trying to seduce or push Anna away, or Anna was trying to discover his feelings, I was enraptured.  They twisted my emotions around in the best possible way. Especially that lead up to the ending!    This series continues to be a favorite, and I can't wait to see how the ending unfolds.
I promised myself I'd never do the work of my demon father—polluting souls—leading humans to abuse their bodies with drugs and alcohol. I'd been naive to make such a vow. I'd been naive about a lot of things.
Anna continued to struggle in life, not only with her confusion towards Kaidan, but also because she had to "work".  Since the others knew that she existed, she was being watched.  So Anna transformed herself into the ultimate party girl, and was a bad influence to the humans around her.  Which is the polar opposite of her goody two-shoes tendencies.  I felt horrible for Anna as she emotionally fell apart.  But thankfully her will to live was strong!  I was so happy to see that no matter how depressed she got, she continued to fight for her right to live and protect the ones she loved.  But I was happiest to see that Anna was willing to take risks.  Especially ones that revolved around Kaidan!
He stepped closer, not letting me go. "You shouldn't have come." I nearly faltered from the sting of his words and the fire in his eyes. "I know."
The risks she took around Kaidan had my stomach in knots.  I was so nervous for her safety and her heart, but Anna was determined to know Kaidan's thoughts and feelings towards her.  Which I desperately wanted to know too!  But Kaidan tried to have a death grip on keeping everything inside, except his ability to seduce.  But every once in a while it seemed as though he would slip up, and I grabbed a hold of those glimpses and held them close to my heart.   Kaidan continued to captivate me, made me smile and fan my face.  That's why it was so hard to see Anna and Kopano spend so much time together.
I knew there would be something bigger to focus on someday, bigger than my life and my worries. And now it was happening. But I never imagined my life's mission would be coupled with such agony and loss.
Anna and Kopano traveled together to recruit as many allies as they could.  They not only had their lives to worry about but their hearts too.  Remember that Kopano liked Anna back in Sweet Evil?  Well that hasn't disappeared.  And I was scared to death that Anna would act on that attraction and friendship.  I just wanted her to firmly place him in the friend zone.  So their times together kept me on my toes.  I was so anxious with how the story would unfold, except for when other old friends made appearances.
But all I could think about was the boy I loved and his empty gaze, lost to me.
Thankfully, Anna was able to form stronger friendships within their group of friends.  I absolutely adored the twins.  Maria was the sweetest person ever, and I loved getting to learn more about Ginger.  Shocking, but she was so much fun with her snippy attitude lol!  I'm definitely a fan of both of them!  Ohhh and Blake too!  And another female whose name I can't mention.  I loved that friendship plays such an important part in this story!
"I'm trying to talk to you," I said. "Yes, I know. But I'd rather not." In one step he had me against the table, the back of my thighs hitting the edge as he pressed his body flush against mine.
Sweet Peril created an emotional overload in me, and I say this with a huge smile on my face!  Moments made me swoon, elated, crushed, scared and I loved that my emotions pulled me in so many different directions.  I am so happy I picked up this series!  And if you are a huge paranormal lover, then I really think you would enjoy this series too.
Related Posts