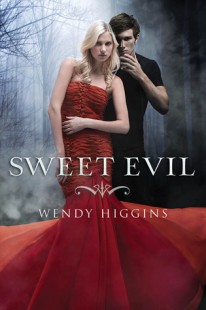 Sweet Evil
(
The Sweet Trilogy #1
)
by
Wendy Higgins
Purchase on:
Amazon
, 
iBooks
, 
Book Depository
Add to:
Goodreads
****I don't think there is a spoiler, but after reading the synopsis some might disagree-Don't want to ruin anyone's perception of the story****
I was skeptical when I first started this novel. Even as I began reading, I had my guard up-I haven't had the best luck with the whole Angels and Demons thing. I will admit I wasn't sure how I felt about Anna, the main character. She was pure and clearly never did anything wrong…*yawn*
But then she stumbles upon Kaidan Rowe…the best thing to ever happen to an angel based story. He is the opposite of her in every way, and I couldn't love him more. Even though he is on the darker side of the story, he is hard to dislike, even harder not to love. And no-before anyone assumes, it isn't the over-used, tired plot where all of a sudden Anna wants to be bad so she can allure Kaidan. Nerp. Maybe it's just me who thinks that is an overused storyline, maybe not-but the point is, Wendy Higgins did not feel the need to take it that way and I love that.
I thought I knew where Sweet Evil was leading, but I really had no idea. The farther the story progressed, the darker it became. Surprisingly, though, there's a tenderness to the story that I never expected, and it's those sweet, tortured moments that made me fall in love with the story and wish it never ended. Yes-I could have read many more pages to get more snippets of the glorious Kaidan Rowe. There isn't a climactic battle scene that tests the strengths of Anna and her friends as they fight to the death, dang-it, but there's still a foreboding sense of dread that hooks you and draws you in, and it makes you happy with what you receive. The build-up to what might or might not happen is satisfying, and can only be a catalyst to what will happen in book 2, Sweet Peril. I just hope I am able to fill the reading abyss of madness until then-I can't wait for the end of April!
Related Posts