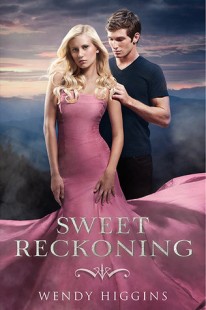 Sweet Reckoning
(
The Sweet Trilogy #3
)
by
Wendy Higgins
Purchase on:
Amazon
, 
iBooks
Add to:
Goodreads
Synopsis:

It's time.

Evil is running rampant and sweet Anna Whitt is its target. Nobody knows when or how the Dukes will strike, but Anna and her Nephilim allies will do anything necessary to rid the earth of the demons and their oppressive ways.

The stakes are higher than ever, and Anna is determined that the love she feels will be her strength, not a liability. But trying to protect the ones she loves while running for her life and battling demonic forces proves to be perilous--especially as faces are changing and trust is fleeting. When the Duke of Lust sends Anna's great love, Kaidan Rowe, to work against her, Anna must decide how much she's prepared to risk.

In the most sensual and fast-paced installment yet, Sweet Reckoning brings all the beloved Neph together one last time to fight for their freedom.
Review:
*Spoilers for previous books*
Oh, this series was so much fun.  I am always on the lookout for a paranormal story that makes me want to smile with happiness while my heart is beating fast from the romance and perilous situations.  And The Sweet Series did just that!  While I did have a personal issue with an event that happened, I'm sure it won't bother a lot people the way it did me.  But any who…..yes!  This series was fabulous, and since there is so much I can't talk about, here's my favorite things about Sweet Reckoning:
He closed his eyes. "I'd do anything for you."
"Just love me," I whispered.
An epic love story – A bad boy with a tortured past, and a truly good girl whose past is filled with love.  The two of them were polar opposites, yet when they were together it was an explosion of emotions.  Since Anna and Kaidan have finally announced their love for one another, I just knew that this book was going to be fabulous!  And I was so right!  I swooned over their interaction and I found myself grinning like a fool while fanning my face towards Kaidan.  My gosh, that boy can heat things up in the blink of an eye.  I got every single tiny moment I wanted with them, and it left me a very happy girl!
The odds were stacked against us. A year and a half ago I had held my hands up to the heavens and told them to deal me in, and they had. Now the prophecy was about to happen—this war on earth between the demons and their children—with me leading the way. My stomach was in knots.
True friends – I was thrilled that the twins, Blake, Kope and V played important roles in this book, so I got to spend a lot of time with them!  Each of them are true friends to either Kaidan, Annna, or even the both of them.  They could always be counted on in times of need, and they always had each others backs.  I loved that strong friendships played an important part in this series.  It makes me miss these characters almost as much as Kaidan and Anna!
Kaidan or the world? I'd been spared making that choice today, but it seemed inevitable that I'd have to eventually. Could I do the right thing if it meant Kaidan would lose his life? Tears threatened to fall again, but I fought them back, putting on a strong face and closing my eyes.
Please, God. Don't make me choose.
Uncertainty and the unknown –  The way the story proceeded, there were twists that unfolded that I never even saw coming.  There were so many different parts at play, that it made certain elements of this book hard to guess, and I loved that!  I loved feeling clueless at times right along with Anna!  It made for a very eventful ride!
"Everything will be okay," I said quietly. "The sooner we get rid of them, the better."
His jaw worked from side to side. I wanted him to talk to me.
"What are you afraid of, Kai?"
"I'm only afraid of one thing." His blue eyes hit mine. "Losing you."
A wrapped up ending – If you know me, I deal much better with a Happily Ever After than a Happily For Now ending.  Not only was this ending wrapped up, but there was even an epilogue!  I wanted to jump up and down, I was so over the moon ecstatic that this book contained such a solid ending!
"It's time," I whispered.
While I'd love to stop my review here, I can't.  Because there was a scene in Sweet Reckoning that was too religious for me.  I was perfectly fine that angels, demons and God existed in this series.  That wasn't the problem.  What was the problem was in regards to having ones faith tested.  That situation left me feeling off, and I was not okay with how it was handled.  YET, I still love this series.  I loved the characters, the story-line and that ending.  So I will definitely be reading more books by Wendy Higgins!
Related Posts