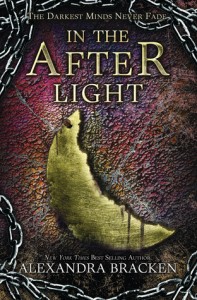 In The Afterlight
(
The Darkest Minds #3
)
by
Alexandra Bracken
Purchase on:
Amazon
, 
iBooks
, 
Book Depository
Add to:
Goodreads
Black is the color that is no color at all.
It is a road. A forgotten night sky broken up by faded stars.
It is the barrel of a new gun, leveled at your heart.
The color of Chubs's hair, Liam's bruises, Zu's eyes.
Black is a promise of tomorrow, bled dry from lies and hate.
Betrayal.

Agh. So. This hurts me so so much but…this was SO not what I expected. It was SO not what I imagined and pined and fangirled and waited for. It wasn't what I wanted. It's a double-edged sword, really. It's not my story to write and it's not my creation. I have always been on the author's side of things, ie Veronica Roth, and I've always supported (almost) every decision they choose to make-but for some reason, I didn't feel it with this one. It Just. Didn't. Go. (for me)
"Are you sure this isn't a nightmare?" he asked quietly. "And that we won't just wake up?"
I stared straight ahead at the road, the way the dust blowing in from the desert covered it with a faint golden sheen even as gray clouds began to gather over us.
"Yes," I said after some time.
Because dreamers always wake up and leave their monsters behind.
Why the 3.5/4 star rating? I'll be frank-it's nostalgia. It's because I loved the first two so damn much. It's because despite everything, I still loved the super amazing perilistic ending. The writing was, as always, vivid, imaginative, and out of this world. But, all in all, it was too little too late and I couldn't give a five or even a solid four like I do with other series I have supported since the early books (Example: Lux #5). I felt that, while it was everything I had been waiting for, there was no redemption for how depressed I was in the middle of the book. The beginning was great, but then the beginning kind of dragged into the middle and then…yeah. It took to about 75% to pique my interest again, but at that point I was already so deflated there wasn't much that could bring me back again.
There's a difference between broken and ruined. With one, you can hope to piece the object back together, but the other-there's just no coming back.
But, instead of focusing on the military tactics, scheming, and chaos that ensued with all these brilliant minds and talent pushed together in one area, I am choosing to talk about what made me happy. Everyone knows Liam is a book boyfriend of mine. It's no secret my fictional male list is as whorishly long as…we won't go there. Just know, it's neverending. I don't think I liked Liam as much in this one…but I also didn't lose my love for him either. He's human. He has a right to be hurt when Ruby is acting shady or not responding to him and when they aren't what they used to be. And, even more than that, he was the same old Liam near the end. And I was so happy to see him resurface even for a little bit. He still stayed that always there for you, always optimistic, always looking for the least violent solution to save everyone guy. That didn't escape me. It still touched me deeply and made my heart stutter…
"The you that you were then, who you are now, who you'll be," he began quietly, as if sensing my thoughts, "I love you. With my whole heart. My whole life, however long I'm lucky enough to get, nothing will change for me."
Sigh. And Ruby. Yeah…Ruby. A girl who I have adored from page one in TDM. She was not that girl in this installment. She wasn't what I expected when I picked up the conclusion to this amazing series. I feel like such a hypocrite because let's look at other Dystopian princesses that I have adored no matter their 'tudes-Katniss-she went very dark, but she stayed in tune with her personality-she was always kind of a bitch (A bitch I worship, mind you). Penryn- Even after the events of the book one conclusion View Spoiler » Her fake death and ultimately losing Raffe because of him thinking she died, the mutilation of her sister, her crazy mother. « Hide Spoiler she never went crazy, never went darker than necessary and kept her head about her. Tris-Look, this chick was fierce. I adore Tris. Speaking in terms of relevancy, she went very dark. She never cared if she died in the name of sacrifice View Spoiler » And she finally learned the meaning of TRUE love and sacrifice in book three. « Hide Spoiler but in the end, like Katniss, that was just Tris. That was who she always was. And that brings me back full circle-I just thought Ruby didn't stay in character. It was just so…off…to me. I really think this was my biggest problem with the story. Oh, and how she treated Liam. But….that's all. Let's leave it be. She still loved all her friends around her and would do anything to save them and protect them…even if she had an odd way of showing it.
My first instinct with the others, no matter what, would always be to act like a shield, positioning myself between them and the prying eyes of the world.
Okay-the star of the show. THAT. PERIL. THAT. PAIN. THAT. FINAL BATTLE SCENE. Like, for realllll??? How AMAZING. I was practically salivating all over my reading device-I adored the pain. The struggle. The will to survive. The torture…
Good GOD was it astounding. I felt the acid in my mouth from the pain brought forth and I felt those cracks to the temple….let's leave it there. But, just know, Chelsea was very pleased. Very VERY pleased-in all reality, this is what got that solid four star instead of the three star I was going to give. I'm not too proud to admit it. It. Blew. Me. Away.
Every muscle in my body was seizing up, making me jerk, my feet thrash against the floor, and inside I was screaming, I was screaming I'm not done, but I couldn't hear myself think. The White Noise took me by the shoulders and shoved me down beneath the darkness, holding me there until I drowned.
So, shake your heads if you will, but no one loved or fangirled or cherished the first books like me and no on knows how excited I was for this final installment. I waited FOREVER…and I can't believe it wasn't more. Maybe it's my own fault for breaking my own rules and setting my expectation bar far too high-I have been so good about just going in blind, not expecting much-but for this one, I just really never thought it would be anything other than extraordinary. Oh well. I think I'll come back and re-read the whole series at one time someday in the near future…maybe I just needed to be in a different place at a different time. Regardless, I'll always love Liam and Ruby and Chubs and Zu and Vida…even Nico.
I closed my eyes, tightening my fists against a second wave of nausea.
I want to live.
I want to live.
I want to live.
Related Posts