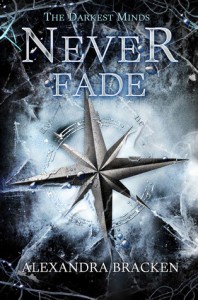 Never Fade
(
The Darkest Minds #2
)
by
Alexandra Bracken
Purchase on:
Amazon
, 
iBooks
, 
Book Depository
Add to:
Goodreads
Synopsis:

Ruby never asked for the abilities that almost cost her her life. Now she must call upon them on a daily basis, leading dangerous missions to bring down a corrupt government and breaking into the minds of her enemies. Other kids in the Children''s League call Ruby "Leader", but she knows what she really is: a monster. When Ruby is entrusted with an explosive secret, she must embark on her most dangerous mission yet: leaving the Children''s League behind. Crucial information about the disease that killed most of America''s children—and turned Ruby and the others who lived into feared and hated outcasts—has survived every attempt to destroy it. But the truth is only saved in one place: a flashdrive in the hands of Liam Stewart, the boy Ruby once believed was her future—and who now wouldn''t recognize her. As Ruby sets out across a desperate, lawless country to find Liam—and answers about the catastrophe that has ripped both her life and America apart—she is torn between old friends and the promise she made to serve the League. Ruby will do anything to protect the people she loves. But what if winning the war means losing herself?
Review:
**Spoilers if you haven't read The Darkest Minds #1**
Never Fade was a riveting second installment to The Darkest Minds Series. It was mesmerizing, passionate and even darker than the first. I loved every twisted moment and I can't wait to start the final book!
I used to dream about turning back time, about reclaiming the things I'd lost and the person I used to be. But not anymore.
Ruby has fully immersed herself into the Children's League and has become team leader. She trains, she goes on missions, and she uses her powers to interrogate her enemies. But she refuses to get close to anyone, because she is only biding her time until she can escape. Her upcoming mission is the perfect opportunity and also gives her the ability to go after another mission. A secret mission. Information about the disease that killed and altered American's children is on a flashdrive in the pocket of Liam's jacket. Sweet, beautiful Liam who was her light, her happiness and her heart. But Liam won't even know who she is. She could be just another face in the crowd that is forgotten by the next day. What entails is a page turning, emotionally gripping read that you won't be able to put down!
If a heart could break once, it shouldn't have been able to happen again. But here I was and here he was, and it was all so much more terrible than I ever could have imagined.
Ruby becomes a force to be reckoned with in Never Fade. She is becoming skilled at her powers and is trained to handle almost any situation. But she is still in a great deal of pain from the horrors she went through while being locked in Thurmond. Additionally, her heart still aches for Liam. After everything that has happened, she is not able to close a door and separate herself from anything in her past. And throwing herself into the latest mission to track down Liam can only lead to heartache, or can it?
"I'm…It's-it's like torture." His voice was strained, hardly even a whisper. "I think I'm losing it-I don't know what's happening, what happened, but I look at you, I look at you and I love you so much. Not because of anything you've said, or done, or anything at all. I look at you, and I just love you, and it terrifies me. It terrifies me what I would do for you. Please…you have to tell me….tell me I'm not crazy. Please just look at me."
My eyes drifted up to his, and it was over.
I love Liam. He is raw, he is pained, and he is but a shell of the boy who I fell for in The Darkest Minds. His inability to remember or understand why he feels the way he feels broke my heart again and again. I ached for the adorable banter and stolen touches that Ruby and Liam previously shared. I only wanted them back together again. But life isn't always fair and this time around their time together is even more horrifying than when they had Betty or were with the Skip Kid.
Through all of the tribulations, I found myself caring for two new characters. Vida and Jude are Ruby's teammates, and whether she likes it or not, she can't ever seem to distance herself from either of them. The three of their personalities together ensured laughable moments that put a smile on my face. Jude is a caring, friendly boy who has the ability to be dumb and brave in the same instant. He is the little brother that you can't ever get rid of but love none the less. Then we have Vida who is Jude's polar opposite. Vida is a purple-haired eccentric girl that is cold, loud and not afraid to speak her mind. I hated her in the beginning her but personality wore me down over time and her snarky comments started to make me laugh. Boo as an insult can be hilarious when the whole world is crashing down around you.
I felt the overpowering urge to throw up as I stood. We are dead. I killed us.
The suspense, heartache and horrors I faced while reading Never Fade was worth every single moment of panic, hurt and dread. Why you ask? Because this was a beautifully crafted story with characters who now mean the world to me. Never Fade was a riveting second installment and I hope the final book is just as brilliant!
Save
Save
Related Posts